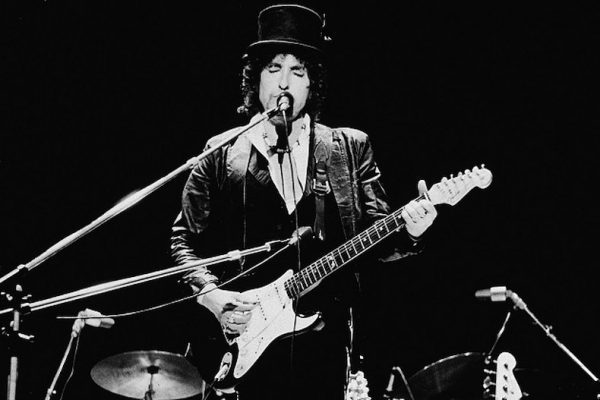 [vc_row][vc_column][vc_message message_box_color="mulled_wine" icon_fontawesome="fa fa-quote-left"][about touring only for the money] They always say that. There are more important things in the world than money. It means that to the people who write these articles, the most important thing in the world is money. They could be saying I'm doing the tour to meet girls or to see the world. Actually, it's all I know how to do. Ask Muhammad Ali why he fights one more fight. Go ask Marlon Brando why he makes one more movie. Ask Mick Jagger why he goes on the road. See what kind of answers you come up with. Is it so surprising I'm on the road? What else would I be doing in this life – meditating on the mountain? Whatever someone finds fulfilling, whatever his or her purpose is -that's all it is.
-Bob Dylan (Jonathan Cott Interview, Portland – Sept 17, 1978)[/vc_message][/vc_column][/vc_row]
Facts from Wikipedia:
A year-long world tour, performing 114 shows in Asia, Oceania, North America and Europe, to a total audience of two million people. For the tour, Dylan assembled an eight piece band, and was also accompanied by three backing singers.
Location
North America, Europe,
Oceania, Asia
Start date
February 20, 1978
End date
December 18, 1978
Legs
5
No. of shows
114
Universal Amphitheater
Los Angeles, California
7 June 1978
Bob Dylan (vocal & guitar)
Billy Cross (lead guitar)
Alan Pasqua (keyboards)
Steven Soles (rhythm guitar, backup vocals)
David Mansfield (violin & mandolin)
Steve Douglas (horns)
Jerry Scheff (bass)
Bobbye Hall (percussion)
Ian Wallace (drums)
Helena Springs, Jo Ann Harris, Carolyn Dennis (background vocals)
One Of Us Must Know (Sooner Or Later)
[vc_row][vc_column][vc_message message_box_color="mulled_wine" icon_fontawesome="fa fa-quote-left"]I didn't mean
To treat you so bad
You shouldn't take it so personal
I didn't mean
To make you so sad
You just happened to be there, that's all[/vc_message][/vc_column][/vc_row]

Continue reading "Bob Dylan: 5 Brilliant live performances from the year 1978" →