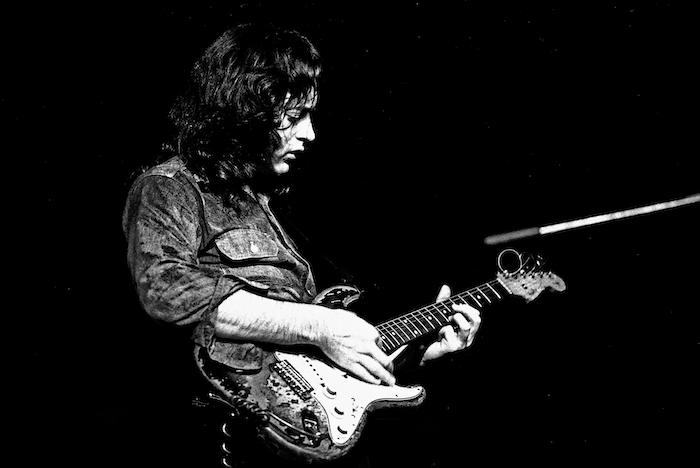 [vc_row][vc_column][vc_message message_box_color="mulled_wine" icon_fontawesome="fa fa-quote-left"]I met Bob Dylan, I was very fortunate. I met him once, he came to a show in Los Angeles in 1976, and it was the end of a tour and it looked like our spirits were kind of a bit low. It was a great tour, but we met at the end of it. He walked into the dressing room and I nearly collapsed. He came in with his kids and he was talking about Blind Boy Fuller. It was very interesting – Country Blues, you know. But I`m still a school boy: I still hero-worship people, it`s a terrible thing for a man of my age to be like that. But if I`d work with Dylan, that would be my dream.
–> Rory Gallagher (13 December 1992)[/vc_message][/vc_column][/vc_row]
William Rory Gallagher (2 March 1948 – 14 June 1995) was an Irish blues and rock multi-instrumentalist, songwriter, and producer. Born in Ballyshannon, County Donegal, and brought up in Cork, Gallagher recorded solo albums throughout the 1970s and 1980s, after forming the band Taste during the late 1960s. His albums have sold over 30 million copies worldwide.
[vc_row][vc_column][vc_message message_box_style="outline" icon_fontawesome="fa fa-link" css_animation="bounceIn"]
Check out:
[/vc_message][/vc_column][/vc_row]