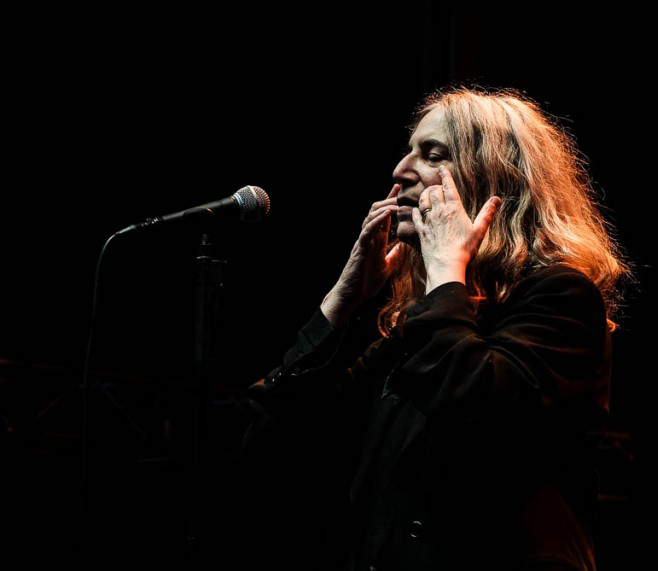 I stumbled to my feet
I rode past destruction in the ditches
With the stitches still mending beneath a heart-shaped tattoo
Renegade priests and treacherous young witches
Were handing out the flowers that I'd given to you.
Patti Smith – Changing Of The Guards – The Best Dylan Covers
"…I had finished Gone Again in memory of Fred ['Sonic' Smith, her late husband], and I really didn't think about touring at all, since my children were in school, but I heard from Dylan in 1995, and he asked whether I wanted to do a series of East coast dates with him.
…
Bob and I spoke privately and I thanked him for giving me the opportunity, and he really encouraged me to come back into the fold. He said the people would be happy to see me. I truthfully wasn't certain how I would be received, or what I should do, and being encouraged by him was very important to me. I mean, Bob – the man I know – is a man of few words, but the words are always meaningful. And so that was very important. He was very encouraging to me about my place in the community of rock'n'roll."
– Patti Smith (Kirk Elder, interview 2009, AlternativesToValium)
Changing of the Guards is a song written by Bob Dylan, released in 1978 as a single and as the first track on his album Street-Legal.
Lyrically, this song has provoked much critical insight, both positive and negative. According to Oliver Trager author of Keys to the Rain: The Definitive Bob Dylan Encyclopedia, "Changing of the Guards" has been criticized as a "song in which Dylan unsuccessfully and cynically parodies his anthemic self in haunting fashion…
Continue reading "Patti Smith – Changing Of The Guards – The Best Dylan Covers" →