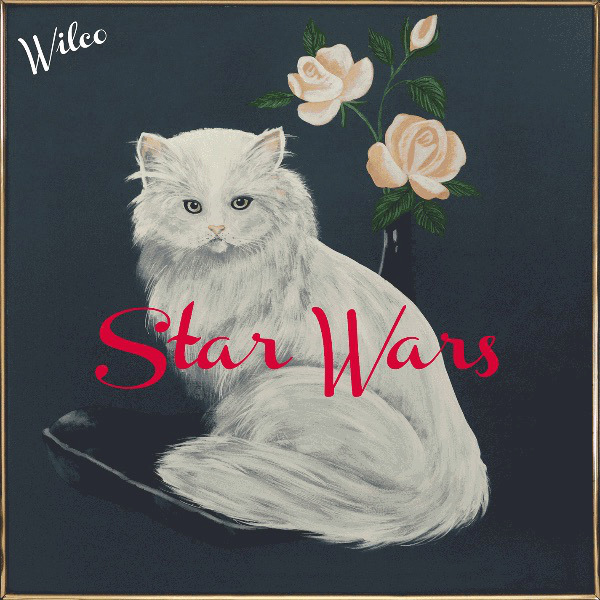 It's kind of an extension of the thought process behind, I don't know, staying in touch with some sort of wild energy as much as possible and some sort of an irreverence. But that painting of that cat hangs in the kitchen at the [Wilco] loft, and every day I'd look at it and go, "You know, that should just be the album cover." Then I started thinking about the phrase "Star Wars" recontextualized against that painting — it was beautiful and jarring. The album has nothing to do with Star Wars. It just makes me feel good. It makes me feel limitless and like there's still possibilities and still surprise in the world, you know?
~Jeff Tweedy (rollingstone.com)

In the album's most carefree moments, of which there are many, he sounds at home in himself — never an easy move for one of rock's top chroniclers of midlife man-malaise. "I belong to the stars in the sky," he sings on "Random Name Generator," making a blues boast out of spacey poesy and totally pulling it off. Give it up for the man. He's got the Force by the spaceballs.
~Jon Dolan (rollingstone.com)
Random Name Generator (Live on KEXP):

Star Wars
Studio album by

Wilco

Released
July 16, 2015
Genre

Alternative rock
indie rock
space rock
experimental rock

Length

33

:

47

Label
dBpm
Producer
Star Wars is the ninth studio album by American alternative rock group Wilco. It was self-released for free on July 16, 2015 through wilcoworld.net. It is the second Wilco album that was released on their own label dBpm. A CD version of the album was released on August 21 and a vinyl version was released on October 13th.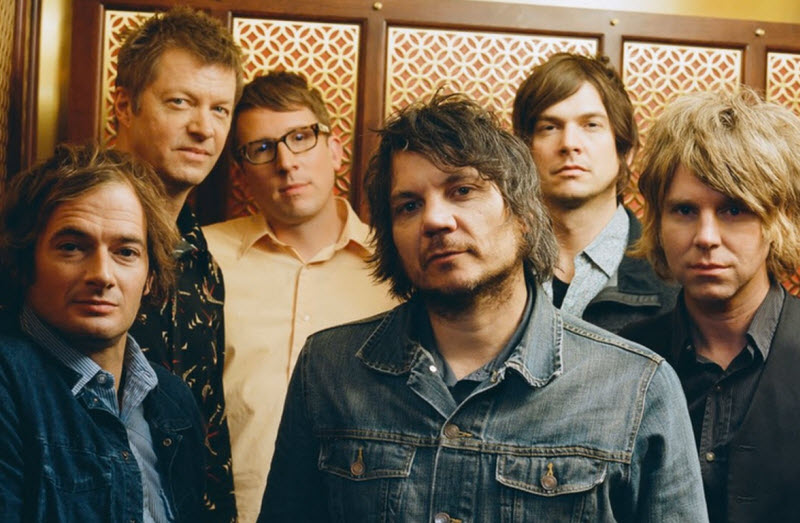 "More…" – Pitchfork Music Festival 2015:

–
..A similarly stubborn sentiment marks "Pickled Ginger" ("No one tells me how to be saved"), before "Where Do I Begin" evokes The Replacements' Paul Westerberg at his most wracked. Further tart, atonal sprays of guitar feature in "Cold Slope" and "King of You", but it's likely to be the closer "Magnetized" that becomes the album's most popular track. Again, the band's Beatle influences are to the fore, with warm organ chords beneath Tweedy's Lennon-lite delivery, a McCartney-mild piano progression and a Harrison-ic guitar swoon. It's a beautiful, open love song that finds Tweedy "magnetized" by a picture of him with his beloved, and as a warbling theremin leads to a gently euphoric Mercury Rev-style climax, it leaves one marvelling at how such an initially spiky, confrontational album can resolve in such a lovely, warm manner. But then, that's the magic of albums for you, eh?
~Andy Gill (independent.co.uk)
Track listing
All songs written by Jeff Tweedy, except for "You Satellite" co-written by Tweedy, Glenn Kotche and Nels Cline, "Taste the Ceiling" by Tweedy and Scott McCaughey, and "Magnetized" by Tweedy and Mikael Jorgensen.
No.
Title
Length
1.
"EKG"
1:15
2.
"More…"
2:44
3.
"Random Name Generator"
3:49
4.
"The Joke Explained"
2:33
5.
"You Satellite"
5:16
6.
"Taste the Ceiling"
3:15
7.
"Pickled Ginger"
2:29
8.
"Where Do I Begin"
2:54
9.
"Cold Slope"
3:11
10.
"King of You"
2:41
11.
"Magnetized"
3:40

Total length:

33:47
Personnel
Jeff Tweedy – vocals, guitar
John Stiratt – bass
Glenn Kotche – drums
Mikael Jorgensen – keyboards
Nels Cline – guitar
Patrick Sansone – guitar, keyboards
Spencer Tweedy – additional percussion
Scott McCaughey – mellotron and piano on Taste the Ceiling
Star Wars @ Spotify:

-Egil