"The music I play, I call 'SoCal country, It's country music but with a Southern California spirit to it.What is it about Southern California that gives it that spirit, I don't exactly know. But there's an idea that I like that says – every song, even happy songs, are written from a place of sadness. If there's a special sadness to Southern California it's that there's an abiding shadow of loss of what used to be. But then, like with any place, you have a resilient optimism as well."
– Sam Outlaw
Sam Outlaw had a successful advertising career in California; however, on his thirtieth birthday he experienced what he calls "an existential crisis moment" and realised that only music has ever made him feel anything.
Sam Outlaw self-released an EP in 2014. It immediately created attention, he also landed his music video on CMT.
With Angeleno he has made one of the best debut albums of 2015.
Members of My Morning Jacket, Dawes , Punch Brothers and Ry Cooder himself all make appearances on the record, with  Cooder pulling double duty as guitarist (several types) and co-producer. Ry Cooder's son, co-producer Joachim, plays drums.  Jesús 'Chuy' Guzmán, known for Linda Ronstadt's Spanish-speaking albums in the 80s, is also on the guest list, leading mariachis on the record's starter, Who Do You Think You Are? Check the full personell list at the bottom of this post.
Sam Outlaw – Love her for a while: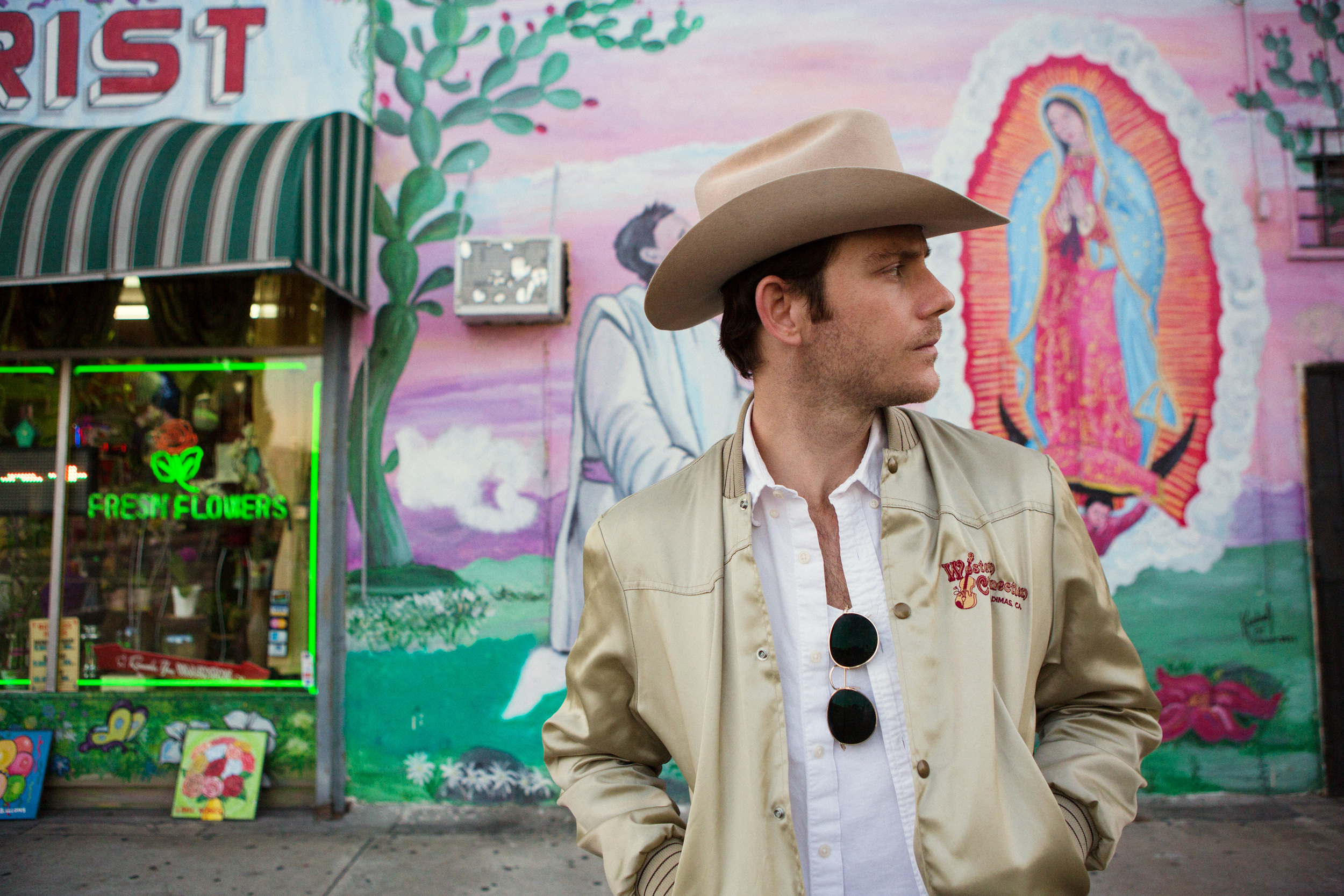 Saturday Sessions: Anthony Mason sits down with the artist to ask him about bringing country music back to LA, and Sam Outlaw performs "Ghost Town.":

Los Angeles is no hotbed for country music, but it is a source of endless inspiration, if you know where to look. And Sam Outlaw, a former ad sales executive who ditched his gold card for a steady income of tip jar singles and a cowboy hat, certainly does. He pulls from California's Bakersfield past, the urban mariachi tradition of East L.A. and the broken fantasy of Hollywood life for Angeleno, the singer's Ry Cooder-produced debut. "Jesus take the wheel," sings Outlaw on the shuffling honky-tonk waltz of the same title, "and drive me to a bar" — there's plenty of weepy steel guitar here, but a sense of humor, too.
– Rolling Stone
Sam Outlaw – Who do you think you are:

Produced by Ry Cooder and Joachim Cooder.
Sam Outlaw – Vocals, Acoustic Guitar, Harmony Vocals
Ry Cooder – Electric and Acoustic Guitars, Bajo Sexto, Banjo, Harmony Vocals
Joachim Cooder – Drums
Bo Koster – Wurlitzer and Piano
Jeremy Long – Pedal Steel and Organ
Danny Garcia – Bass
Molly Jenson – Harmony Vocals
Arnold McCuller – Harmony Vocals
Gabe Witcher – Fiddle
Taylor Goldsmith – Harmony Vocals, Guitar and Bass
Mariachis directed by Jesús "Chuy" Guzmán:
Violins – Raul Cuellar, Juan Rodriguez, Julio Hernandez, Jesús "Chuy" Guzmán
Trumpet – Javier Rodriguez