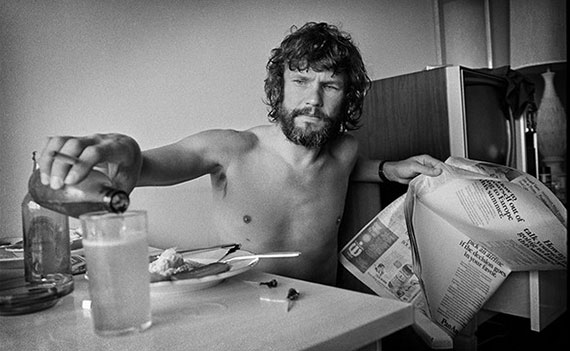 The 1970s brought us many great country songs, here are 10 I´m listening to today.
I´ve also added a spotify playlist at the end of the post.
Kris Kristofferson – Help me make it through the Night (1970)
Take the ribbon from your hair
Shake it loose and let it fall
Layin' soft upon my skin
Like the shadows on the wall
George Jones – A Good Year for the Roses (1970)
I can hardly bear the sight of lipstick
On the cigarettes there in the ashtray
Lyin' cold the way you left them
But at least your lips caressed them while you packed
And a lip print on a half-filled cup of coffee that you poured and didn't drink
But at least you thought you wanted it, that's so much more than I can say for me
–
Dolly Parton – Coat Of Many Colors (1971)
Back through the years
I go wonderin' once again
Back to the seasons of my youth
I recall a box of rags that someone gave us
And how my momma put the rags to use
–
Conway Twitty and Loretta Lynn – After The Fire Is Gone (1971)
Love is where you find it
When you find no love at home
And there's nothin' cold as ashes
After the fire is gone
–
Tom T.Hall – The Year That Clayton Daleney Died (1971)
Well I remember the year that Clayton Delaney died
They said for the last two weeks that he suffered and cried
It made a big impression on me although I was a barefoot kid
They said he got religion at the end and I'm glad that he did
–
Gram Parsons with Emmylou Harris – Love Hurts (1974)
Love hurts love scars love wounds and mars
Any heart not tough nor strong enough
To take a lot of pain take a lot of pain
Love is like a cloud holds a lot of rain.
Love Hurts uh, uh Love Hurts.
–
Loretta Lynn – The Pill (1975)
You wined me and dined me
When I was your girl
Promised if I'd be your wife
You'd show me the world
But all I've seen of this old world
Is a bed and a doctor bill
–
Gary Stewart -She's Actin' Single (I'm Drinkin' Doubles) (1975)
I've seen men look at her before
And they think, I don't see
I'd like to think it makes me proud
But, I'm only fooling me
–
Willie Nelson – Blue Eyes Crying In the Rain (1975)
In the twilight glow I see them
Blue eyes cryin' in the rain
When we kissed goodbye and parted
I knew we'd never meet again
–
Gene Watson – Farewell Party (1978)
When the last, breath of life
Is gone from, my body
And my lips, are as cold as the sea
When my friends gather 'round
For my, farewell party
Want you, pretend you love me
Spotify playlist:

-Egil