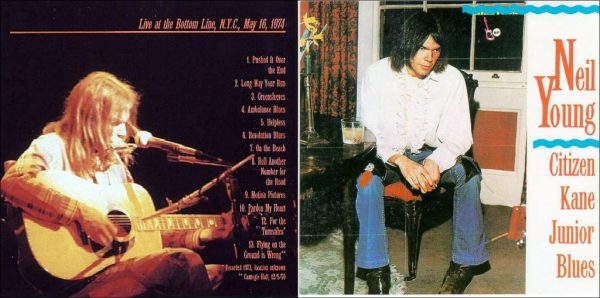 This is one of the best concert recordings of Neil Young ever done! It was taped at The Bottom Line in 1974. The Bottom Line was a music venue at 15 West 4th Street between Mercer Street and Greene Street in the Greenwich Village neighborhood of Manhattan, New York City. During the 1970s and 1980s the club was a major space for small-scale popular music performances. I believe it should be considered for the ongoing Neil Young archival series.
This concert at the Bottom Line set was apparently an unnanounced appearance at a Ry Cooder solo acoustic gig. The bootleg title comes from Neil's introduction to Pushed It Over The End.
Set List:
1. Pushed It Over The End (AKA Citizen Kane Jr. Blues): 0:42 – 6:26
2. Long May You Run: 7:38 – 11:47
3. Greensleeves: 12:03 – 13:55
4. Ambulance Blues: 15:00 – 23:08
5. Helpless: 24:17 – 29:20
6. Revolution Blues: 30:50 – 34:28
7. On The Beach: 35:05 – 40:26
8. Roll Another Number: 41:30 – 44:11
9. Motion Pictures: 49:15 – 53:10
10. Pardon My Heart: 54:38 – 58:39
11. Dance Dance Dance: 59:18 – 1:01:58
Plenty of fun talks by Neil Young between the songs as well.

Tracks 1-11 Recorded live at The Bottom Line in New York on May 16, 1974
In addition there are two bonus tracks on the boot (not on the Youtube):
12. For The Turnstiles
13. Flying On The Ground Is Wrong
Track 12 Recorded live during 1973, location unknown
Track 13 Recorded live at the Carnegie Hall in New York on December 5, 1970
The same 13 Citizen Kane Junior Blues tracks resurface on yet another bootleg called "First Plane Outta Here", with four extra Elektra demos.
– Hallgeir & Egil