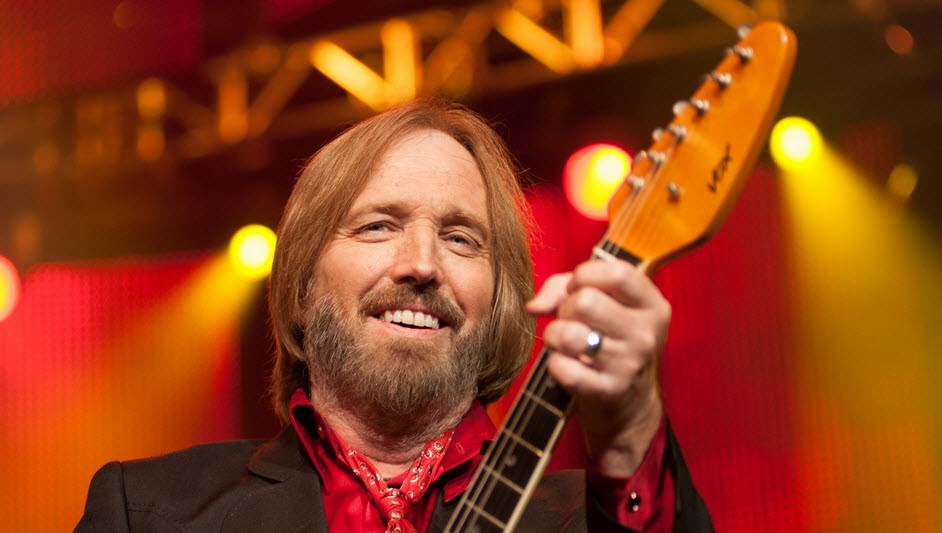 "I remember playing shows [with Tom Petty & the Heartbreakers in the '80s] and looking out
[thinking] I didn't have that many fans coming to see me," he says. "They were coming to see
Tom Petty & the Heartbreakers."
~Bob Dylan (to Robert Hilburn, December 1997)
"Tom Petty was rushed to the hospital Sunday night after he was found unconscious, not breathing and in full cardiac arrest
Update:
Now it is confirmed by Tom Petty's family that their father, brother, husband and friend died peacefully at 20:40 local time
– AFP
UPDATE: We're told after Petty got to the hospital he had no brain activity and a decision was made to pull life support."
– TMZ.com
Tom Petty, the rocker best known as the frontman of Tom Petty and the Heartbreakers, is dead at 66, CBS News has confirmed.
UPDATE:
The confusions started when CBS and TMZ published about Tom Petty's death after tweeting that the LAPD had confirmed it.
"Coroner's officials said Monday they have not received a report of Petty's death. Fire officials have said they responded to an emergency call for a man experiencing cardiac arrest on the block where Petty lives in Malibu on Sunday night, but could not confirm it was the rocker who was taken to a local hospital.
…the 66-year-old entertainer is still alive, and news outlets that announced his death Monday retracted their stories later Monday. The Walk of Fame tribute was canceled."
– Billboard
From Wikipedia:
Birth name
Thomas Earl Petty
Also known as
Charlie T. Wilbury, Jr
Muddy Wilbury
Born: October 20, 1950 – Died: October 2, 2017 
Origin
Gainesville, Florida, U.S.
Genres
Rock and roll, roots rock, heartland rock, southern rock, blues rock, psychedelic rock, country
Occupations
Musician, singer-songwriter
Instruments
Vocals, guitar, bass, keyboards, percussion,harmonica
Years active
1969–present
Labels
Shelter, Backstreet, MCA, Warner Bros.,American, Reprise
Associated acts
Epics, Mudcrutch, Tom Petty and the Heartbreakers, Traveling Wilburys, Stevie Nicks,Bob Dylan, Jeff Lynne, Grateful Dead, Roy Orbison, Bonnie Raitt, Dwight Twilley
Website
tompetty.com
Thomas Earl "Tom" Petty was an American singer-songwriter and multi-instrumentalist. He was the frontman of Tom Petty and the Heartbreakers and was a founding member of the late 1980s supergroup Traveling Wilburys and Mudcrutch. He also performed under the pseudonyms of Charlie T. Wilbury, Jr. and Muddy Wilbury.
He will be sorely missed!
He has recorded a number of hit singles with the Heartbreakers and as a solo artist, many of which remain heavily played on adult contemporary and classic rock radio. His music, and notably his hits, have become popular among younger generations as he continues to host sold-out shows. Throughout his career, Petty and his collaborators have sold 60 million albums. In 2002, he was inducted into the Rock and Roll Hall of Fame.
From allmusic.com – Stephen Thomas Erlewine:
Upon the release of their first album in the late '70s, Tom Petty & the Heartbreakers were shoehorned into the punk/new wave movement by some observers who picked up on the tough, vibrant energy of the group's blend of Byrds riffs and Stonesy swagger. In a way, the categorization made sense. Compared to the heavy metal and art rock that dominated mid-'70s guitar rock, the Heartbreakers' bracing return to roots was nearly as unexpected as the crashing chords of the Clash. As time progressed, it became clear that the band didn't break from tradition like their punk contemporaries. Instead, they celebrated it, culling the best parts of the British Invasion, American garage rock, and Dylanesque singer/songwriters to create a distinctively American hybrid that recalled the past without being indebted to it.
The Heartbreakers were a tight, muscular, and versatile backing band that provided the proper support for Petty's songs, which cataloged a series of middle-class losers and dreamers. While his slurred, nasal voice may have recalled Dylan and Roger McGuinn, Petty's songwriting was lean and direct, recalling the simple, unadorned style of Neil Young. Throughout his career, Petty & the Heartbreakers never departed from their signature rootsy sound …
..read more over @ allmusic.com
Refugee (Live at @ Farm Aid 1985):

Great version of Dylan's "License To Kill":

Awards and accolades
In 1994, You Got Lucky, a Tom Petty tribute album featuring such bands as Everclear and Silkworm was released.
In April 1996, Petty received the UCLA's George Gershwin and Ira Gershwin Award for Lifetime Musical Achievement.
The next month, Petty won the American Society of Composers, Authors and Publishers' Golden Note Award.
In 1999 Tom Petty & the Heartbreakers received a star on the Hollywood Walk of Fame for their contribution to the recording industry.
In 2002, Tom Petty and the Heartbreakers were inducted into the Rock and Roll Hall of Fame.
On December 6, 2005, Petty received the Billboard Century Award for his lifetime achievements.
The same year, Conversations with Tom Petty, an oral history/biography composed of interviews conducted in 2004 and 2005 with Petty by music journalistPaul Zollo was published (ISBN 1-84449-815-8).
On September 21, 2006, Tom Petty and the Heartbreakers received the keys to the city of Gainesville, Florida, where he and his bandmates either lived or grew up.

 

From July 2006 until 2007 the Rock and Roll Hall of Fame in Cleveland, Ohio featured an exhibit of Tom Petty items. Much of the content was donated by Petty himself during a visit to his home by some of the Hall's curatorial staff.
Peter Bogdanovich's documentary film on Petty's career entitled Runnin' Down A Dream (film) premiered at the New York Film Festival on October 14, 2007.
Album of the day – "Damn The Torpedos" (1979)
From allmusic (Stephen Thomas Erlewine):
Not long after You're Gonna Get It, Tom Petty & the Heartbreakers' label, Shelter, was sold to MCA Records. Petty struggled to free himself from the major label, eventually sending himself into bankruptcy. He settled with MCA and set to work on his third album, digging out some old Mudcrutch numbers and quickly writing new songs. Amazingly, through all the frustration and anguish, Petty & the Heartbreakers delivered their breakthrough and arguably their masterpiece with Damn the Torpedoes. Musically, it follows through on the promise of their first two albums, offering a tough, streamlined fusion of the Stones and Byrds that, thanks to Jimmy Iovine's clean production, sounded utterly modern yet timeless. It helped that the Heartbreakers had turned into a tighter, muscular outfit, reminiscent of, well, the Stones in their prime — all of the parts combine into a powerful, distinctive sound capable of all sorts of subtle variations. Their musical suppleness helps bring out the soul in Petty's impressive set of songs. He had written a few classics before — "American Girl," "Listen to Her Heart" — but here his songwriting truly blossoms. Most of the songs have a deep melancholy undercurrent — the tough "Here Comes My Girl" and "Even the Losers" have tender hearts; the infectious "Don't Do Me Like That" masks a painful relationship; "Refugee" is a scornful, blistering rocker; "Louisiana Rain" is a tear-jerking ballad. Yet there are purpose and passion behind the performances that makes Damn the Torpedoes an invigorating listen all the same. Few mainstream rock albums of the late '70s and early '80s were quite as strong as this, and it still stands as one of the great records of the album rock era.    …read more over @ allmusic
– Hallgeir & Egil