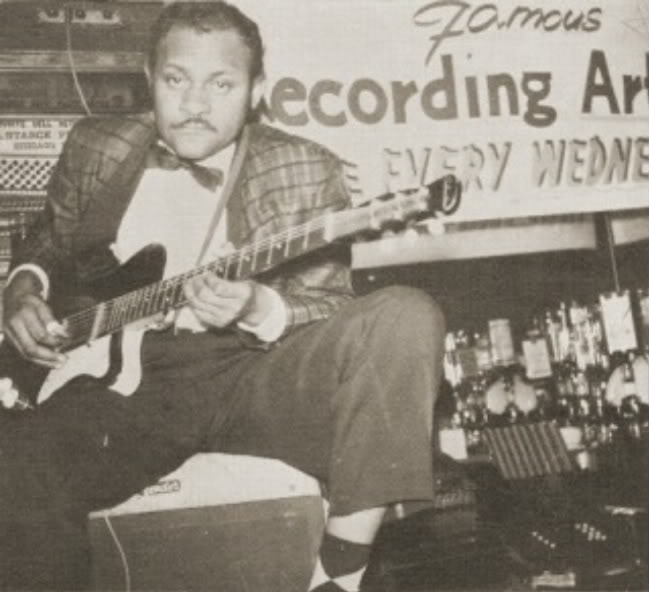 If highly distorted guitar played with a ton of aggression and just barely suppressed violence is your idea of great blues, then Pat Hare's your man.
~Cub Koda (allmusic.com)

….Auburn "Pat" Hare, the most aggressive picker to work at Phillips' studio [Sun Studions that is]. Together, Hare and James Cotton produced one of the truly great blues recordings, "Cotton Crop Blues."
~From the book: "Good Rockin' Tonight: Sun Records and the Birth of Rock 'N' Roll"
James Cotton (Pat Hare on guitar) – Cotton Crop Blues (May 1954):

From Wikipedia:
Birth name
Auburn Hare
Born
December 20, 1930
Cherry Valley, Arkansas, United States
Died
September 26, 1980 (aged 49)
St. Paul, Minnesota, United States
Genres
Electric blues, Memphis blues, rock and roll, proto-heavy metal

Occupations
Singer, guitarist, songwriter
Instruments
Vocals, guitar, electric guitar
Years active
Early 1950s–1962
Labels
Sun Records
Associated acts
Howlin' Wolf, James Cotton, Muddy Waters, Bobby Bland, Junior Parker, Blue Flames
Auburn "Pat" Hare (December 20, 1930 – September 26, 1980) was an American electric Memphis blues guitarist and singer. His heavily distorted, power chord-driven electric guitar music in the early 1950s is considered an important precursor to heavy metal music. His guitar work with Little Junior's Blue Flames had a major influence on the rockabilly style, while his guitar playing on blues records by artists such as Muddy Waters was influential among 1960s British Invasion blues rock bands such as The Rolling Stones and The Yardbirds.

James Cotton & Pat Hare:

… His version of Dr. Clayton's "Cheatin' and Lyin' Blues," which he reworked as "I'm Gonna Murder My Baby," was a chilling performance of unparalleled menace. By the fourth take, Hare was consumed by the blind rage of the cuckold:

"She used to have a mind to stay home,
At night she goes out and stays out all night long,
I'm gonna murder my baby."

~From the book: "Good Rockin' Tonight: Sun Records and the Birth of Rock 'N' Roll"
Album of the day:
Big Bad Blues (1995):
-Egil