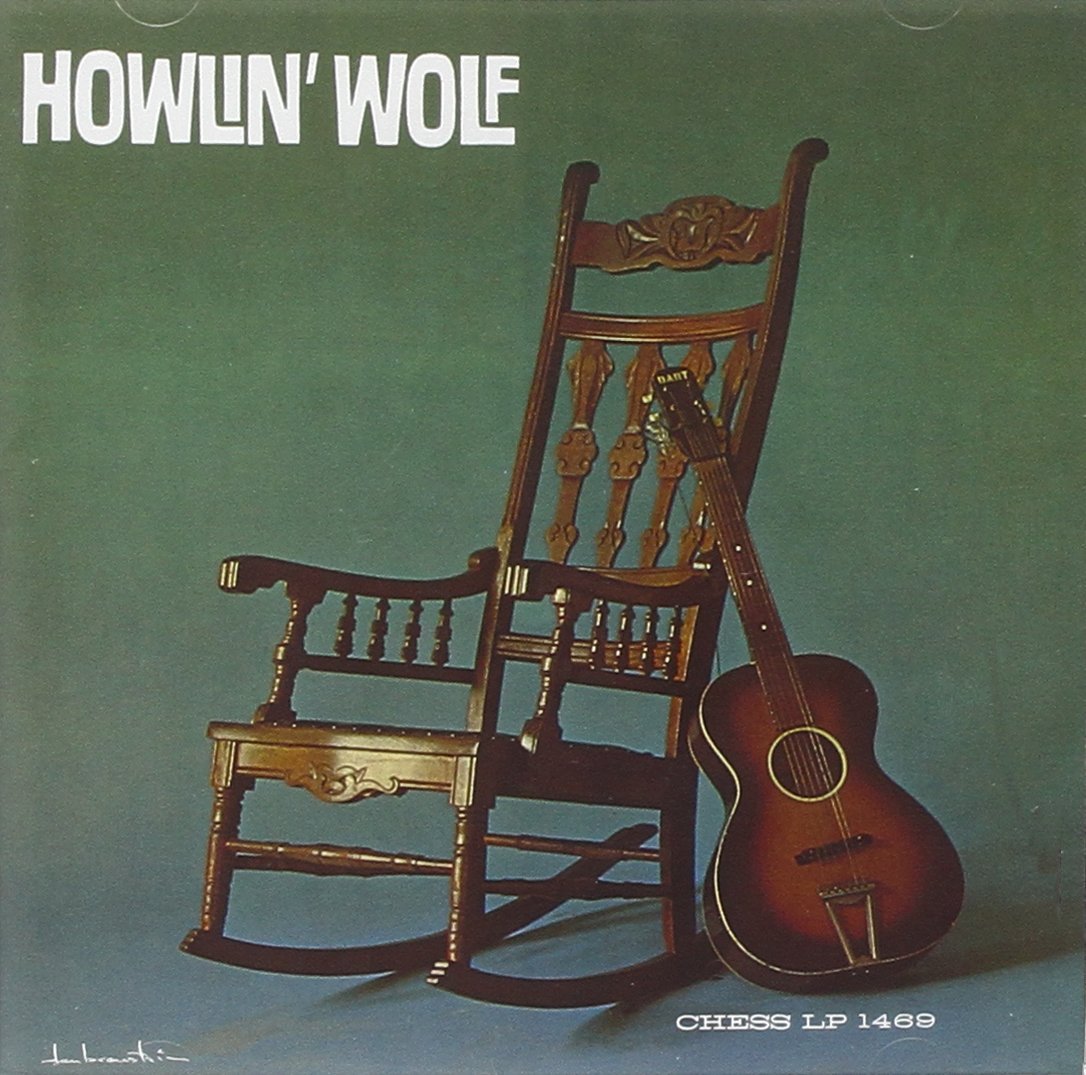 Howlin' Wolf is the third studio album from Chicago blues singer/guitarist/harmonicist Howlin' Wolf. It is a collection of six singles previously released by the Chess label from 1960 through 1962. This was a common practise at the time.
Because of the illustration on its sleeve, shot by Don Bronstein, staff photgrapher at Playboy magazine and house photographer at Chess Records, the album is often called The Rockin' Chair Album, a nickname even added to the cover on some reissue pressings of the LP.
Howlin' Wolf's second album brings together some of the blues great's best singles from the late '50s and early '60s. Also available as a fine two-fer with his debut, Moanin' in the Moonlight, the so-called Rockin' Chair Album represents the cream of Wolf's Chicago blues work. Those tracks afforded classic status are many, including "Spoonful," "The Red Rooster," "Wang Dang Doodle," "Back Door Man," "Shake for Me," and "Who's Been Talking?" Also featuring the fine work of Chess house producer and bassist Willie Dixon and guitarist Hubert Sumlin, Rockin' Chair qualifies as one of pinnacles of early electric blues, and is an essential album for any quality blues collection.
– Stephen Cook (Allmusic)*
*= note that he concider it the second, not third, Howlin Wolf album. This is debateable since all the first three Wolf albums were released in 1962 (according to allmusic, but Wikipedia says that the debut was released in 1959), and it's often hard to find the exact date of release of these recordings.

In 1966, fellow Chess artist Koko Taylor recorded a cover version of "Wang Dang Doodle" which reached #4 on the Billboard's R&B Charts and became a minor crossover hit by making #58 on the Billboard Hot 100. Earlier in 1963 Sam Cooke released a single of "Little Red Rooster" making #7 on the R&B Singles chart and #11 on the Hot 100. In 1969 the songs "Shake for Me" and "Back Door Man" were used in the lyrics to the Led Zeppelin song "Whole Lotta Love".
In 1985 the album won a Blues Music Award by The Blues Foundation for 'Classics of Blues Recordings—Album'. In 2003, the album was ranked #223 on Rolling Stone magazine's list of the 500 greatest albums of all time and described as "an outrageous set of sex songs written by Willie Dixon." It was named the third greatest guitar album of all time by Mojo magazine in 2004.
Track list (All tracks composed by Willie Dixon; except where indicated):
Side one
"Shake for Me" – 2:12
"The Red Rooster" – 2:22
"You'll Be Mine" – 2:25
"Who's Been Talkin'" (Howlin' Wolf) – 2:18
"Wang Dang Doodle" – 2:18
"Little Baby" – 2:45
Side two
"Spoonful" – 2:42
"Going Down Slow" (St. Louis Jimmy Oden) – 3:18
"Down in the Bottom" – 2:05
"Back Door Man" – 2:45
"Howlin' for My Baby" – 2:28
"Tell Me" (Howlin' Wolf) – 2:52
– hallgeir