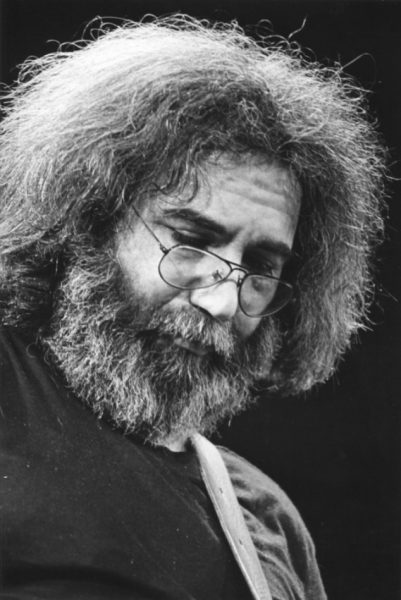 Bruce Hornsby inducts the Grateful Dead at the 1994 Hall of Fame Induction Ceremony:

Jerry Garcia Band – I Shall Be Released:

From Wikipedia:
Jerome John "Jerry" Garcia (August 1, 1942 – August 9, 1995) was an American musician who was best known for his lead guitar work, singing and songwriting with the band the Grateful Dead. Though he disavowed the role, Garcia was viewed by many as the leader or "spokesman" of the group.
One of its founders, Garcia performed with the Grateful Dead for their entire three-decade career (1965–1995). Garcia also founded and participated in a variety of side projects, including the Saunders-Garcia Band (with longtime friend Merl Saunders), Jerry Garcia Band, Old and in the Way, the Garcia/Grisman acoustic duo, Legion of Mary, and the New Riders of the Purple Sage (which Garcia co-founded with John Dawson and David Nelson). He also released several solo albums, and contributed to a number of albums by other artists over the years as a session musician. He was well known by many for his distinctive guitar playing and was ranked 13th in Rolling Stone's "100 Greatest Guitarists of All Time" cover story.
Jerry Garcia Interview "The History of Rock 'N' Roll" (52min video):

Lagacy:
Garcia was inducted into the Rock and Roll Hall of Fame as a member of the Grateful Dead in 1994.
In 2003, Rolling Stone Magazine ranked Jerry Garcia 13th in their list of the 100 Greatest Guitarists of All Time.
According to fellow Bay Area guitar player Henry Kaiser, Garcia is "the most recorded guitarist in history. With more than 2,200 Grateful Dead concerts, and 1,000 Jerry Garcia Band concerts captured on tape – as well as numerous studio sessions – there are about 15,000 hours of his guitar work preserved for the ages."
Seattle rock band Soundgarden wrote and recorded the instrumental song "Jerry Garcia's Finger", dedicated to the singer, which was released as a b-side with their single "Pretty Noose".
Peggy O – live 1994 Las Vegas:

Two wonderful albums:
Working Man's Dead (1970) (reissue from 2003 with xtra material)
1. "Uncle John's Band" 0:00
2. "High Time" 4:44
3. "Dire Wolf" 10:00
4. "New Speedway Boogie" 13:13
Side two
5. "Cumberland Blues" (Garcia, Hunter, and Phil Lesh) 17:20
6. "Black Peter" 20:37
7. "Easy Wind" (Hunter) 26:21
8. "Casey Jones" 31:19
2003 reissue bonus tracks 9. "Dire Wolf" 36:00 recorded at Santa Rosa Veteran's Memorial Hall on 6/27/1969
10 "Black Peter" 38:30 recorded at Golden Hall Community Concourse in San Diego on 1/10/1970
11 ."Easy Wind" 47:37 recorded at Springer's Ballroom in Portland on 1/16/1970
12. "Cumberland Blues" 55:50 recorded at the Oregon State University Gym on 1/17/1970
13. "Mason's Children" 1:00:37 recorded at the Civic Auditorium in Honolulu on 1/24/1970
14. "Uncle John's Band" 1:07:17 recorded at Winterland on 10/04/1970
–
American Beauty (1970) – full album:
1. Box of Rain
2. Friend of the Devil
3. Sugar Magnolia
4. Operator
5. Candyman
6. Ripple
7. Brokedown Palace
8. Till the Morning Comes
9. Attics of My Life
10. Truckin'

–
-Egil