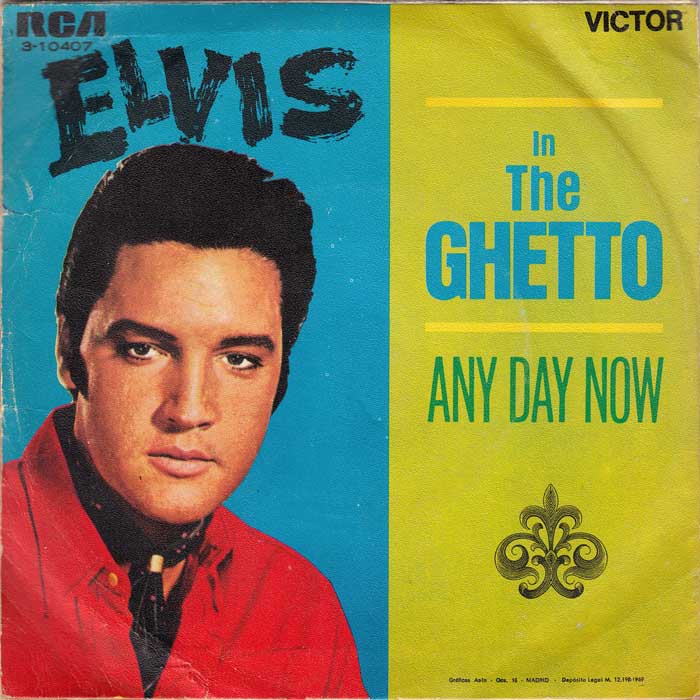 "In the Ghetto" (originally titled "The Vicious Circle") is a song written by Mac Davis and made famous by Elvis Presley, who had a major comeback hit with it in 1969. It was recorded January 20th 1969 and released in April the same year as a 45 rpm single with "Any Day Now" as the flip side.
It is a narrative of generational poverty: a boy is born to a mother who already has more children than she can feed in the ghetto of Chicago. The boy grows up hungry, steals and fights, purchases a gun and steals a car, attempts to run, but is shot and killed just as his own child is born. The song implies that the newborn will meet the same fate, continuing the cycle of poverty and violence. The feeling of an inescapable circle is created by the structure of the song, with its simple, stark phrasing; by the repetition of the phrase "in the ghetto" as the close of every fourth line; and finally by the repetition of the first verse's "and his mama cries" just before the beginning and as the close of the last verse.
Here Mac Davis tells the story of the song:

"In the Ghetto" was recorded during Presley's session in the American Sound Studio in Memphis, Tennessee. It was Presley's first creative recording session since the '68 Comeback. Other hits recorded at this session were "Suspicious Minds", "Kentucky Rain", and "Don't Cry Daddy".
In The Ghetto:
"Elvis spent much of the 1960s churning out cheesy B-movies and lifeless soundtracks while new acts like the Beatles and Bob Dylan made him seem like a relic. His brilliant 1968 comeback special shot him back to the forefront, and he took his newfound energy into the studio to cut "In the Ghetto." It's a song about the vicious cycle of poverty and despair in America's inner-cities, and it eventually hit Number Three, cementing the fact that Elvis was back." 
– Rolling Stone Magazine
– Hallgeir