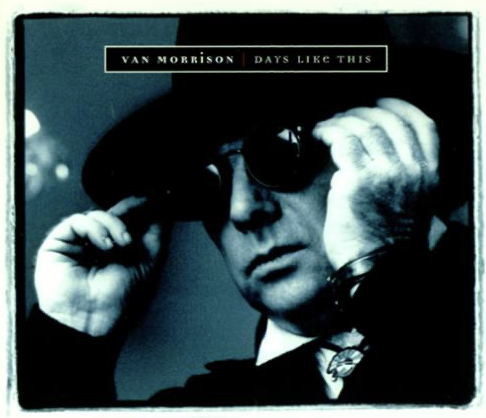 TOC
Facts
Wikipedia:
"Days Like This" is a popular song written by Northern Irish singer-songwriter Van Morrison and the title song of his 1995 album. Morrison has often performed this song in concert appearances including his 2006 appearance at the Austin City Limits Festival.
It was recorded during the 1993-1994 sessions at Wool Hall Studios, Beckington and the Real World in Bath, Somerset.
Before making his big break as a solo artist, Irish singer-songwriter Brian Kennedy performed backing vocals for this song, as well as others through out the album, and features heavily in the music video.
It became the official anthem of the peace movement in Northern Ireland and the Northern Ireland Office used it along with "Brown Eyed Girl" as theme music for a television advertisement promoting the cease fire. Morrison performed it for an audience of 60-80,000 people when President Bill Clinton visited Belfast, Northern Ireland on 30 November 1995. Clinton, himself a saxophonist, had shown an appreciation for Morrison's music and had wanted to perform but was advised against it by security officers.
Personnel
Van Morrison – vocals, alto saxophone
Ronnie Johnson – electric guitar
Nicky Scott – bass
Geoff Dunn – drums
Teena Lyle – Piano, backing vocals
Kate St. John – alto saxophone
Leo Green – tenor saxophone
Matthew Holland – trumpet
Brian Kennedy – backing vocals
Horns arranged by Pee Wee Ellis
Live:
Known Performances: 601
First performance: Point Theatre, Dublin – December 3, 1994
Last performance: Olympia, Paris – March 10, 2020
Paris 2020 (first show):
Quotes
..Immediately following "Songwriter" comes a stunningly simple piece of introspection called "Days Like This" — classic Van Morrison, as though he knew he would need to atone pretty quickly. With its steady, churchgoing easiness, "Days Like This" is everything "Songwriter" is not: a gentle, understated gospel prayer invested with lyrical poise and old-soul insight. Here is the man who is concerned with soul healing and salvation, his every pronouncement buttressed by terse horns and firm piano triads. Here is the worshipful Irish aspirant to the soul throne.
–> Tom Moon (rollingstone.com)
Lyrics
When it's not always raining there'll be days like this
When there's no one complaining there'll be days like this
When everything falls into place like the flick of a switch
Well my mama told me there'll be days like this
When you don't need to worry there'll be days like this
When no one's in a hurry there'll be days like this
When you don't get betrayed by that old Judas kiss
Oh my mama told me there'll be days like this
When you don't need an answer there'll be days like this
When you don't meet a chancer there'll be days like this
When all the parts of the puzzle start to look like they fit it
Then I must remember there'll be days like this
There'll be days like this
When everyone is up front and they're not playing tricks
When you don't have no freeloaders out to get their kicks
When it's nobody's business the way that you want to live
I just have to remember there'll be days like this
When no one steps on my dreams there'll be days like this
When people understand what I mean there'll be days like this
When you ring out the changes of how everything is
Well my mama told me there'll be days like this
Oh my mama told me
There'll be days like this
Oh my mama told me
There'll be days like this
Oh my mama told me
There'll be days like this
Oh my mama told me
There'll be days like this
Live versions
David Letterman show, NYC – June 29, 1995
Barcelona – December 21, 2013
Forest Hills Tennis Stadium, Forest Hills, Queens, New York – June 19, 2015
Heartland Festival, Egeskov Slot, Denmark – June 1th 2018
Isle of Wight Festival – June 24, 2018
Cover Versions
Dermot Kennedy
Genevieve Chadwick
Owen Campbell
Sources
-Egil