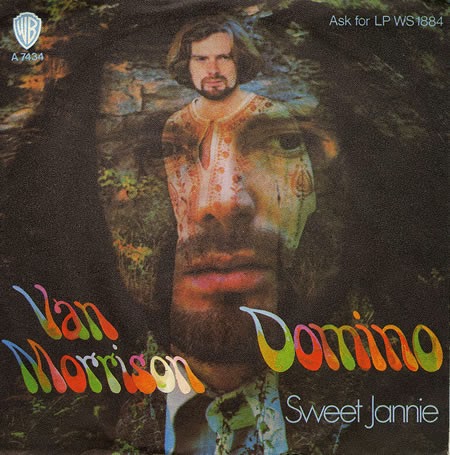 TOC
Facts
Wikipedia:
It is the opening track of his fourth studio album, His Band and the Street Choir. This song is Morrison's personal musical tribute to New Orleans R&B singer and pianist Fats Domino.
It was released by Warner Bros. Records in October 1970 as the first of three singles from the album and reached number nine on the Billboard Hot 100 charts. As of 2016, "Domino" remains Morrison's highest charting single ever, surpassing Morrison's signature song, "Brown Eyed Girl" which had charted at number 10 in 1967.
Morrison had written the song several years before it was released in 1970. With Lewis Merenstein as producer, it was recorded on three takes dating back to sessions in autumn 1968 at Warners Publishing Studio in New York City. Another eight takes of the song were recorded during several sessions in 1969 at the same studio and again with Merenstein as producer. The version released on His Band and the Street Choir was recorded in spring 1970 at A & R Recording Studios in New York City with Elliot Scheiner as engineer.
Musicians
Van Morrison – vocals, rhythm guitar
Alan Hand – piano
Keith Johnson – trumpet
John Klingberg – bass
John Platania – electric guitar
Jack Schroer – alto and baritone saxophones
Dahaud Shaar (David Shaw) – drums, backing vocals
Live:
Known Performances: 204
First performance: August 21, 1970 in Yellow Springs, US
Last performance: November 14, 2016 in Glasgow, Scotland
Quotes
Opener `Domino' is a kind of steam-driven, funky word-game, which opens nicely, via John Platania's spindly folk-funk guitar and drops into the percussive sive steps supplied by drummer and associate producer Dahuud Elias Shaar. If Warners were looking for singles then he gave them one here: tight, concise and Stax-funky, `Domino' is a great song, and part of a line running through Morrison's songwriting which would lead on to `Wild Night' and most famously `Jackie Wilson Said. …`Domino' connects his work not to Woodstock but to Wattstax: Graham Nash it is not. Morrison's vocal is direct and forceful, and eager to foreground some everyday wisdom, and some early hints at discomfort with having a public image rather than starry-eyed mysticism: 'And if you never hear from me / That just means I would rather not: The chorus is a rolling word-soup of o-sounds – `Oh, Domino, roll me over Romeo, there you go. .. , while the best musical moments are the stops between chorus-ends and the leap back into the verse: Morrison makes the first with a 'Dig it!' (1.13) and the next at the song's close with And the band … one more time!' (2.51-58). These ad libs do indeed communicate the `liveness' of the recording and work every time you listen; it's hard to hear it and not be cheered up.
–> Peter Mills. (Hymns to the Silence – Inside the Words and Music of Van Morrison)
A punchy affair, with words that mean little, though threatening the whole feelgood thrust of the album… The music is something else again, toughly joyful, with an early Van hymn of praise to the radio…
–> Brian Hinton (Celtic Crossroads – The Art of Van Morrison)
As befits hits, "Domino" and especially "Blue Money" are more celebratory if no more joyous than anything on Moondance, showing off his loose, allusive white r&b at its most immediate.
–> Robert Christgau (http://robertchristgau.com)
"Domino" is his highest charting single. The funky guitar lick, left-hand piano rumbling, driving, Memphis-style horns, and pumping bassline kick things off in grand party style.
–> Thom Jurek (allmusic.com)
Lyrics
Don't want to discuss it
I think it's time for a change
You may get disgusted
Start thinkin' that I'm strange
In that case I'll go underground
Get some heavy rest
Never have to worry
About what is worst and what is best (get it)
Oh oh Domino (all right)
Roll me over Romeo
There you go
Lord have mercy
I said oh oh Domino
Roll me over Romeo
There you go
Say it again
I said oh oh Domino
I said oh oh Domino, dig it
There's no need for argument
There's no argument at all
And if you never hear from him
That just means he didn't call or vice versa
That depends on wherever you're at
Or and if you never hear from me
That just means I would rather not
Oh oh Domino
Roll me over Romeo
There you go
Lord have mercy
I said oh oh Domino
Roll me over Romeo
There you go
Say it again
Oh oh Domino
I said oh oh Domino.
Hey Mr. DJ
I just want to hear some rhythm and blues music
On the radio
On the radio
On the radio
Uh-uh, all right
Uh-uh, all right
Uh-uh, all right
Uh-uh
Hear the band
One more time
Live versions
Lion's Share, San Anselmo – August 8, 1971

–
Rainbow Theatre, London – July 24, 1972

–
Midnight Special, NBC – March 28, 1977

–
Carre Theatre, Amsterdam – September 29, 1986

Cover Versions
Hozier

–
Dwayne Gretzky

Sources