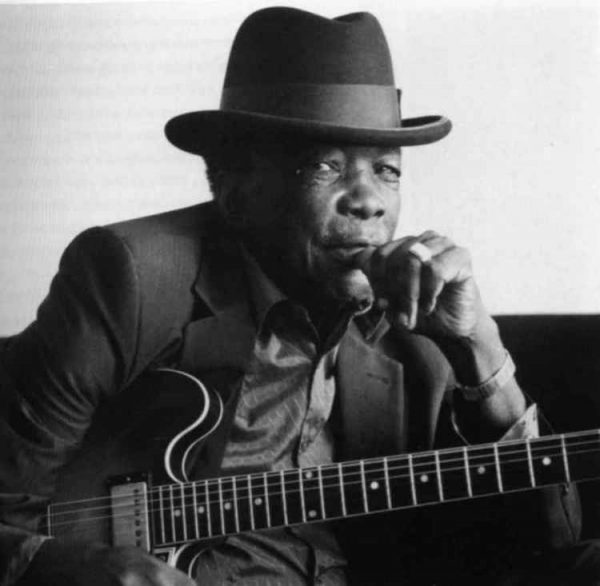 [vc_row][vc_column][vc_message message_box_color="mulled_wine" icon_fontawesome="fa fa-quote-left"]I don't think about time. You're here when you're here. I think about today, staying in tune.
~John Lee Hooker
I don't play a lot of fancy guitar. I don't want to play it. The kind of guitar I want to play is mean, mean licks.
~John Lee Hooker
When they say true blues, pure blues, John Lee Hooker is as close to it as anyone I've ever heard.
~B.B. King
One bourbon, one scotch, and one beer
Hey mister bartender come here
I want another drink and I want it now
~John Lee Hooker (One bourbon, one scotch, and one beer)[/vc_message][/vc_column][/vc_row]
JLH was inducted into the Rock and Roll Hall of Fame in 1991. Here from the ceremony he performs "In The Mood" together with Bonnie Raitt:

From Wikipedia:
Born
August 22, 1917
Coahoma County, Mississippi, United States
Died
June 21, 2001 (aged 83)
Los Altos, California, United States
Genres
Blues, talking blues, country blues
Occupations
Singer-songwriter, Musician, Songwriter
Instruments
Guitar, vocals
Years active
1943–2001

Labels
Vee-Jay, Chess, Bluesway, ++
Associated acts
Carlos Santana, Bonnie Raitt, B.B. King,Van Morrison, Bob Dylan, Canned Heat
John Lee Hooker (August 22, 1917 – June 21, 2001) was a highly influential American blues singer-songwriter and guitarist.
Hooker began his life as the son of a sharecropper, William Hooker, and rose to prominence performing his own unique style of what was originally a unique brand of country blues. He developed a 'talking blues' style that was his trademark. Though similar to the early Delta blues, his music was metrically free. John Lee Hooker could be said to embody his own unique genre of the blues, often incorporating the boogie-woogie piano style and a driving rhythm into his blues guitar playing and singing. His best known songs include "Boogie Chillen'" (1948), "I'm in the Mood" (1951) and "Boom Boom" (1962), the first two reaching R&B #1 in the Billboard charts.
[vc_row][vc_column][vc_message message_box_color="mulled_wine" icon_fontawesome="fa fa-quote-left"]He was beloved worldwide as the king of the endless boogie, a genuine blues superstar whose droning, hypnotic one-chord grooves were at once both ultra-primitive and timeless. But John Lee Hooker recorded in a great many more styles than that over a career that stretched across more than half a century.
-Bill Dahl
Read more -> allmusic.com[/vc_message][/vc_column][/vc_row]
Awards and recognition
A Star on the Hollywood Walk of Fame
Inducted into the Blues Hall of Fame in 1980
Inducted into the Rock and Roll Hall of Fame in 1991
Two of his songs, "Boogie Chillen" and "Boom Boom" were named to the list of The Rock and Roll Hall of Fame's 500 Songs that Shaped Rock and Roll.
"Boogie Chillen" was included as one of the Songs of the Century.
[vc_row][vc_column][vc_message message_box_color="mulled_wine" icon_fontawesome="fa fa-quote-left"]John Lee's style has always been unique, even among other performers of the real deep blues, few of whom remain with us today. While retaining that foundation he has simultaneously broken new ground musically and commercially. At the age of 80, John Lee Hooker received his third and fourth Grammy Awards, for Best Traditional Blues Recording (Don't Look Back) and for Best Pop Collaboration for the song "Don't Look Back" which Hooker recorded with his long time friend Van Morrison.
~johnleehooker.com[/vc_message][/vc_column][/vc_row]
Grammy Awards:
Best Traditional Blues Recording, 1990 for I'm in the Mood (with Bonnie Raitt)
Best Traditional Blues Recording, 1998 for Don't Look Back
Best Pop Collaboration with Vocals, 1998, "Don't Look Back" (with Van Morrison)
Grammy Lifetime Achievement Award in 2000
Boom! Boom!:

One Bourbon, one Scotch, one Beer:

Live In Montreal 1980:

Album of the day – John Lee Hooker Plays & Sings The Blues (1961):
[vc_row][vc_column][vc_separator][vc_btn title="Alldylan / Borntolisten @ Facebook" color="blue" i_icon_fontawesome="fa fa-facebook-official" add_icon="true" link="url:https%3A%2F%2Fwww.facebook.com%2FJohannasVisions%2F||target:%20_blank|"][/vc_column][/vc_row]
-Egil & Hallgeir