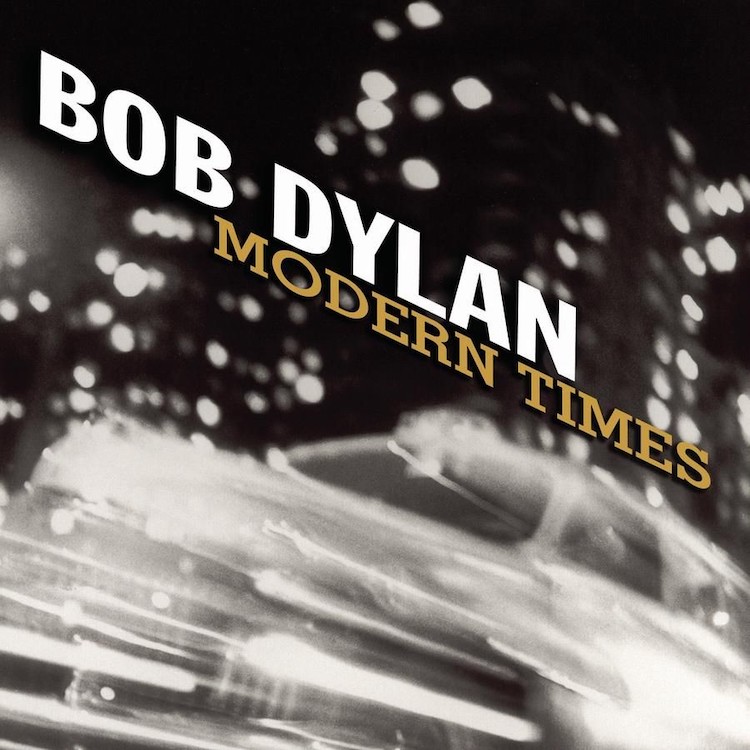 #1 Thunder on The Mountain (official video)

From Wikipedia:
| | |
| --- | --- |
| Released | August 29, 2006 |
| Recorded | February 2006 |
| Genre | Folk rock, blues, rockabilly,Americana |
| Length | 63:04 |
| Label | Columbia |
| Producer | Jack Frost (Bob Dylan pseudonym) |
Modern Times is the thirty-second studio album by American singer-songwriter Bob Dylan, released in August 2006 by Columbia Records. The album was Dylan's third straight (following Time Out of Mind and Love and Theft) to be met with nearly universal praise from fans and critics. It continued its predecessors' tendencies toward blues, rockabilly and pre-rock balladry, and was self-produced by Dylan under the pseudonym "Jack Frost". Along with the acclaim, the album sparked some debate over its uncredited use of choruses and arrangements from older songs, as well as many lyrical lines taken from the work of 19th-century poet Henry Timrod.
Modern Times became the singer-songwriter's first #1 album in the U.S. since 1976's Desire. It was also his first album to debut at the summit of the Billboard 200, selling 191,933 copies in its first week. At age 65, Dylan became the oldest living person at the time to have an album enter the Billboard charts at number one. It also reached #1 in Canada, Australia, New Zealand, Ireland, Denmark, Norway and Switzerland, debuted #2 in Germany, Austria and Sweden. It reached #3 in the UK and The Netherlands, respectively, and had sold over 4 million copies worldwide in its first two months of release. As with its two studio predecessors, the album's packaging features minimal credits and no lyric sheet. In the 2012 version of Rolling Stone magazine's list of "The 500 Greatest Albums of All Time", Modern Times was ranked at number 204.
#8 – Nettie Moore
Spotify:

Live @ Rothbury 2009

#9 – Ain't Talkin
My fav song on the album

A live version:

Critical reaction:
The response from critics was overwhelmingly positive. The publications Rolling Stone and Uncut both crowned Modern Times with five-out-of-five stars. Rolling Stone critic Joe Levy called the album Dylan's "third straight masterwork". Robert Christgau of Blender described it as "startling [and radiating] the observant calm of old masters who have seen enough life to be ready for anything—Yeats, Matisse, Sonny Rollins". Jody Rosen of the online magazine Slate concurred, calling Modern Times "a better album than Time Out of Mind and even than the majestic Love and Theft, which by my lights makes it Dylan's finest since Blood on the Tracks". The album was also credited for original blues and folk rock music which was said to be, "hard to hear these days" by critics.

Alexis Petridis in The Guardian ridiculed the lavish praise heaped on the album and wrote: "It's hard to hear the music of Modern Times over the inevitable standing ovation and the thuds of middle-aged critics swooning in awe." While enjoying the record, Petridis said Modern Times was "not one of those infrequent, unequivocally fantastic Dylan albums". Jim DeRogatis of The Chicago Sun-Times appreciated the lyrical content but found fault in the languid music, writing that "with the exception of the closing track 'Ain't Talkin', one of the spookiest songs he's ever written, Dylan disappoints with…[his] inexplicable fondness for smarmy '30s and '40s balladry".

Perhaps the sourest review came from Ron Rosenbaum. Writing in the New York Observer, Rosenbaum called Modern Times, "a wildly overhyped disappointment… The new album is possibly the worst since Self Portrait, with songs that rarely rise above the level of Dylan's low point—and everybody seems afraid to say so."

Some reviewers who liked the album were critical of its musicianship, such as The Chicago Tribune's Greg Kot, and Jon Pareles of The New York Times, who wrote that "onstage Mr. Dylan's touring band regularly supercharges his songs. But on Modern Times the musicians play as if they're just feeling their way into the tunes."

According to Metacritic, a site that tracks prominent critical opinion, Modern Times' approval rating hovers around 89%, indicating wide acclaim and earning it the honor of 30th most-liked-by-critics album (on Metacritic) of all time.

The album became Dylan's third successive album to top the Village Voice 's 'Pazz & Jop' poll. Love and Theft and Time Out of Mind won in 2001 and 1997 respectively. The album was also placed at #1 on Rolling Stone Magazines list of the 50 greatest albums of 2006 and #8 on the same magazines 100 greatest albums of the 2000s list.

 Track listing
All songs written and composed by Bob Dylan.
| | | |
| --- | --- | --- |
| 1. | "Thunder on the Mountain" | 5:55 |
| 2. | "Spirit on the Water" | 7:41 |
| 3. | "Rollin' and Tumblin'" | 6:02 |
| 4. | "When the Deal Goes Down" | 5:04 |
| 5. | "Someday Baby" | 4:56 |
| 6. | "Workingman's Blues #2" | 6:07 |
| 7. | "Beyond The Horizon" | 5:36 |
| 8. | "Nettie Moore" | 6:53 |
| 9. | "The Levee's Gonna Break" | 5:43 |
| 10. | "Ain't Talkin'" | 8:48 |
–
Our 5 fav songs:
Workingman's Blues #2
Nettie Moore
When The Deal Goes Down
Thunder On The Mountain
–
Personnel
Bob Dylan – vocals, guitar, harmonica, piano
Additional musicians
Denny Freeman – guitar
Tony Garnier – bass guitar, cello
Donnie Herron – steel guitar, violin, viola, mandolin
Stu Kimball – guitar
George G. Receli – drums, percussion
Technical personnel
Greg Calbi – mastering engineering
Chris Shaw – engineering
Album on Spotify:
-Egil