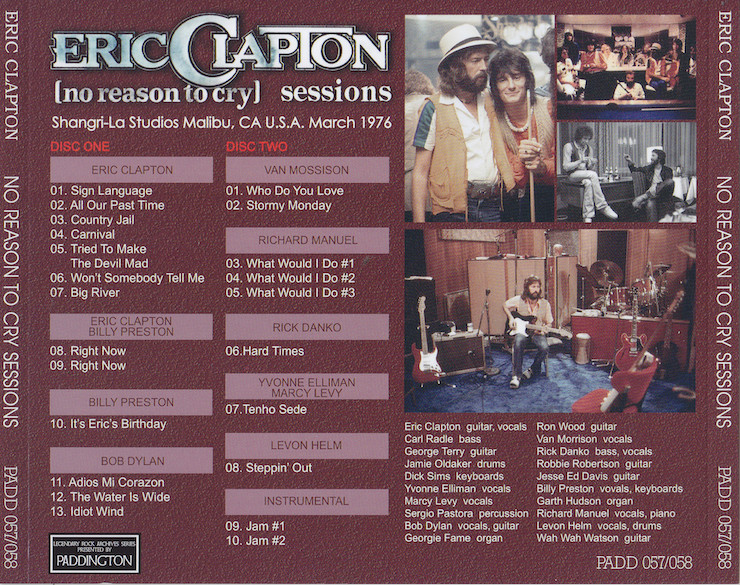 [vc_row][vc_column][vc_message message_box_color="mulled_wine" icon_fontawesome="fa fa-quote-left"]I had a magnificent birthday party right in the middle of the sessions and we decided to record everything and everybody that came into the studio. There's Billy (Preston) singing a couple of Ray Charles songs with The Band backing him along with Jesse Ed Davis, me, Robbie (Robertson) and Woody (Ron Wood) on guitars. Bob (Dylan) showed up about eight o'clock in the morning and it went on from there
-Eric Clapton[/vc_message][/vc_column][/vc_row]
Great fun & some wonderful singing by Van Morrison, Rick Danko, Bob Dylan & Levon Helm.
Shangri-La Studios
Malibu, California
30 March 1976
Eric Claptons birthday
Eric Clapton
Robbie Robertson, guitar
Jesse Ed Davis, guitar
Ron Wood, guitar
Bob Dylan, vocals/guitar
Billy Preston, vocals/keyboards
Van Morrison, vocals
Rick Danko, vocals/bass
Garth Hudson, organ
Richard Manuel, vocals/piano
Levon Helm, vocals/drums
—

It's Eric Clapton's Birthday (Billy Preston) – 00:00
Who Do You Love? (Bo Diddley) sung by Van Morrison – ca 11:30

Hard Times (Ray Charles) sung by Rick Danko – ca 17:30
Stormy Monday (T-Bone Walker) sung by Van Morrison – ca 26:30
Instrumental Jam – ca 33:35
Adios Mi Corason / Spanish Is The Loving Tongue (Bob Dylan) – ca 44:00
..and a dash of "La Adelita" (Mexican folk song)
The Water Is Wide (Bob Dylan) – ca 46:15
Idiot Wind (Bob Dylan) – ca 51:00
Some parts wonderful, others.. not so

Big River (Johnny Cash) sung by Eric Clapton – ca 56:45
Steppin' Out (James Bracken) sung by Levon Helm – 58:02
All songs:
The youtube video is from the bootleg "Happy, Happy Birthday Eric!".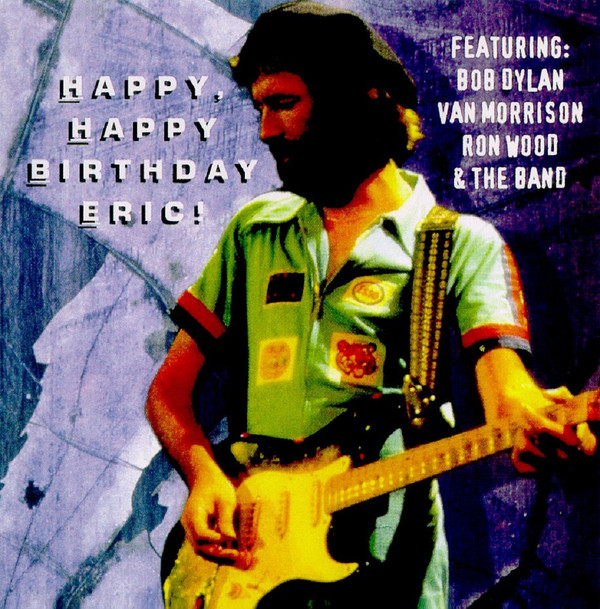 Let's also include Bob Dylan's "Sign language" from the same sessions (March – April 1976). Released on Clapton's album "No Reason To Cry".
Eric Clapton (guitar & vocal)
Bob Dylan (guitar & shared vocal)
Robbie Robertson (guitar)
[vc_row][vc_column][vc_separator][vc_btn title="Borntolisten @ Facebook" color="blue" i_icon_fontawesome="fa fa-facebook-official" add_icon="true" link="url:https%3A%2F%2Fwww.facebook.com%2FJohannasVisions%2F||target:%20_blank|"][/vc_column][/vc_row][vc_row][vc_column][vc_message message_box_style="outline" icon_fontawesome="fa fa-link" css_animation="bounceIn"]Check out:
[/vc_message][/vc_column][/vc_row]
-Egil