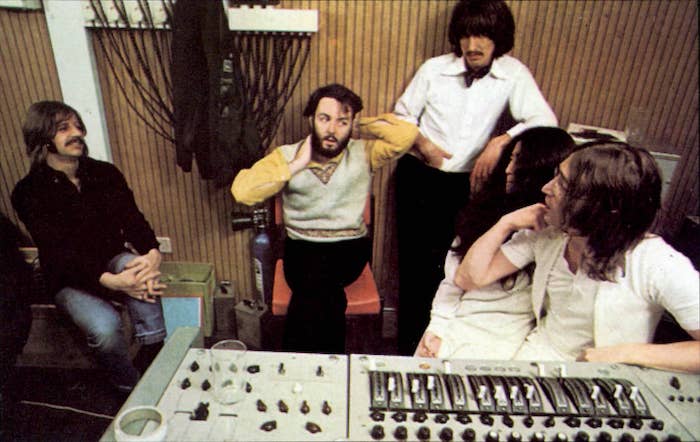 George Harrison visited Bob Dylan in Woodstock late November 1968. They probably listened to and played a lot of songs together. He most certainly heard a new composition I Threw It All Away (Dylan recorded this one in February 1969 for "Nashville Skyline").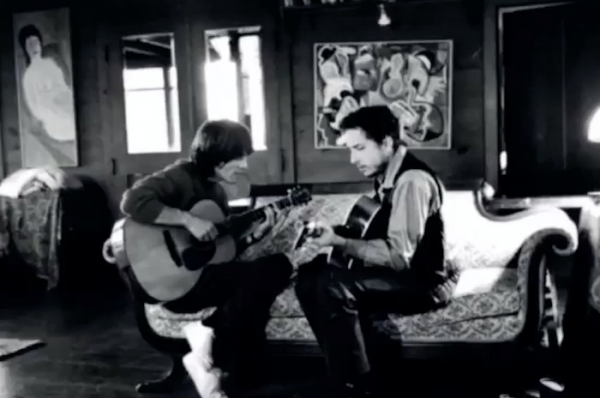 –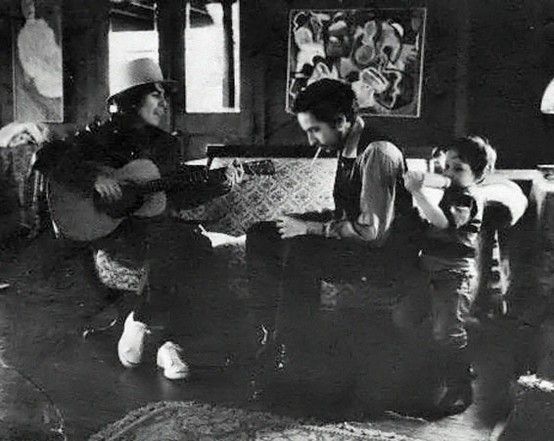 The Beatles had 20 recording sessions in January 1969, nine at Twickenham Film Studios and eleven at Apple Studios.
Most of the songs are fragments, but this is still a wonderful collection.
January 2
0:00 – I Shall Be Released #1 (Basement Tapes – recorded 1967)
2:02 – I've Got A Feeling / The Mighty Quinn (Basement Tapes – recorded 1967)
January 3
3:08 – Please Mrs. Henry (Basement Tapes – recorded 1967)
4:43 – Three Cool Cats (ending) / Blowin' In The Wind (The Freewheelin' Bob Dylan – 1963)
5:32 – All Along The Watchtower (John Wesley Harding – 1967)
January 6
6:19 – I Want You (Blonde On Blonde – 1966)
10:16 – Maureen (George Harrison is heard on tape claiming Dylan wrote this one…)
12:40 – Frere Jacques (traditional song) / It Ain't Me Babe (Another Side of Bob Dylan – 1964)
January 7
13:45 – My Back Pages (part of dialogue) (Another Side of Bob Dylan – 1964)
13:58 – Stuck Inside of Mobile with the Memphis Blues Again (Blonde On Blonde – 1966)
14:51 – I Shall Be Released #2
January 8
16:20 – Get Your Rocks Off (Basement Tapes – recorded 1967)
January 9
17:01 – I Threw It All Away (Nashville Skyline – 1969) / Mama, You've Been on My Mind (outtake from Another Side of Bob Dylan – 1964)
January 22
Billy Preston joins in (invited by George Harrison)

21:20 – Dialogue / I Shall Be Released #3
24:22 – I Shall Be Released #4
January 26
w/Billy Preston
28:19 – Like A Rolling Stone (Highway 61 Revisited – 1965) / Twist and Shout 
January 28
31:58 – I've Got A Feeling / Rainy Day Women #12 & 35 (Blonde On Blonde – 1966)
34:10 – Positively 4th Street (#1 & #2) (Single 1965)
Songs
| | |
| --- | --- |
| Song | Album / Recorded by Dylan |
| Blowin' In The Wind | The Freewheelin' Bob Dylan – recorded july 1962 |
| It Ain't Me Babe | Another Side of Bob Dylan – recorded June 1964 |
| My Back Pages | Another Side of Bob Dylan – recorded June 1964 |
| Mama, You've Been on My Mind | Another Side of Bob Dylan (outtake) – recorded June 1964 |
| Like A Rolling Stone | Highway 61 Revisited – recorded June 1965 |
| Positively 4th Street | Single – recorded July 1965 |
| Stuck Inside of Mobile with the Memphis Blues Again | Blonde On Blonde – recorded February 1966 |
| I Want You | Blonde On Blonde – recorded March 1966 |
| Rainy Day Women #12 & 35 | Blonde On Blonde – recorded March 1966 |
| I Shall Be Released (4 times) | Basement Tapes – recorded mid 1967 |
| The Mighty Quinn | Basement Tapes – recorded mid 1967 |
| Please Mrs. Henry | Basement Tapes – recorded mid 1967 |
| Get Your Rocks Off | Basement Tapes – recorded mid 1967 |
| All Along The Watchtower  | John Wesley Harding – recorded November 1967 |
| I Threw It All Away | Nashville Skyline – recorded February 1969 |