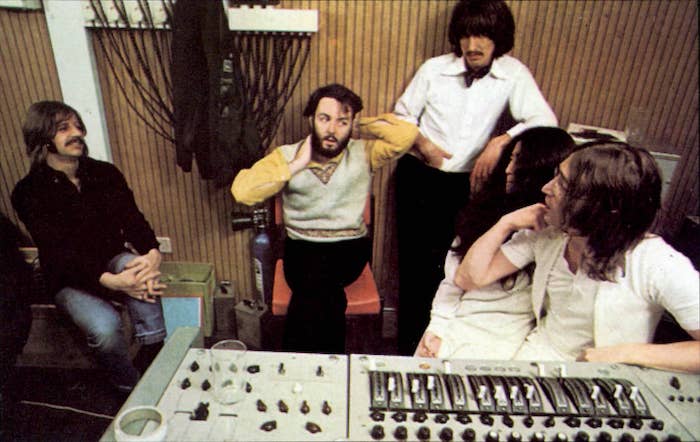 George Harrison visited Bob Dylan in Woodstock late November 1968. They probably listened to and played a lot of songs together. He most certainly heard a new composition I Threw It All Away (Dylan recorded this one in February 1969 for "Nashville Skyline").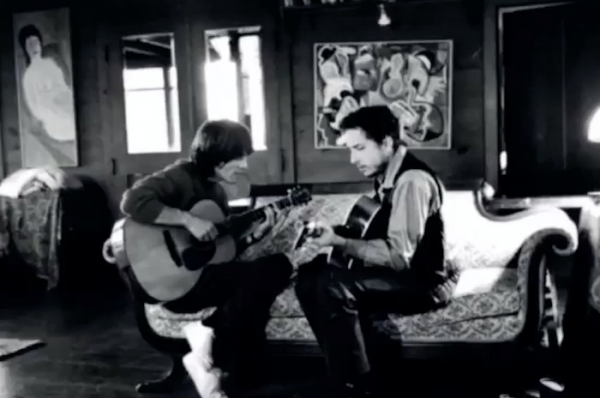 –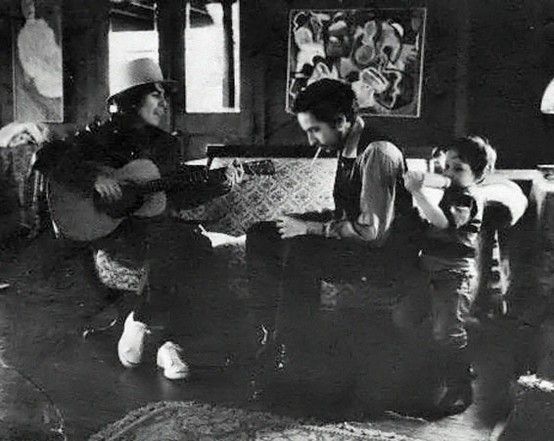 [vc_row][vc_column][vc_message message_box_color="mulled_wine" icon_fontawesome="fa fa-quote-left"]I got back to England for Christmas and then, on January first, we were to start on the thing, which turned into Let It Be. And straight away again, it was just weird vibes. You know, I found I was starting to be able to enjoy being a musician, but the moment I got back with The Beatles, it was just too difficult. There were just too many limitations based upon our being together for so long. Everybody was sort of pigeonholed. It was frustrating.
–George Harrison (from Mystical One: George Harrison: After the Breakup of the Beatles, Elliot J. Huntley, 2004)[/vc_message][/vc_column][/vc_row]
The Beatles had 20 recording sessions in January 1969, nine at Twickenham Film Studios and eleven at Apple Studios.
Most of the songs are fragments, but this is still a wonderful collection.
January 2
0:00 – I Shall Be Released #1 (Basement Tapes – recorded 1967)
2:02 – I've Got A Feeling / The Mighty Quinn (Basement Tapes – recorded 1967)
January 3
3:08 – Please Mrs. Henry (Basement Tapes – recorded 1967)
4:43 – Three Cool Cats (ending) / Blowin' In The Wind (The Freewheelin' Bob Dylan – 1963)
5:32 – All Along The Watchtower (John Wesley Harding – 1967)
January 6
6:19 – I Want You (Blonde On Blonde – 1966)
10:16 – Maureen (George Harrison is heard on tape claiming Dylan wrote this one…)
12:40 – Frere Jacques (traditional song) / It Ain't Me Babe (Another Side of Bob Dylan – 1964)
January 7
13:45 – My Back Pages (part of dialogue) (Another Side of Bob Dylan – 1964)
13:58 – Stuck Inside of Mobile with the Memphis Blues Again (Blonde On Blonde – 1966)
14:51 – I Shall Be Released #2
January 8
16:20 – Get Your Rocks Off (Basement Tapes – recorded 1967)
January 9
17:01 – I Threw It All Away (Nashville Skyline – 1969) / Mama, You've Been on My Mind (outtake from Another Side of Bob Dylan – 1964)
January 22
Billy Preston joins in (invited by George Harrison)

21:20 – Dialogue / I Shall Be Released #3
24:22 – I Shall Be Released #4
January 26
w/Billy Preston
28:19 – Like A Rolling Stone (Highway 61 Revisited – 1965) / Twist and Shout 
January 28
31:58 – I've Got A Feeling / Rainy Day Women #12 & 35 (Blonde On Blonde – 1966)
34:10 – Positively 4th Street (#1 & #2) (Single 1965)
Songs
| | |
| --- | --- |
| Song | Album / Recorded by Dylan |
| Blowin' In The Wind | The Freewheelin' Bob Dylan – recorded july 1962 |
| It Ain't Me Babe | Another Side of Bob Dylan – recorded June 1964 |
| My Back Pages | Another Side of Bob Dylan – recorded June 1964 |
| Mama, You've Been on My Mind | Another Side of Bob Dylan (outtake) – recorded June 1964 |
| Like A Rolling Stone | Highway 61 Revisited – recorded June 1965 |
| Positively 4th Street | Single – recorded July 1965 |
| Stuck Inside of Mobile with the Memphis Blues Again | Blonde On Blonde – recorded February 1966 |
| I Want You | Blonde On Blonde – recorded March 1966 |
| Rainy Day Women #12 & 35 | Blonde On Blonde – recorded March 1966 |
| I Shall Be Released (4 times) | Basement Tapes – recorded mid 1967 |
| The Mighty Quinn | Basement Tapes – recorded mid 1967 |
| Please Mrs. Henry | Basement Tapes – recorded mid 1967 |
| Get Your Rocks Off | Basement Tapes – recorded mid 1967 |
| All Along The Watchtower  | John Wesley Harding – recorded November 1967 |
| I Threw It All Away | Nashville Skyline – recorded February 1969 |
[vc_row][vc_column][vc_message message_box_color="mulled_wine" icon_fontawesome="fa fa-quote-left"]We couldn't get into it. It was just a dreadful, dreadful feeling at Twickenham Studio. You couldn't make music at eight in the morning, in a strange place with people filming you, and coloured lights … I was stoned all the time and I just didn't give a shit.
-John Lennon about the Twickenham sessions (Rollingstone interview 1971)[/vc_message][/vc_column][/vc_row]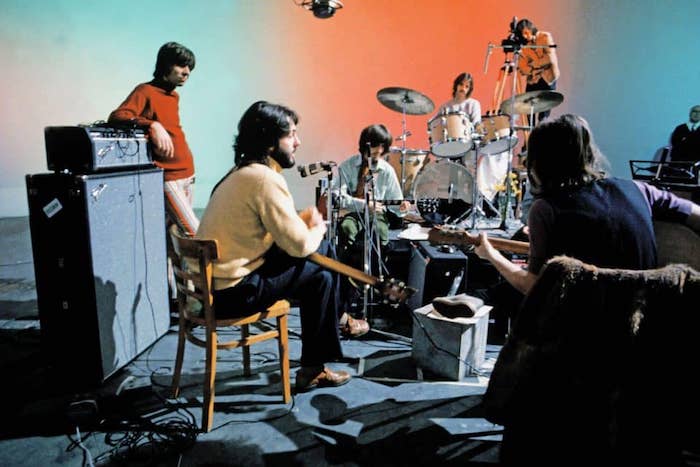 [vc_row][vc_column][vc_separator][vc_btn title="Alldylan / Borntolisten @ Facebook" color="blue" i_icon_fontawesome="fa fa-facebook-official" add_icon="true" link="url:https%3A%2F%2Fwww.facebook.com%2FJohannasVisions%2F||target:%20_blank|"][/vc_column][/vc_row][vc_row][vc_column][vc_message message_box_style="outline" icon_fontawesome="fa fa-link" css_animation="bounceIn"]Check out:
[/vc_message][/vc_column][/vc_row]