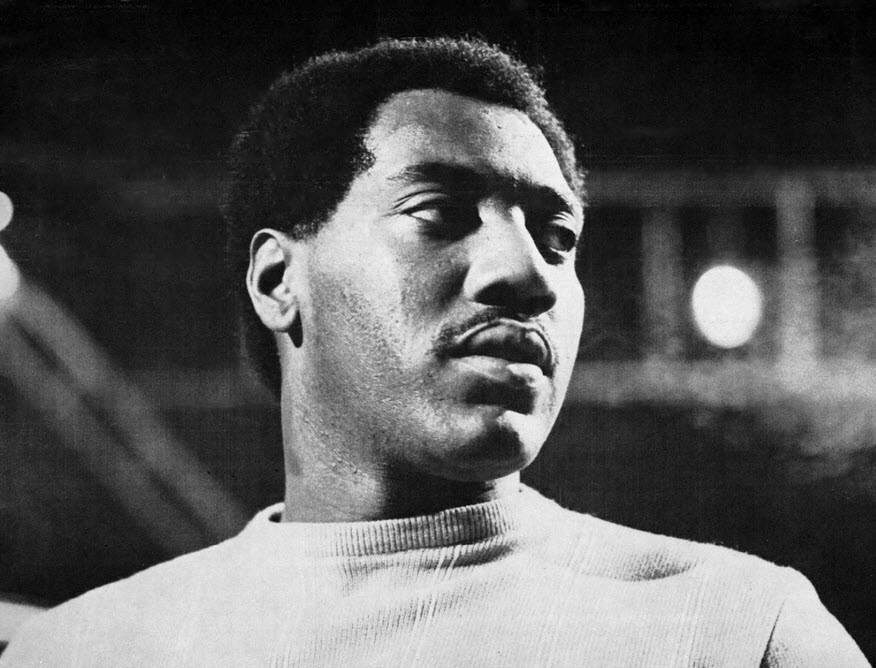 Check out: Robbie Robertson: The night Bob Dylan offered Otis Redding to record Just Like a Woman
Sitting on the dock of the bay:

From Wikipedia:
Birth name
Otis Ray Redding, Jr.
Also known as
The Big O
The Mad Man from Macon
Rockhouse Redding
The King of Soul
Born
September 9, 1941
Dawson, Georgia, U.S.
Died
December 10, 1967 (aged 26)
Madison, Wisconsin, U.S.
Genres
Soul, Southern soul, soul blues,Memphis soul
Occupations
Singer-songwriter
Instruments
Vocals, guitar, piano
Years active
1960–1967
Labels
Stax, Volt, Atco, Rhino, Sundazed
Associated acts
The Upsetters, The Bar-Kays, Carla Thomas
Website
otisredding.com
Otis Ray Redding, Jr. (September 9, 1941 – December 10, 1967) was an American soul singer-songwriter, record producer, arranger, and talent scout. He is considered one of the major figures in soul music and rhythm and blues (R&B), and one of the greatest singers in popular music. His open-throated singing was an influence on other soul singers of the 1960s, and he helped to craft the lean and powerful style of R&B that formed the basis of the Stax Sound. After appearing at the 1967 Monterey Pop Festival, he wrote and recorded "(Sittin' On) The Dock of the Bay", which became the first posthumous number-one record on both the Billboard Hot 100 and R&B charts after his death in a plane crash.
I've Been Loving You Too Long (Monterey '67):

Jerry Wexler said Redding "did not even know how to move", and "stood stock-still and moved only his upper body". However, Wexler later explained Redding was well received by the audience, as his delivered strong message was noticeable.

 

Author Peter Guralnick explains in Sweet Soul Music this painful vulnerability, which was attractive for the audience, but not for his friends and partners, as such a feeling was not known in Redding's self-assurance.
Another characteristic was his raw voice and the ability to convey strong emotion.
Richie Unterberger of Allmusic noted his "hoarse, gritty vocals, brassy arrangements, an emotional way with both party tunes and aching ballads.
"In the book Rock and Roll: An Introduction, authors Michael Campbell and James Brody suggested that "Redding's singing calls to mind a fervent black preacher. Especially in up-tempo numbers, his singing is more than impassioned speech but less than singing with precise pitch."

 

According to the book, "Redding finds a rough midpoint between impassioned oratory and conventional singing. His delivery overflows with emotion" in his song "I Can't Turn You Loose".

 

Booker T. Jones, an American musician, described Otis' singing as energetic and emotional, but said that his vocal range was limited, including neither low nor high notes.

 

Peter Buckley of The Rough Guide To Rock describes his "gruff voice, which combined Sam Cooke's phrasing with a brawnier delivery" and later suggested he "could testify like a hell-bent preacher, croon like a tender lover or get down and dirty with a bluesy yawp".
Legacy
Otis Redding has been called the "King of Soul", an honorific title also given to James Brown

 

and Sam Cooke.

 

He remains one of the most recognized artists in soul music
His lean and powerful style exemplified the Stax Sound,

 

and gave Stax a new identity; he was sometimes said to be its "heart and soul",

 

while artists such as Al Jackson, Donald "Duck" Dunn and Steve Cropper also helped to expand its structure.
His open-throated singing,

 

the tremolo/vibrato, the manic, electrifying stage performances,

 

and honesty were particular hallmarks, along with the use of interjections, for example "gotta, gotta, gotta", some of which came from Sam Cooke
The Rock and Roll Hall of Fame, where he was inducted in 1989, declared Redding's name to be "synonymous with the term soul, music that arose out of the black experience in America through the transmutation of gospel and rhythm and blues into a form of funky, secular testifying.
Readers of the British music newspaper Melody Maker voted him as the top vocalist of 1967, superseding Elvis Presley, who had topped the list for the prior 10 years
Redding was inducted into the Songwriters Hall of Fame in 1994
in 1999 he received the Grammy Lifetime Achievement Award.
The Rock and Roll Hall of Fame listed three Redding recordings, "Shake", "(Sittin' On) The Dock of the Bay", and "Try a Little Tenderness," among its list of "The 500 Songs that Shaped Rock and Roll."

 

American music magazine Rolling Stone ranked Redding at number 21 on their list of the "100 Greatest Artists of All Time"

 

and number 8 on their list of the "100 Greatest Singers of All Time".

 

Q ranked Redding at number 4 on "100 Greatest Singers", after only Frank Sinatra, Aretha Franklin and Elvis Presley, respectively.
Five of his albums, Otis Blue: Otis Redding Sings Soul, Dreams to Remember: The Otis Redding Anthology, The Dock of the Bay,Complete & Unbelievable: The Otis Redding Dictionary of Soul and Live in Europe, were ranked by Rolling Stone on their list of the "500 Greatest Albums of All Time"
NME ranked "Otis Blue" 35 on their list of the "Greatest Albums of All Time"
 Time listed it on their "100 Greatest Albums of All Time" list.

 

In 2002, the city of Macon honored its native son by unveiling a memorial statue in the city's Gateway Park. The park is next to the Otis Redding Memorial Bridge, which crosses the Ocmulgee River.
On August 17, 2013, in Cleveland, Ohio, the city where he did his last show at Leo's Casino, Redding was inducted into the inaugural class of the Official Rhythm & Blues Music Hall of Fame at Cleveland State University.
Try a little Tenderness:

Album of the day:
Otis Blue: Otis Redding Sings Soul (1965):
youtube playlist:

Spotify playlist:

-Egil