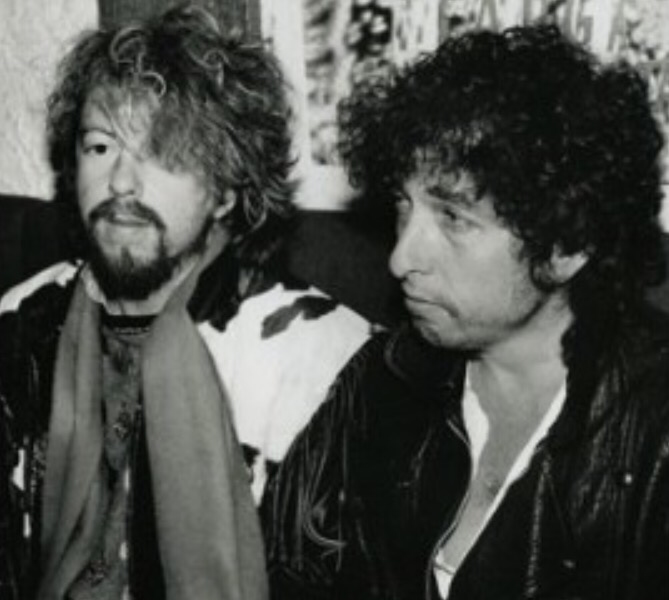 [vc_row][vc_column][vc_message message_box_color="mulled_wine" icon_fontawesome="fa fa-quote-left"]AK: What's made you come to London to work with Dave Stewart?
Dylan: Well, I just wanted to work with Dave.
AK: For what particular reason; what attracted you to Dave?
Dylan: I think he's great.
AK: Did you decide to work with Dave because you felt you'd been going wrong in the past
decade?
Dylan: No, I think Dave understands my music, you know.
–> Bob Dylan to Andy Kershaw, London – November 1985[/vc_message][/vc_column][/vc_row]
David Allan Stewart (born 9 September 1952) is an English musician, songwriter and record producer, best known for Eurythmics, his successful professional partnership with Annie Lennox. Normally credited as David A. Stewart, he won Best British Producer at the 1986, 1987 and 1990 Brit Awards.
Dave Stewart on Meeting Bob Dylan

–
Dave Stewart about favorite Dylan songs, albums, or lyrics
"I loved every song on Blonde on Blonde. I still play it to this day on acoustic guitar in my house. "Tangled Up In Blue." I love the way he'd use sort of weird rhyming couplets and yet the payoff was the last line. "When she bent down to tie the laces of my shoe, tangled up in blue." "You're A Big Girl Now." "With a pain that stops and starts, like a corkscrew to my heart, ever since we've been apart." "Sad-Eyed Lady Of The Lowlands." "With your mercury mouth in the missionary times." That's a great opening line. You immediately think of Joan Baez, the Mona Lisa… it's all in a couple of words, all this imagery. "Like a Rolling Stone," obviously. I like the line in "Positively 4th Street" that says "I wish that for just one time you could stand inside my shoes. You'd know what a drag it is to see you."
Yeah, I could go on and on. There's just so many great songs and so many great lines and when you delve back in them you even find new ones. And then you start realizing the subtext underneath the subtext, like "You don't need a weather man to know which way the wind blows," which when I was like 15 years old I just took it as one thing. When I turned 21 I started to understand who the Weathermen were."
-> Dave Stewart (Evan Schlansky interview 2012 – American Songwriter)
Dave Stewart playing with Bob Dylan
Hammersmith Apollo
London, England
9 February 1993
Bob Dylan (vocal & guitar)

David

Stewart (electric guitar)

Bucky Baxter (pedal steel guitar & electric slide guitar)
John Jackson (guitar)
Tony Garnier (bass)
Winston Watson (drums & percussion)
Under Your Spell
Recorded in November 1985 in London, overdubbed May 1986 and later released on Knocked Out Loaded.
Dave Stewart plays guitar.

[vc_row][vc_column][vc_message message_box_color="mulled_wine" icon_fontawesome="fa fa-quote-left"]Dave Stewart and Bob Dylan have been friends for many, many years, from Dave producing tracks for Bob, filming him in Camden, to Vegas playing as support to Bob in Japan for a few shows, Dave gave his home over to the recording of The Travelling Willbury's album and on Dave's soon to be released Blackbird Diaries, there is a track, Worth The Waiting For, co-written with Dylan.
–> Ultimate Eurythmics[/vc_message][/vc_column][/vc_row]
Worth the Waiting For
Written by Dave Stewart & Bob Dylan

Camden, London 1993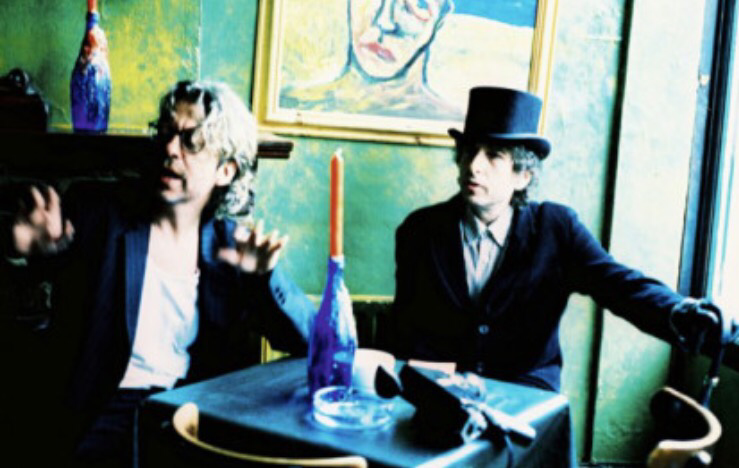 Blood in My Eyes
Filmed by Dave Stewart in London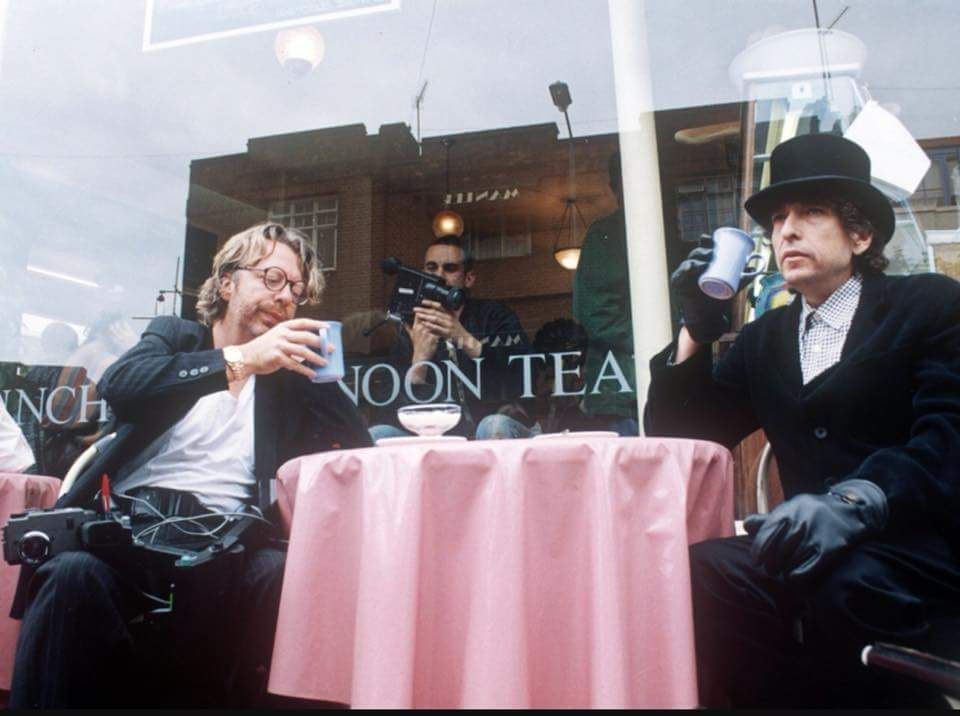 [vc_row][vc_column][vc_separator][vc_btn title="Borntolisten @ Facebook" color="blue" i_icon_fontawesome="fa fa-facebook-official" add_icon="true" link="url:https%3A%2F%2Fwww.facebook.com%2FJohannasVisions%2F||target:%20_blank|"][/vc_column][/vc_row][vc_row][vc_column][vc_message message_box_style="outline" icon_fontawesome="fa fa-link" css_animation="bounceIn"]Check out:
[/vc_message][/vc_column][/vc_row]
-Egil