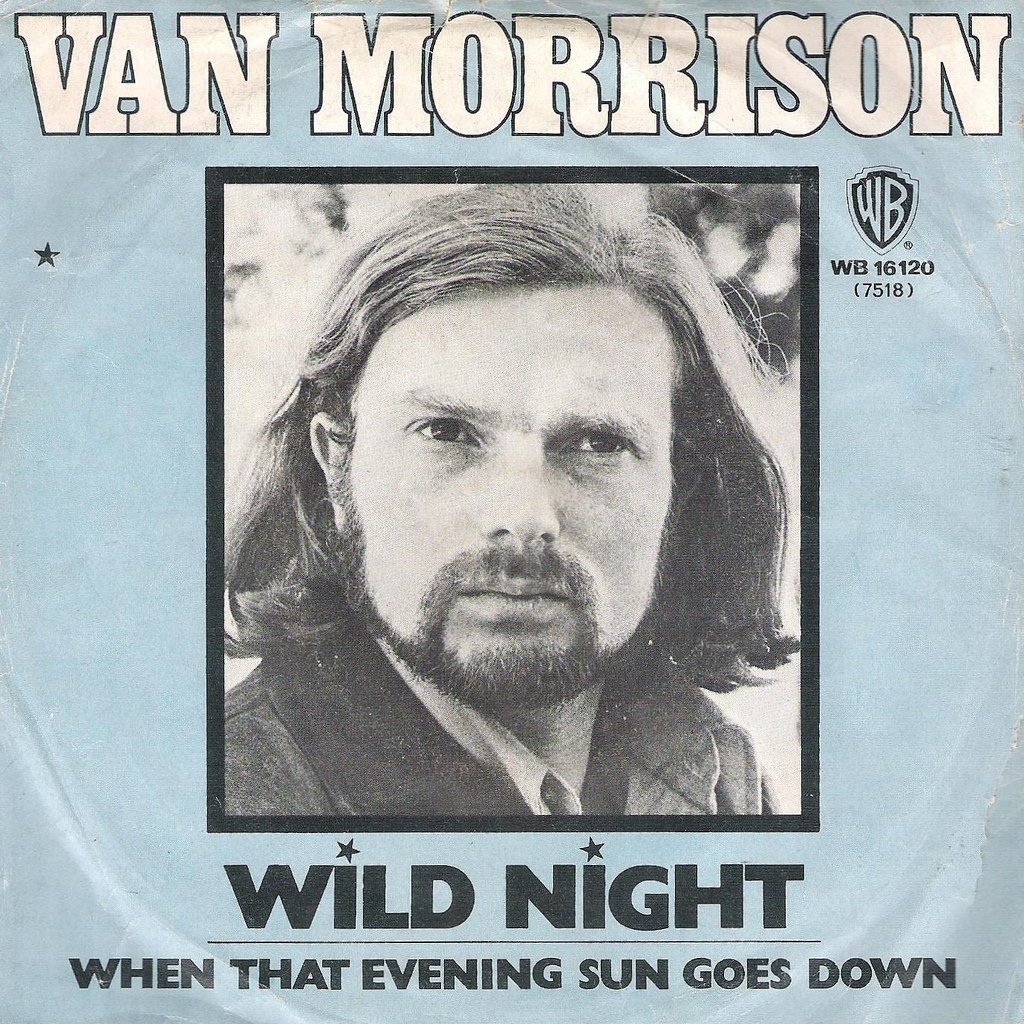 TOC
Facts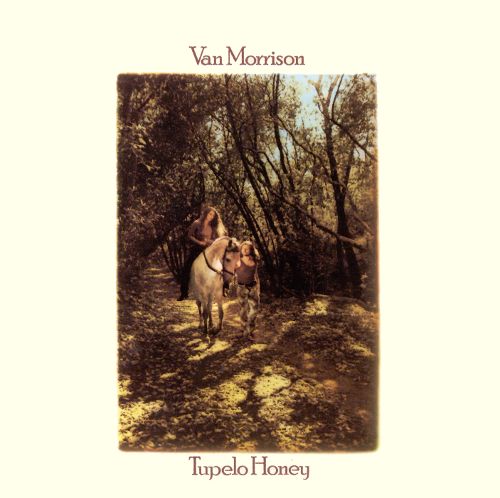 Wikipedia:
"Wild Night" is a song written by Van Morrison and is the opening track on his fifth studio album Tupelo Honey. It was released as a single in 1971 and reached number 28 on the Billboard Hot 100 chart.
Morrison has continued to perform it in concerts throughout his career and it has been recorded by many artists and bands.
"Wild Night" was first recorded during a session with Lewis Merenstein as producer at Warners Publishing Studio in New York City in autumn 1968. The version released on Tupelo Honey was recorded in spring 1971 at Wally Heider Studios in San Francisco with Ted Templeman as producer.
The album opens with "Wild Night", a hybrid of R&B, soul and country music influences, which uses a moderate 4/4 time signature and features the lead guitar playing of Ronnie Montrose. The song's intro was created, according to Montrose, when "One afternoon I was messing around with what is now the intro on the record, [Van] stopped me and … said ' … that thing you just played … that's the intro, don't forget it'". This guitar driven intro in Clinton Heylin's opinion made it one of Morrison's most memorable singles. "Wild Night", which has been described by biographer Ken Brooks as "a great start to the album" , was first recorded after the Astral Weeks sessions in Autumn 1968 and was re-recorded numerous times before its eventual release on Tupelo Honey.
Musicians
Van Morrison – rhythm guitar, vocals
Ronnie Montrose – electric guitars
Bill Church – bass
Luis Gasca – trumpet
Gary Mallaber – percussion
John McFee – pedal steel guitar
Rick Shlosser – drums[8]
Jack Schroer – alto and baritone saxophones
Production
Producers: Van Morrison, Ted Templeman
Engineers: Stephen Barncard, David Brown, Doc Storch
Remixing: Lee Herschberg, Donn Landee
Remastering: Ian Cooper
Horn arrangements: Van Morrison, Jack Schroer
Live:
Known Performances: 283
First performance: September 5, 1971 in San Francisco, US
Last performance: September 6, 2020 in London, UK
6/18/1980 – Montreux:
From It's too late to stop now, live album (Santa Monica, 1973):
Quotes
"The track is an effusive three and a half minutes of Stax-inspired R&B, buoyed by a sweet guitar lick from Ronnie Montrose of such quality that would make Steve Cropper proud and a healthy dollop of brassy horns add up to one vibrant arrangement. The lyrics describe the same youthful energy that Morrison delivers with his vocal, perfectly capturing the simmering anticipation of a night on the town in the opening verse — deployed with a kind of swinging, unrestrained glee, in a rush of slightly garbled phrases:
As you brush your shoes and stand before the mirror
And you comb your hair
And grab your coat and love
And you walk, wet streets
Tryin' to remember
All the wild night breezes in your memory ever.
Momentum is brilliantly maintained through a building bridge section, Morrison shifting the vocal melody while capturing the breezy free feeling of easin' on down the street —
And everything looks so complete
When you're walkin' out on the street
And the wind catches your feet
And sends you flyin', cryin
– while steel guitar adds subtle down-home accents underneath the mix. Pulsing horns bolster Morrison's chorus refrain, drawing out a euphoric "Oooh-wee!/Wild night is calling," the rhythm doubling up to a quick stomp leading up to short stops — the band swinging effortlessly. The groove escalates to an infectious shuffle as Morrison pleads, "Come on out and dance/Come on out and make romance," the horns engaging in a bit of call and response blasts in an interweaving arrangement."
– Tom Maginnis (Allmusic)
"No, there's no conscious thing one way or the other. I think a lot of the things I do just happen to be in that bag. Sometimes the way we record the song is the biggest factor. Like, 'Wild Night' was originally a much slower number but when we got to fooling around with it in the studio, we ended up doing it in a faster tempo. So they put it out as a single."
– Van Morrison
"Recorded live in the studio (as all Morrison's albums are), it sounds intricately layered, highly sophisticated by 2007's standards, like speeded-up Steely Dan meets Allen Toussaint. It's fluid but meticulous; ultra-rehearsed but effortless. It promises a party to come."
– David Cavanagh on Wild Night (Uncut Magazine)
"Is this night wild because of what it holds in store – the perfection of a moment when "all the girls walk dressed up for each other / And the boys do the boogie-woogie on the corner of the street" – or because it's already blowing up a gale while Van strolls aimlessly in the downpour and recalls, or tries to, how it once was, how he wishes it could be again, how it might be if he only knew how to get in touch with the feeling he had back when he was part of it, not just one of those people who "stare in wild wonder" without really comprehending the magnificence of all that street life?
Structurally, this is hippie soul, right down to the soprano sax solo, but unlike all those Woodstock-to-Martin funk hopefuls, Morrison has the stuff to pull it off, not only because his singing is the ideal blend of blarney and blues, but because his spirit and vision demand both the brightest and the darkest images that can be found."
– Dave Marsh (The Heart of Rock & Soul – the 1001 Greatest singles ever made, 1989)
Lyrics
As you brush your shoes, stand before the mirror
And you comb your hair, grab your coat and hat
And you walk the streets trying to remember
All the wild night breezes in your memory ever
And everything looks so complete
When you're walking out on the streets
And the wind, it catches your feet
Sets you flying, crying
Ooh wee, a wild night, is calling, alright
Ooh wee, wild night, is calling
All the girls walk by, dressed up for each other
And the boys, do the boogie woogie
On the corner of the street
And the people passing by, stare in wild wonder
And inside the jukebox roars just like thunder
And everything looks so complete
When you're walking out on the streets
And the wind, it catches your feet
Sets you flying, crying
Ooh ooh ooh wee, wild night, is calling, alright
Ooh ooh ooh wee, wild night, is calling, alright
Wild night, is calling
The wild night is calling
C'mon out and dance, c'mon out and make romance
C'mon out and dance, c'mon out make romance
Wild night, is calling
The wild night is calling
C'mon out and dance, c'mon out and make romance
C'mon out and dance, c'mon out make romance
Live versions
Fox Theater 10/21/17:
BBT Pavilion Camden, NJ 9/15/18, Wild Night starts about 5:40 in:
Cover Versions
A version recorded by John Mellencamp and Meshell Ndegeocello in 1994 peaked at number three on the Billboard Hot 100 in the summer of that year and reached number one in Canada for three weeks:
Imelda May (2020):
Johnny Rivers (1976):
Sources
Wikipedia
Dave Marsh (The Heart of Rock & Soul – the 1001 Greatest singles ever made, 1989)
ivan.vanomatic.de (wonderful website for VM statistics)