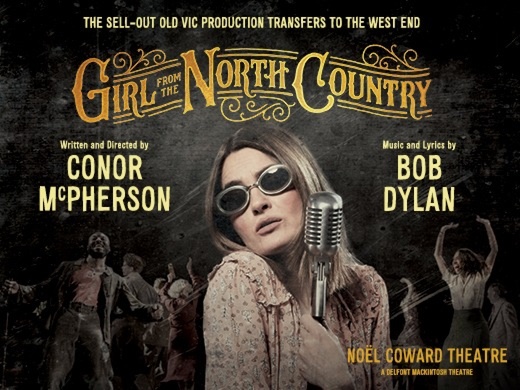 "Sure, I've seen it, and it affected me. I saw it as an anonymous spectator, not as someone who had anything to do with it. I just let it happen. The play had me crying at the end. I can't even say why. When the curtain came down, I was stunned. I really was. Too bad Broadway shut down because I wanted to see it again."
– Bob Dylan
Girl from the North Country is a musical with a book by Conor McPherson using the songs of Bob Dylan. We have trawled the web to find the best videos from different productions of the show.
From London to West End trailer:

Broadway Cast – Slow Train/License to Kill :

Duluth, Minnesota, a city on the shores of Lake Superior. It's the winter of 1934 and America is in the grip of the Great Depression.
Rachel John and Jeanette Bayardelle – To make you feel my love (at the Troubadour, with a fine interview at the start):


The story is narrated by Dr. Walker, physician to the Laine family. Nick Laine is the proprietor of a rundown guesthouse. The bank is threatening to foreclose on the property and he is desperate to find a way to save his family from homelessness.
Pressing on from the Broadway cast during lockdown:

His wife, Elizabeth, is suffering from a form of dementia which propels her from catatonic detachment to childlike, uninhibited outbursts which are becoming difficult to manage. Their children are Gene, who is in his early twenties, and their adopted daughter, Marianne, who is nineteen.
Broadway Cast – I want You:

Marianne is five months pregnant and the identity of the father is a mystery she guards carefully. Nick is trying to arrange a marriage between Marianne and a local shoe mender, Mr. Perry, in order to secure her future. The social awkwardness is complicated by the fact that Marianne is a black girl living with a white family. She was abandoned in the guesthouse as a baby and brought up by Nick and Elizabeth.
Sheila Atim performs Bob Dylan's 'Tight Connection to My Heart':

Gene is unable to get a grip on his life, and veers between ambitions of becoming a writer and debilitating alcohol binges, a situation not helped when his sweetheart, Kate, announces she is marrying a man with better prospects.
Broadway show clips:

Nick has become involved in a relationship with a resident of the guest house, Mrs. Neilsen, a widow who is waiting for her late husband's will to clear probate. They dream of a better future when her money comes through, although she scolds Nick for his constant pessimism.
Girl From The North Country Toronto Cast:

Also staying at the house are a family, the Burkes. Mr. Burke lost his business in the crash. His wife, Laura, and his son, Elias, share a room upstairs. Elias has a learning disability and the family struggle to come to terms with their reduced state.
Mare Winningham performs "Forever Young" (off stage) :

Late at night, during a storm, a self-styled reverend cum bible salesman, Marlowe, and a down-on-his-luck boxer, Joe Scott, arrive looking for shelter. The arrival of these characters is a catalyst, changing everything for everyone in the house.
Broadway cast in rehearsal:

Conor McPherson talks about creating and directing GIRL FROM THE NORTH COUNTRY, a musical:

"Because the songs are so good, it is easy to overlook the economy and skill with which McPherson evokes the mood of 1930s America: the racism that leads the black boxer to be alternately insulted and exploited, the poverty that has highways lined with people living in tents. As director, McPherson has created an astonishingly free-flowing production and the 19-strong cast, which includes three musicians, is so uniformly strong it is tough to pick out individuals."
– The Guardian
Rachel John (Mrs. Neilsen on the West End & Toronto) and Jeannette Bayardelle (Mrs. Neilsen on Broadway) sing Bob Dylan's iconic song, True Love, accompanied by GIRL FROM THE NORTH COUNTRY orchestrator Simon Hale. Filmed at the Troubadour in the Dylan Room in London: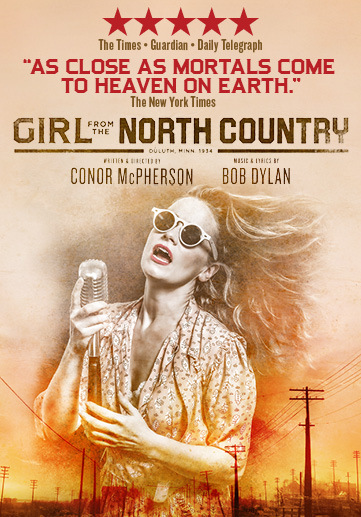 Conor McPherson short interview:

Productions:
2017 London
2017 West End
2018 Off-Broadway
2019 Toronto
2019 West End revival
2020 Broadway