Bob Dylan covers Hank Williams
I believe in Hank Williams singing `I Saw the Light.' I've seen the light, too."
– Bob Dylan (1997)

Hank Williams was the first influence, I would think, I guess, for a longer period of time than anybody else.
~Bob Dylan (Bronstein Interview, Montreal, 1966)

I started writing songs after I heard Hank Williams.
~Bob Dylan (The Les Crane Show, Feb 1965)

If it wasn't for Elvis and Hank Williams, I couldn't be doing what I do today.
~Bob Dylan (to Robert Shelton, June 1978)
Bob Dylan has referenced Hank Williams in interviews, in books, and with music a lot of times. Williams was also mentioned in the liner notes on Dylan's first two albums:
Bob Dylan (1962):
Bob Dylan started to sing and play guitar when he was ten. Five to six years later he wrote his first song, dedicated to Brigitte Bardot. All the time, he listened to everything with both ears — Hank Williams, the late Jimmie Rodgers, Jelly Roll Morton, Woody Guthrie, Carl Perkins, early Elvis Presley.
The Freewheelin' Bob Dylan(1963):
Among the musicians and singers who influenced him were Hank Williams, Muddy Waters, Jelly Roll Morton, Leadbelly, Mance Lipscomb and Big Joe Williams.

Lets start with a lovely scene from "Don't Look Back" (1967, D. A. Pennebaker) where Bob sings Hank Williams' "Lost Highway" and "So Lonesome I Could Cry":

"The songs of Woody Guthrie ruled my universe, but before that, Hank Williams had been my favorite songwriter, though I thought of him as a singer, first."
– Bob Dylan (Chronicles)
Bob Dylan – Lonesome Whistle Blues (Hank Williams / Jimmy Davies) audio:

The Lost Notebooks of Hank Williams is a 2011 album which features various folk, country and country rock artists, who set music to lyrics by late country musician Hank Williams. The album was released on October 4, 2011.
In 2006, a janitor working for Sony/ATV Music Publishing claimed to have found Williams' unfinished lyrics inside of a Sony-owned dumpster. The worker stated that she had sold Williams' notes to a representative of the Honky-Tonk Hall of Fame and the Rock-N-Roll Roadshow. The employee was then accused of theft, but the charges were later dropped when a judge determined the janitor's version of events to be true. The unfinished lyrics were later returned to Sony/ATV, which handed them to Bob Dylan in 2008 to complete the songs for an album release. Dylan completed one song; others were completed by Alan Jackson, Norah Jones, Jack White, Lucinda Williams, Vince Gill, Rodney Crowell, Patty Loveless, Levon Helm, Jakob Dylan, Sheryl Crow and Merle Haggard.
Bob Dylan – The Love That Faded: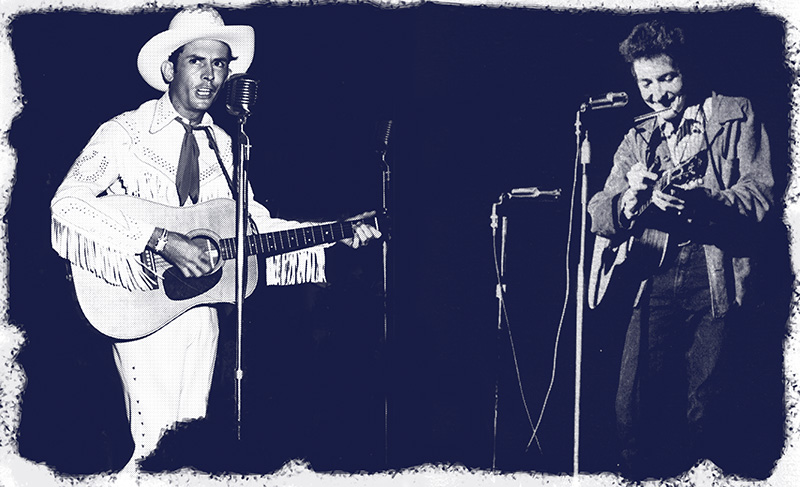 Bob Dylan also contributed on another tribute album to Hank Williams, "Hank Williams Timeless". This time with the song I Can't get you off my mind.
Timeless pulls together some of the most interesting artists available, and their performances, while varied, all display a passionate devotion to the music of one of country's true legends.
– Zak Johnson (allmusic)
Bob Dylan – I Can't get you off my mind:

"One of the greatest songwriters who ever lived was Hank Williams, of course. Hank could be headstrong and willful, a backslider and a reprobate, no stranger to bad deeds. However, underneath all of that, he was compassionate and moralistic."
– Bob Dylan (Theme Time Radio Hour)
Here is a sweet moment from the film, No Direction Home , where Bob Dylan and Johnny Cash sings I'm so lonesome I could cry:

Bob Dylan: To me, Hank Williams is still the best songwriter.
ST: Hank? Better than Woody Guthrie?
Bob Dylan: That's a good question. Hank Williams never wrote "This Land Is Your Land." But it's not that shocking for me to think of Hank Williams singing "Pastures of Plenty" or Woody Guthrie singing "Cheatin' Heart." So in a lot of ways those two writers are similar. As writers. But you mustn't forget that both of these people were performers, too. And that's another thing which separates a person who just writes a song… People who don't perform but who are so locked into other people who do that, they can sort of feel what that other person would like to say, in a song and be able to write those lyrics. Which is a different thing from a performer who needs a song to play on stage year after year.
– Song Talk (1991)
and then there's House of Gold…
The tune utilized on 'House Of Gold' is an obvious variant of Williams' own 'Lost Highway'. Williams' original recording was made in 1949 as a demo and released, with overdubs, in April 1951 (Polydor 833-752). It is currently available on the "Complete Hank Williams" box set (Mercury Records, 2000). See entry for 'Honky Tonk Blues' for a biography of Hank Williams.
~The songs he didn't write (Derek Barker)

Dylan played this Hank Williams song a couple of times in 1989. The first performance was on June 15, at Palacio De Los Deportes, in Madrid, Spain. The song was then rehearsed for the 1990 Summer Tour of North America but was not played on the tour.
~The songs he didn't write (Derek Barker)
Bob Dylan – House of Gold: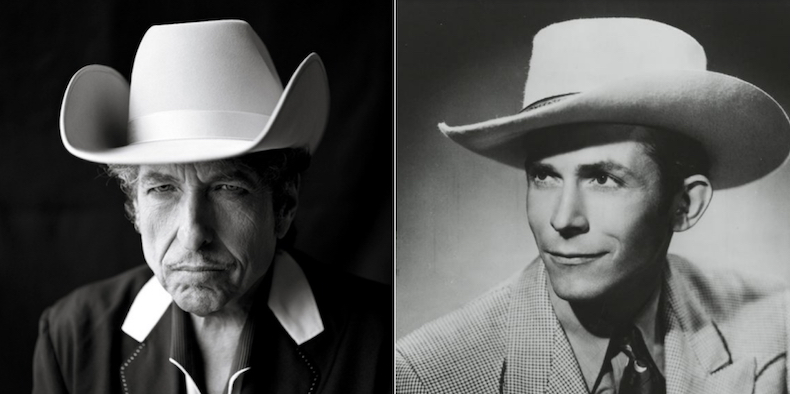 (I Heard That) Lonesome Whistle
Radio Show with Cynthia Gooding
March 11th 1962
Bob Dylan – Weary Blues for Waitin' (from the bootleg, One Timers) Not certain of the time, but this is what I found: Savoy Hotel, London, GB, May 2-6, 1965:

Bob Dylan – You Win Again (with Willie Nelson), he also recorded this with The Band and is an unreleased Basement Tapes track:

Thank God:
Honky Tonk Blues (played at eight shows in 1999), here from Municipal Auditorium Nashville, Tennessee on 6th February 1999.:
There are two songs from Hank Williams repertoar on the complete Basement Tapes, (Be Careful of) the stones you throw written by Benjamin Lee Blankenship and You Win Again written by Hank Williams.
And there are several (that I know of) that we could not find:
D.A. Pennebaker also said (1986) that Dylan and Baez sang the song Bad News during the filming of Don't look back.
Bob Dylan did Kaw-Liga in Renaldo & Clara, but I couldn't find that one anywhere. (see Edit below)
Your cheatin' heart with Rick Danko/Levon Helm at the Lone Star Cafe in New York, Feb 16, 1983. Great picture found, but not the song. (see Edit below)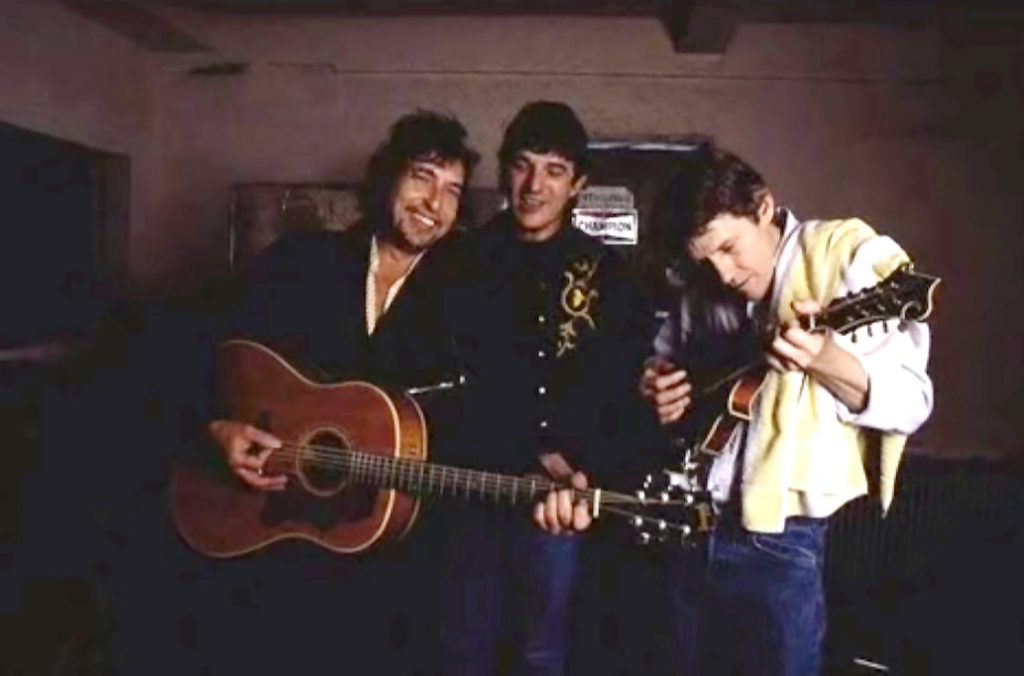 Cold, cold heart (Cream Studios, Los Angeles, April 1, 1981 and Power Station, NYC, April 26, 1983)
Half as much (Clover Recorders, Los Angeles, April 23, 1981)
Lost on the river was done at a Letterman rehearsal in  March 21, 1984
Edit:
Thanks to Muleskinner (see Comment) for directing us towards these:
"There's also an acoustic version of Your Cheatin' Heart from 11/23/75 on the Rolling Thunder boxset, but won't make Youtube due to copyright claims. A short version playing around, similar to the two songs in Don't Look Back."
Kaw-Liga (Rolling Thunder Revue 1975):

Your cheatin' heart with Rick Danko/Levon Helm at the Lone Star Cafe in New York, Feb 16, 1983:
Please send links in the comments if you know where to find even more. Thanx
"Kept my fingers crossed, hoped it wasn't true. But it was true. It was like a great tree had fallen. Hearing about Hank's death caught me squarely on the shoulder. The silence of outer space never seemed so loud."
– Bob Dylan (about Hank Williams's death in the back of his Cadillac)