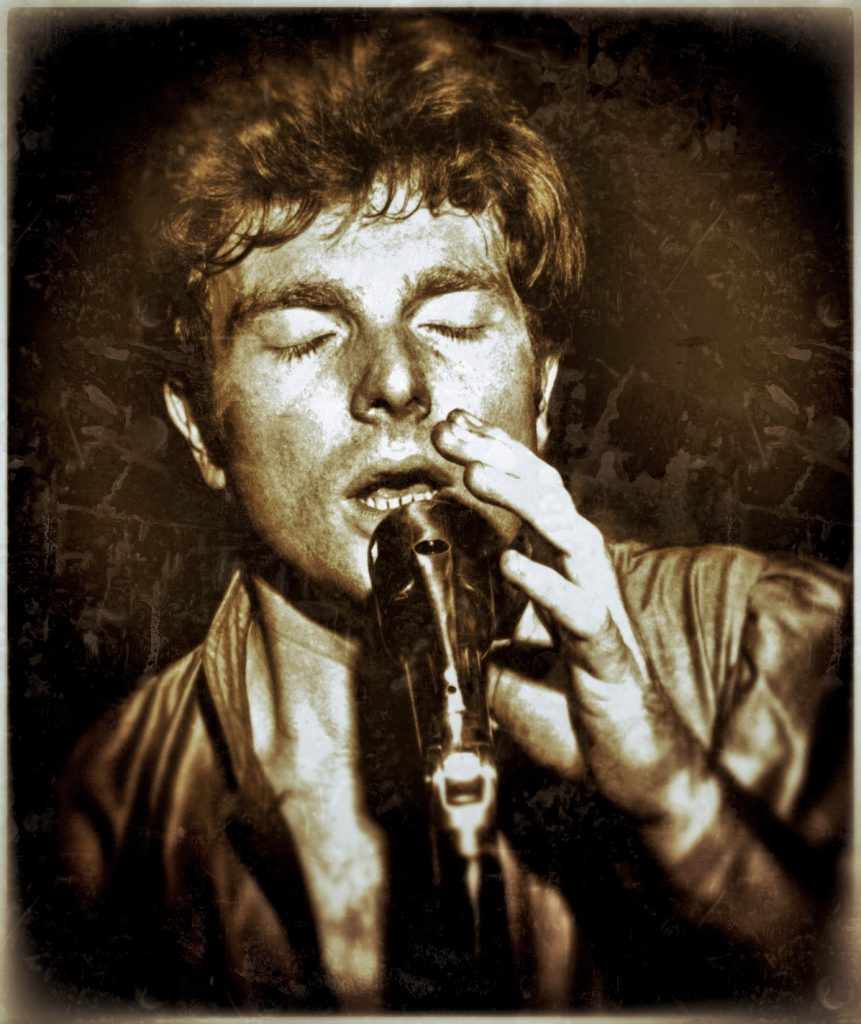 [vc_row][vc_column][vc_message message_box_color="mulled_wine" icon_fontawesome="fa fa-quote-left"]Now listen, Julie baby
It ain't natural for you to cry in the midnight
Ain't natural for you to cry way into midnight through
Until the wee small hours long 'fore the break of dawn[/vc_message][/vc_column][/vc_row]
TOC
Facts
Wikipedia:
"T.B. Sheets" is a blues-influenced song by Northern Irish singer-songwriter Van Morrison. Bang Records issued the song on his first solo album, Blowin' Your Mind! (1967). It later appeared on the Bang compilation T.B. Sheets.
There is a long-standing, but perhaps apocryphal, story of Morrison's emotional state during the song's recording. Michael Ochs, in the liner notes for the 1973 album T.B. Sheets, wrote that "after 'T.B. Sheets' was recorded, the rest of the session had to be cancelled because Van broke down in tears."
Likewise, according to John Collis, Morrison could later joke about this song. "I'm writing 'T.B. Sheets Part II' now," he said in 1972. "Keeping the same riff, the same groove." However, it's on record – though the story could be exaggerated – that after laying down this track he broke down in tears, unable to continue the session.
The story as told in the song takes place in a room where a young girl lies dying of tuberculosis and is visited by the story-teller. The overwhelming pain and guilt he feels leads to a desperate feeling of wanting to escape from the enclosed room smelling of death and disease.
Martin Scorsese used it as part of the soundtrack in his film Bringing Out The Dead, one of the most inspired and best use of pre-recorded music in film ever:

Musicians
Van Morrison – guitar, vocals
Eric Gale, Al Gorgoni and Hugh McCracken – guitars
Russ Savakus – bass
Gary Chester – drums
Paul Griffin – piano
Garry Sherman – conductor, organ, actual arranger, musical supervisor
Production
Vic Anesini – mastering
Brooks Arthur – engineer
Bert Berns – arranger, director, producer, liner notes
Adam Block – project director
Bob Irwin – liner notes, reissue producer
John Jackson – project director
Garry Sherman – music supervisor
Live:
Known Performances: just 11!
First performance: August 9, 1968 in Boston, US
Last performance: February 27, 2009 in New York, US
Lorely, Germany  09.07.1999 Rockpalast:
Quotes
"First of all, the singer chides the terminally ill invalid for crying. 'It ain't natural,' he says. The woman cries all night and the observer, trapped in the death room, is embarrassed and helpless. Later in the song, the sun bouncing off a crack in the window pane 'numbs my brain' … And then there's the crushing claustrophobia of the sickroom – 'Let me breathe,' he demands of the woman whose breath is failing, bubbling in cheesy lungs. There is a street below, a street she'll never walk in again, and he is getting desperate to be down there, to rejoin the living, because 'the cool room is a fool's room'.
– John Colllis – Inarticulate Speech of the Heart (1996)
"`TB Sheets' is 9.36 of pure performed claustrophobia and clammy, cold, white-hot panic.34 Randy Newman referred to this song as one of his favourite vocal performances, referring to the `early great acting job he [Morrison] did on that song"' In this Newman opens up a question as to the nature of performance itself, live or in the studio, but it is beyond dispute that `acting job' or not Morrison's performance on and of `TB Sheets' here is something unlike almost anything else you'll hear."
– Peter Mills – Hymns to the Silence: Inside the Words and Music of Van Morrison (2010)
"Here is a Dickensian tale of death and decay in a big city. Organ and drums go free form, then a stately groove, fitting Van's voice like a garrote, led by nagging lead guitar. Van's harmonica hurts the ear, then he's like a terrier, lecturing his girlfriend, 'Julie,' about it not being natural her staying awake at night, dying."
– Brian Hinton – Celtic Crossroads: The Art of Van Morrison (1997)
"A true landmark composition and Van Morrison classic, "T.B. Sheets" is more well-known for the version that he cut on the visionary and poetic album Blowin' Your Mind!. However, this early take from 1967 cut for The Bang Masters is required listening for any fan of the singer/songwriter. Over a lowdown, bluesy groove and one-chord "pattern," Morrison communicates with his muse on this first-person narrative of himself visiting a girlfriend who is suffering from T.B. The suffocation of the airless room, the foreboding atmosphere are all conveyed with a gritty, almost Jack Keroac-inspired spin. The listener is placed in the room. Although somewhat disturbing, it certainly defines the term realism with one bold, masterful stroke."
– Matthew Greewald (allmusic)
"…TB Sheets is the first great Morrison immersion: 10 minutes of crawling, bloodied blues, sticky with the sweet stench of decay. Taking cues from gnarled old death songs like TB Blues, Morrison conjures something entirely idiosyncratic. The "Julie baby" dying of tuberculosis was, according to various sources, either an old high school friend, his London landlady or a work of fiction. Whoever she may be, Morrison delivers us, with unremitting focus, into her fetid room, creating a suitably claustrophobic, choking musical backdrop of stabbing organ, stinging blues licks and searing harmonica. His agitated death-watch veers between compassion ("I cried for you"), impatience ("I gotta go, I'll send somebody around later"), awkward empathy, guilt and mortal dread. When words fail, he snuffles at the window like a hunted boar… Not an easy listen, but grimly unforgettable.
– Graeme Thomson (The Guardian.co.uk)
"…it's the agonizing "T.B. Sheets" — all nine-plus minutes of it — that dominates this record and belies its trendy title and pop association. "T.B. Sheets" takes the blues and reinvents it as noble tragedy and humiliating mortality. It's where Van Morrison emerges as an artist."
– William Ruhlman (allmusic)
"..Of terminal bed sheets sticky with cold sweat and sputum. The seemingly endless waiting, tambourine ticking off minute after monotonous minute. There's an eerie inevitably to the groove of "T.B. Sheets…
For such a heavy, personal song, it isn't sad or angry or scared like you might expect, which makes it even more gripping—and disturbing. There's a numbness to the whole thing, an obsession with minutiae in the face of a hulking truth too painful and frightening to confront. As Morrison narrates this true story about a girl with whom he once lived, he takes a magnifying glass to mundane details, grasping at distraction, trying desperately to sidestep the creeping Conradian terror—the horror— of experiencing firsthand our fleeting, fragile mortal existence…
"T.B. Sheets" is one of the most real songs about death you'll ever hear. As life saps steadily from the singer's beloved, tuberculosis-ridden Julie, there is no trite drama, no nostalgic sugar coating or grand deathbed epiphany, but rather an "Is That All There Is?" fatalism—a mild, detached, slowly-suffocating bleakness…
What makes this track so moving and powerful—beyond its stark, unapologetic realism—is Morrison's unflinching courage to deliver a story that spotlights a moment of such unabashed selfishness: While this girl is dying in front of his eyes, he actually has the nerve to snivel about his own problems, whining, in so many words, What about me? This is hard for me, too. Of course, this reminds us that we're only human—even the selfless have their breaking points."
– Steve LaBate (Paste Magazine)
Lyrics
Now listen, Julie baby,
it ain't natural for you to cry in the midnight.
It ain't natural for you to cry way into midnight through,
Until the wee small hours long 'fore the break of dawn,
Oh Lord, huh uh ha. Ha.
Now Julie, an' there ain't nothin' on my mind
More further 'way than what you're lookin' for.
I see the way you jumped at me, Lord, from behind the door
And looked into my eyes.
Your a little star struck innuendos
Inadequacies an' foreign bodies,
And the sunlight shining through the crack in the window pane
Numbs my brain,
And the sunlight shining through the crack in the window pane
Numbs my brain, oh Lord.
Ha, so open up the window and let me breathe.
I said open up the window, shh shh shh shh shh and let me breathe.
I'm looking down to the street below, Lord, I cried for you,
Ha ha, I cried, I cried for you, ha ha. Oh, Lord.
The cool room, Lord is a fool's room.
The cool room, Lord is a fool's room.
And I can almost smell your T.B. sheets
And I can almost smell your T.B. sheets
On your sick bed.
I gotta go, I gotta go
And you said, "Please stay, I wanna, I wanna,
I want a drink of water, I want a drink of water,
Go in the kitchen get me a drink of water."
I said, "I gotta go, I gotta go, baby."
I said, "I'll send, I'll send somebody around here later.
You know we got John comin' around here later
With a bottle of wine for you, baby – but I gotta go."
The cool room, Lord is a fool's room,
The cool room, Lord, Lord is a fool's room, a fool's room.
And I can almost smell your T.B. sheets,
I can almost smell your T.B. sheets, T.B.
I gotta go, I gotta go.
I'll send around, send around one that grumbles later on, babe.
We'll see what I can pick up for you, you know.
Yeah, I got a few things gotta do.
Don't worry about it, don't worry about it, don't worry.
Huh uh, go, go, go, I've gotta go, gotta go, gotta go, gotta go,
Gotta go, gotta go, huh uh, all right, all right, huh huh huh.
I turned on the radio,
If you wanna hear a few tunes, I'll turn on the radio for you.
There you go, there you go, there you go, baby, there you go, huh.
You'll be all right, too, huh huh, ha ha, yeah.
I know it ain't funny, it ain't runny at all, baby,
Always laying in the cool room, man, laying in the cool room,
In the cool room, in the cool room.
Live versions
Here is a lovely medley with Van Morrison and John Lee Hooker, combining Serves me right to suffer and T.B. Sheets (it starts 1h17m45s into the concert):
Cover Versions
John Lee Hooker 2006, it says original on the clip, but it is of course a cover of van Morrison's song:
Zachary Scot Johnson, 2020:
–
[vc_row][vc_column][vc_message message_box_style="outline" icon_fontawesome="fa fa-link" css_animation="bounceIn"]
Check out:
[/vc_message][/vc_column][/vc_row]
Sources
Wikipedia
Allmusic
John Colllis – Inarticulate Speech of the Heart (1996)
Peter Mills – Hymns to the Silence: Inside the Words and Music of Van Morrison (2010)
Brian Hinton – Celtic Crossroads: The Art of Van Morrison (1997)
Bringing out the dead (movie) by Martin Scorsese
ivan.vanomatic.de (wonderful website for VM statistics)