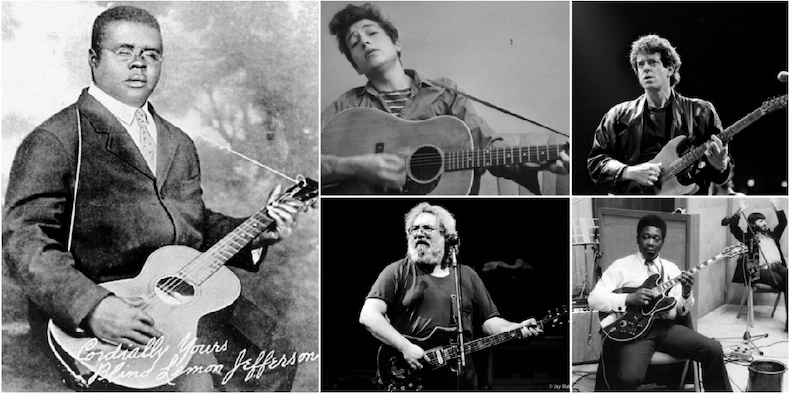 [vc_row][vc_column][vc_message message_box_color="mulled_wine" icon_fontawesome="fa fa-quote-left"]A great blues singer, also a guitarist and composer, born on October 26, 1894 (given until recently as September 26, 1893) in Wortham, Texas, about 60 miles south of Dallas. Hugely influential because he shaped the Texas blues and put it on record, though his recording career was, typically, very short (1926-1929). He was the main blues influence on Leadbelly and, through Leadbelly, an important tutor to many, many others.
-Michale Gray (The Bob Dylan Encyclopedia)[/vc_message][/vc_column][/vc_row]
Lemon Henry "Blind Lemon" Jefferson (September 24, 1894 – December 19, 1929) was an American blues and gospel singer-songwriter and musician. He was one of the most popular blues singers of the 1920s and has been called the "Father of the Texas Blues".
[vc_row][vc_column][vc_message message_box_style="outline" icon_fontawesome="fa fa-link" css_animation="bounceIn"]
Please check out our new website:
[/vc_message][/vc_column][/vc_row]
See That My Grave Is Kept Clean
Bob Dylan
From the album "Bob Dylan" (1962)

–
Lou Reed
From the album "Martin Scorsese Presents the Blues – The Soul of a Man" (2003)

–
B.B. King
Live at PBS Soundstage, Chicago, IL, USA – Jan 29, 2009

–
The Dream Syndicate
From the album "Ghost Stories" (1988)

–
Grateful Dead
Live at the Matrix 1966

–
Mavis Staples
Live at Radio City Music Hall, New York City – Feb 07, 2003

[vc_row][vc_column][vc_separator][vc_btn title="Alldylan / Borntolisten @ Facebook" color="blue" i_icon_fontawesome="fa fa-facebook-official" add_icon="true" link="url:https%3A%2F%2Fwww.facebook.com%2FJohannasVisions%2F||target:%20_blank|"][/vc_column][/vc_row]
-Egil