| | |
| --- | --- |
| Released | 26 September 1969 |
| Recorded | 22 February – 20 August 1969,EMI, Olympic and Trident Studios,London |
| Genre | Rock |
| Length | 47:23 |
| Label | Apple |
| Producer | George Martin |

Abbey Road is the 11th studio album released by the English rock band The Beatles. It is their last recorded album, although Let It Be was the last album released before the band's dissolution in 1970. Work on Abbey Road began in April 1969, and the album was released on 26 September 1969 in the United Kingdom, and 1 October 1969 in the United States.
Abbey Road is widely regarded as one of The Beatles' most tightly constructed albums, although the band was barely operating as a functioning unit at the time. Despite the tensions within the band, Abbey Road was released to near universal acclaim and is considered to be one of the greatest albums of all time. In 2012, Abbey Road was voted 14th on Rolling Stone magazine's list of the "500 Greatest Albums of All Time". In 2009, readers of the magazine also named Abbey Road the greatest Beatles album.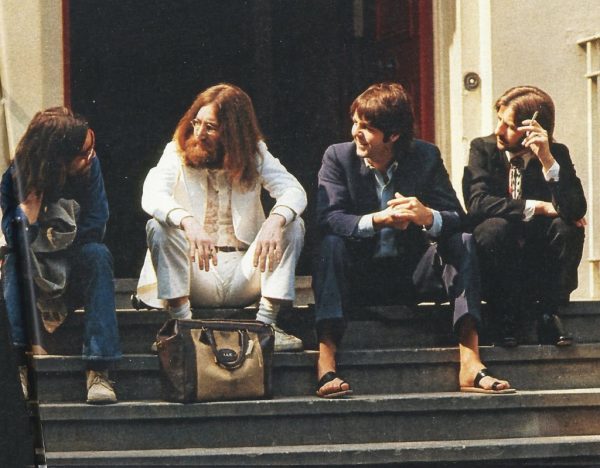 After the near-disastrous sessions for the proposed Get Back album (later released as Let It Be), Paul McCartney suggested to music producer George Martin that the group get together and make an album "the way we used to", free of the conflict that began after the death of Brian Epstein and carrying over to the sessions for the "White Album". Martin agreed, stipulating that he must be allowed to do the album his way. This would be the last time the band would record with Martin.
In their interviews for The Beatles Anthology, the surviving band members stated that, although none of them ever made the distinction of calling it the "last album", they all felt when this would very likely be the last Beatles product and therefore agreed to set aside their differences and "go out on a high note".
With the Let It Be album partly finished, the sessions for Abbey Road began in April, as the single "The Ballad of John and Yoko" / "Old Brown Shoe" was completed. In fact, recording sessions of John Lennon's "I Want You (She's So Heavy)" had already started in February 1969 in Trident studios, with Billy Preston on the organ—only three weeks after the Get Back sessions. Photos from these sessions are included in the book Get Back, which came along with the Let It Be album but not in the Let It Be film. McCartney is clean-shaven and Lennon has started to let his beard grow.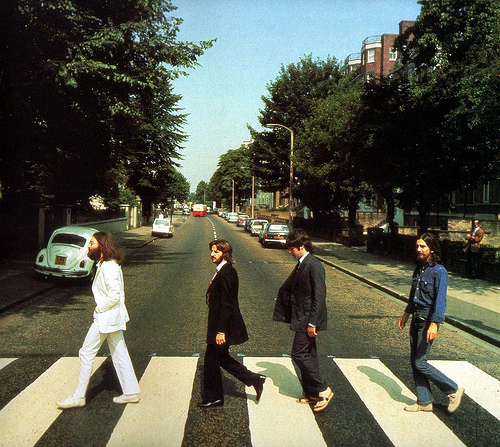 Most of the album was recorded between 2 July and 1 August 1969. After the album was finished and released, the Get Back / Let It Be project was re-examined. More work was done on the album, including the recording of more music (see Let It Be). Thus, though the bulk of Let It Be was recorded before Abbey Road, the latter was released first, and Abbey Road was the last album properly started by The Beatles before they disbanded. Lennon was on hiatus from the group and working with the Plastic Ono Band during the September 1969 lead-up to Abbey Road's release, which was effectively the first official sign of The Beatles' impending dissolution.
–
The two album sides are quite different in character. Side one is a collection of unconnected tracks, while most of side two consists of a long suite of compositions, many of them being relatively short and segued together.
[vc_row][vc_column][vc_message message_box_color="mulled_wine" icon_fontawesome="fa fa-quote-left"]Melody Maker 1971:
Did you think when you were making "Abbey Road" that it was going to be the last album?
MARTIN: No, I really didn't. They'd got back, they were much happier with themselves. It was very much more of a produced album … we used a Moog for the first time, on George's "Here Comes The Sun." Everybody seemed to be working hard, and we'd got things nicely organised. It wasn't until after that that things started happening badly.[/vc_message][/vc_column][/vc_row]
Critical reception:
Richie Unterberg (allmusic):
[vc_row][vc_column][vc_message message_box_color="mulled_wine" icon_fontawesome="fa fa-quote-left"]…The group was still pushing forward in all facets of its art, whether devising some of the greatest harmonies to be heard on any rock record (especially on "Because"), constructing a medley of songs/vignettes that covered much of side two, adding subtle touches of Moog synthesizer, or crafting furious guitar-heavy rock ("The End," "I Want You (She's So Heavy)," "Come Together"). George Harrison also blossomed into a major songwriter, contributing the buoyant "Here Comes the Sun" and the supremely melodic ballad "Something," the latter of which became the first Harrison-penned Beatles hit…
Read more at allmusic.com[/vc_message][/vc_column][/vc_row]
John Mendelsohn (Rolling Stone Magazine):
November 15, 1969
[vc_row][vc_column][vc_message message_box_color="mulled_wine" icon_fontawesome="fa fa-quote-left"]Seen a shooting
And I thought of you[/vc_message][/vc_column][/vc_row]
"Simply, side two does more for me than the whole of Sgt. Pepper, and I'll trade you The Beatles and Magical Mystery Tour and a Keith Moon drumstick for side one. "
Read more: Rolling Stone Magazine 
Mark Richardson (10 out of 10 at Pitchfork):
September 10, 2009
[vc_row][vc_column][vc_message message_box_color="mulled_wine" icon_fontawesome="fa fa-quote-left"]Abbey Road shows a band still clearly in its prime, capable of songwriting and recording feats other groups could only envy. Working for the first time exclusively on an eight-track tape machine, their mastery of the studio was undeniable, and Abbey Road still sounds fresh and exciting 40 years on (indeed, of the 2009 remasters, the improvements and sonic detail here are the most striking). Even if it's ultimately the Paul McCartney and George Martin show, as demonstrated on the famous second-side medley, everyone brought his A-game.
Read more at Pitchfork.com[/vc_message][/vc_column][/vc_row]
—
Born To Listen – song by song rating:
Egil:
–
Hallgeir:
No. Title                                                       Rating
1. "Come Together"                                             10
2. "Something" (George Harrison)                      9
3. "Maxwell's Silver Hammer"                             7
4. "Oh! Darling"                                                   9
5. "Octopus's Garden" (Richard Starkey)           5
6. "I Want You (She's So Heavy)"                     9,5
7. "Here Comes the Sun" (Harrison)                 10
8. "Because"                                                       9,5
9. "You Never Give Me Your Money"               8,5
10. "Sun King"                                                      7
11. "Mean Mr. Mustard"                                   6,5
12. "Polythene Pam"                                            7
13. "She Came In Through the Bathroom Window"   8,5
14. "Golden Slumbers"                                       10
15. "Carry That Weight"                                    9,5
16. "The End"                                                     10
17. "Her Majesty"                                                 6
Hallgeir's  favourite Beatles record, and the fourth best album made by anyone!
Well worth a celebration.
The Abbey Road 50th Anniversary Super Deluxe Boxset
Abbey Road's Super Deluxe box set presents 40 tracks – including "The Long One" Trial Edit & Mix for the album's epic Side 2 medley – on three CDs and one Blu-ray disc.
The four discs are housed in a slip-sleeved 12" by 12" 100-page hardbound book with McCartney's foreword; Martin's introduction; insightful, in-depth chapters written by Beatles historian, author, and radio producer Kevin Howlett covering the months preceding The Beatles' Abbey Road sessions, track-by-track details and session notes, the cover art and photo shoot, and the album's reception upon its release; plus an essay by music journalist and author David Hepworth looking at the album's influence through 50 years.
The book is illustrated previously unpublished photographs, including many taken by Linda McCartney; never before published images of handwritten lyrics, sketches, and a George Martin score; Beatles correspondence, recording sheets, and tape boxes; and reproduced original print ads.