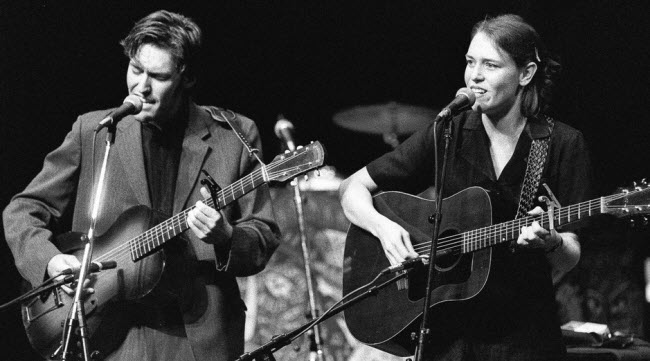 –
Happy birthday Gillian Welch, born October 2 1967.
She performs with her musical partner, guitarist David Rawlings. Their sparse and dark musical style, which combines elements of Appalachian music, bluegrass, country and Americana, is described by The New Yorker as "at once innovative and obliquely reminiscent of past rural forms."
Edit: here is one more (now we've found 10), Abandoned Love:

Here are some great Bob Dylan cover versions:
Gillian Welch sings Bob Dylan's Rambling, Gambling Willie during early morning sound check in Lyons Colorado (2016?):

Here they sing maybe the greatest cover of Billy from Pat Garrett and Billy The Kid:

Welch and Rawlings have collaborated on seven critically acclaimed albums, five released under her name, and two released under the name Dave Rawlings Machine. Her 1996 debut, Revival, and the 2001 release Time (The Revelator), received nominations for the Grammy Award for Best Contemporary Folk Album. Her 2003 album, Soul Journey, introduced electric guitar, drums, and a more upbeat sound to their body of work. After a gap of eight years, she released a fifth studio album, The Harrow & The Harvest, in 2011, which was also nominated for a Grammy for Best Contemporary Folk Album.
Lily, Rosemary and the Jack of Hearts –  At the Fillmore – March 1, 2018:

Tonight I'll Be Staying Here With:

Queen Jane Approximately – Hampton, NH Aug 4th 2009:

An all-star tribute were held on the 50th anniversary of Dylan's electric set at The Newport Folk Festival 2015, with Al Kooper, Gillian Welch, David Rawling, Dawes, Robin Hitchcock, Willie Watson, Deer Tick, Preservation Hall Jazz Band and more.
Here are many nice clips
Maggie's Farm :

Mr. Tambourine Man:

Rainy Day Women:

Like a Rolling Stone: