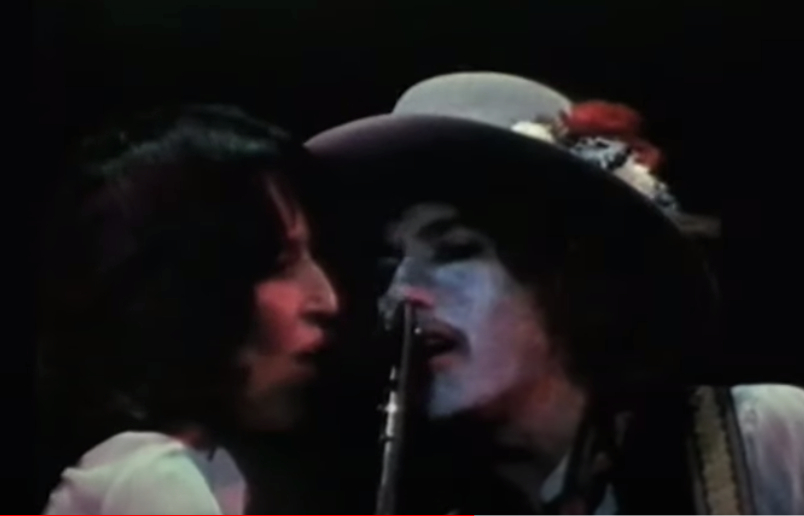 Classic song: Bob Dylan & Joan Baez Never Let Me Go (Johnny Ace)
Just let me love you tonight.
Forget about tomorrow.
My darling, won't you hold me tight,
And never let me go.

Dry your eyes, no tears, no sorrow.
Cling to me with all your might,
And never let me go.
The music of the late '50s and early '60s when music was at that root level—that for me is meaningful music. The singers and musicians I grew up with transcend nostalgia—Buddy Holly and Johnny Ace are just as valid to me today as then.
~Bob Dylan (to Maureen Orth, Jan 1974)
Wikipedia:
Never Let Me Go is a blues ballad song by American R&B/blues singer Johnny Ace, written by Joseph Scott and released in 1954 under Duke Records. The song is featured on the albums My Songs and Memorial ". Never Let Me Go" was one of his eighth consecutive top ten R&B hits in a row, including "My Song", "Cross My Heart," "Please Forgive Me," "The Clock," "Pledging My Love," "Saving My Love for You," and "Anymore". The song was R&B hit and peaked to No. 9 in October 1954 on Billboards Rhythm & Blues Records chart.
Never Let Me Go was performed as a duet by Bob Dylan and Joan Baez at 21 of 1975's Rolling Thunder Revue shows.
This video clip is from (mainly) Montreal with the sound from the three days later in New York.
Madison Square Garden, December 8th 1975:
Swingin' Pig (YouTube):
"I've been on a Rolling Thunder Revue editing craze lately. Like my other two uploads, the audio of this video was recorded at Madison Square Gardens, New York, but the footage is from a different concert recorded in Montreal. To hear the Montreal version, watch my 45-minute compilation on Vimeo: https://vimeo.com/376499609. It has some incredible tracks and rare footage that I can't upload to YouTube due to copyright reasons, unfortunately. But with a little editing magic, I managed to overdub a version of this track that wasn't copyrighted. I then stitched together various clips from the Netflix documentary and Renaldo and Clara. Hope you enjoy :)"
A million times or more we said we'd never part.
But lately I find you're a stranger in my heart.
Give me the right, in summer or in springtime,
To tell the world that you are mine.
And never let me go, no, and never let me go.
–
And here is Johnny Ace (1954):