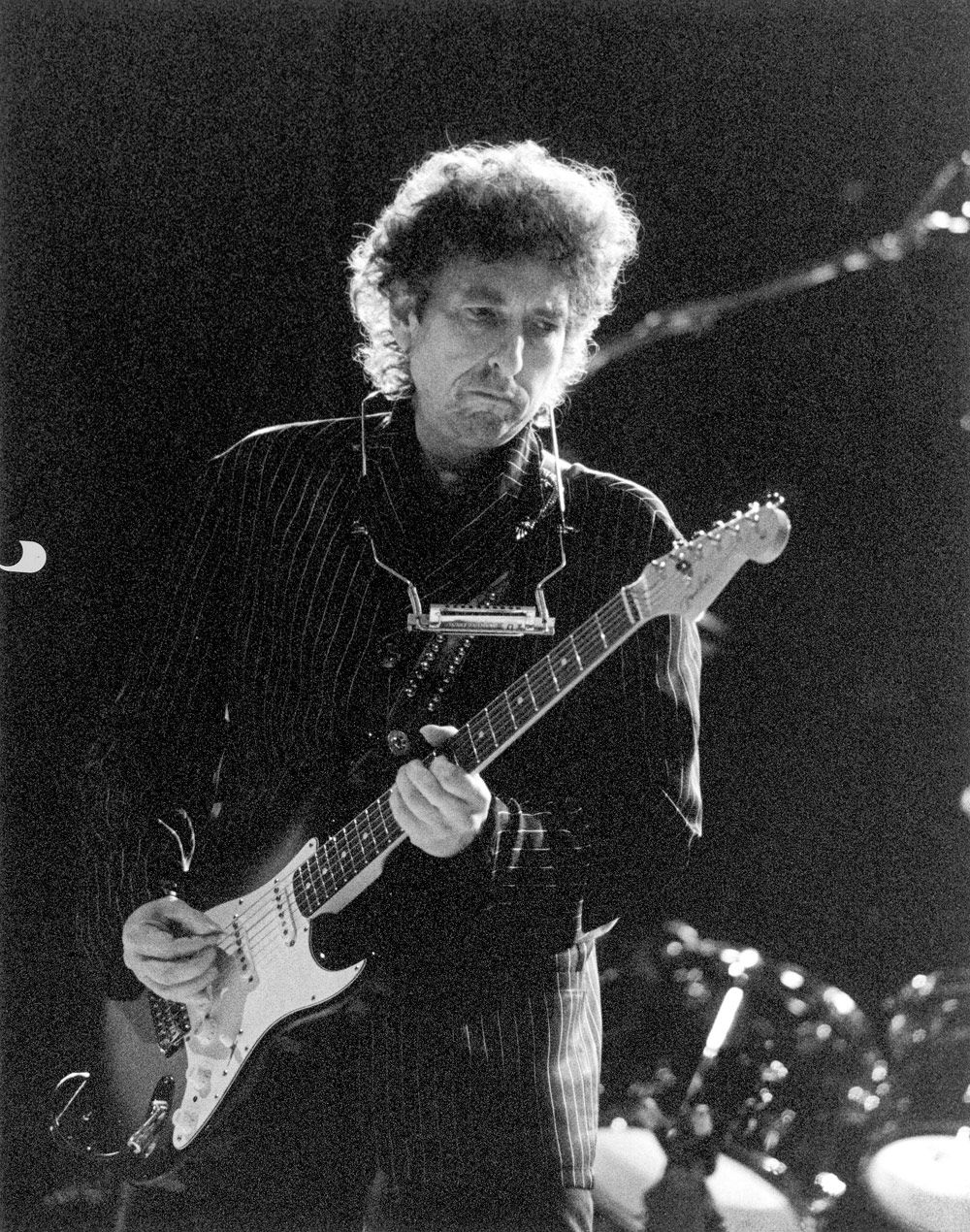 [vc_row][vc_column][vc_message message_box_color="mulled_wine" icon_fontawesome="fa fa-quote-left"]There must be some way out of here
Said the joker to the thief
There's too much confusion, I can't get no relief[/vc_message][/vc_column][/vc_row]
Recorded November 6, 1967 @ Columbia Studio A, Nashville, Tennessee. The song initially appeared on his 1967 album, John Wesley Harding, and it has been included on most of Dylan's subsequent greatest hits compilations. Since the late 1970s, he has performed it in concert more than any of his other songs. Different versions appear on four of Dylan's live albums.
Chicago Stadium
Chicago, Illinois
3 January 1974
Bob Dylan (vocal, guitar, harmonica)
Robbie Robertson (guitar)
Garth Hudson (organ, piano and

clavinette

)
Richard Manual (keyboards)
Rick

Danko

(bass)

Levon

Helm (drums)
[vc_row][vc_column][vc_message message_box_color="mulled_wine" icon_fontawesome="fa fa-quote-left"]Businessmen, they drink my wine, plowmen dig my earth
None of them along the line know what any of it is worth[/vc_message][/vc_column][/vc_row]
Arena di Verona
Verona, Italy
29 May 1984
Bob Dylan (vocal & guitar)
Mick Taylor (guitar)
Ian McLagan (keyboards)
Greg Sutton (bass)
Colin Allen (drums)
[vc_row][vc_column][vc_message message_box_color="mulled_wine" icon_fontawesome="fa fa-quote-left"]"No reason to get excited," the thief, he kindly spoke
"There are many here among us who feel that life is but a joke
But you and I, we've been through that, and this is not our fate
So let us not talk falsely now, the hour is getting late"[/vc_message][/vc_column][/vc_row]
Waterloo Village
Stanhope, New Jersey
10 September 1988
Bob Dylan (vocal & guitar)
G. E. Smith (guitar)
Kenny Aaronson (bass)
Christopher Parker (drums)
[vc_row][vc_column][vc_message message_box_color="mulled_wine" icon_fontawesome="fa fa-quote-left"]All along the watchtower, princes kept the view
While all the women came and went, barefoot servants, too[/vc_message][/vc_column][/vc_row]
Aston Villa Leisure Centre
Birmingham, England
2 April 1995
Bob Dylan (vocal & guitar)
Bucky Baxter (pedal steel guitar & electric slide guitar)
John Jackson (guitar)
Tony Garnier (bass)
Winston Watson (drums & percussion)
[vc_row][vc_column][vc_message message_box_color="mulled_wine" icon_fontawesome="fa fa-quote-left"]Outside in the distance a wildcat did growl
Two riders were approaching, the wind began to howl[/vc_message][/vc_column][/vc_row]
Worcester Centrum Centre
Worcester, Massachusetts
14 November 1999
Bob Dylan (vocal & guitar)
Charlie Sexton (guitar)
Larry Campbell (guitar, mandolin, pedal steel guitar & electric slide guitar)
Tony Garnier (bass)
David Kemper (drums & percussion)
King's Dock
Liverpool, England
12 July 2001
Bob Dylan (vocal & guitar)
Charlie Sexton (guitar)
Larry Campbell (guitar, mandolin, pedal steel guitar & electric slide guitar)
Tony Garnier (bass)
David Kemper (drums & percussion)
[vc_row][vc_column][vc_separator][vc_btn title="Borntolisten @ Facebook" color="blue" i_icon_fontawesome="fa fa-facebook-official" add_icon="true" link="url:https%3A%2F%2Fwww.facebook.com%2FJohannasVisions%2F||target:%20_blank|"][/vc_column][/vc_row][vc_row][vc_column][vc_message message_box_style="outline" icon_fontawesome="fa fa-link" css_animation="bounceIn"]Check out:
[/vc_message][/vc_column][/vc_row]