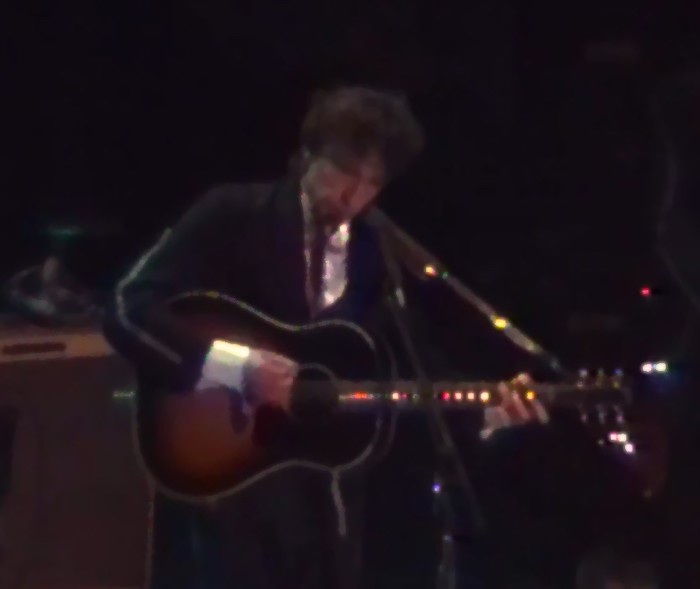 1999 was a great year for Bob Dylan's "Never Ending Tour".
[vc_row][vc_column][vc_message message_box_color="mulled_wine" icon_fontawesome="fa fa-quote-left"]For all the splendours of earlier in the year [1999], this last leg was the most consistently triumphant. By the time Dylan brought the year's touring to an end, with an extended set on November the 20th, he had played 121 shows – the most in a single year of his entire career. It had been a very good year, the best since 1995.
~Andrew Muir (One More Night: Bob Dylan's Never Ending Tour
)[/vc_message][/vc_column][/vc_row]
A lot of concerts from this tour is in circulation (both video & audio) and this concert is (…again) a great example from that last leg.
Centrum Arena
Worcester, Massachusetts
14 November 1999
Bob Dylan (vocal & guitar)
Charlie Sexton (guitar)
Larry Campbell (guitar, mandolin, pedal steel guitar & electric slide guitar)
Tony Garnier (bass)
David Kemper (drums & percussion)
–
Somebody Touched Me (trad.)
To Ramona
Mama, You Been On My Mind
A Hard Rain's A-Gonna Fall
Don't Think Twice, It's All Right
–
All Along The Watchtower
Highlands
Stuck Inside Of Mobile With The Memphis Blues Again
Not Dark Yet
Everything Is Broken
—
Love Sick
Like A Rolling Stone
Girl From The North Country
Not Fade Away (Norman Petty/Charles Hardin)
[vc_row][vc_column][vc_separator][vc_btn title="Borntolisten @ Facebook" color="blue" i_icon_fontawesome="fa fa-facebook-official" add_icon="true" link="url:https%3A%2F%2Fwww.facebook.com%2FJohannasVisions%2F||target:%20_blank|"][/vc_column][/vc_row][vc_row][vc_column][vc_message message_box_style="outline" icon_fontawesome="fa fa-link" css_animation="bounceIn"]Check out:
[/vc_message][/vc_column][/vc_row]