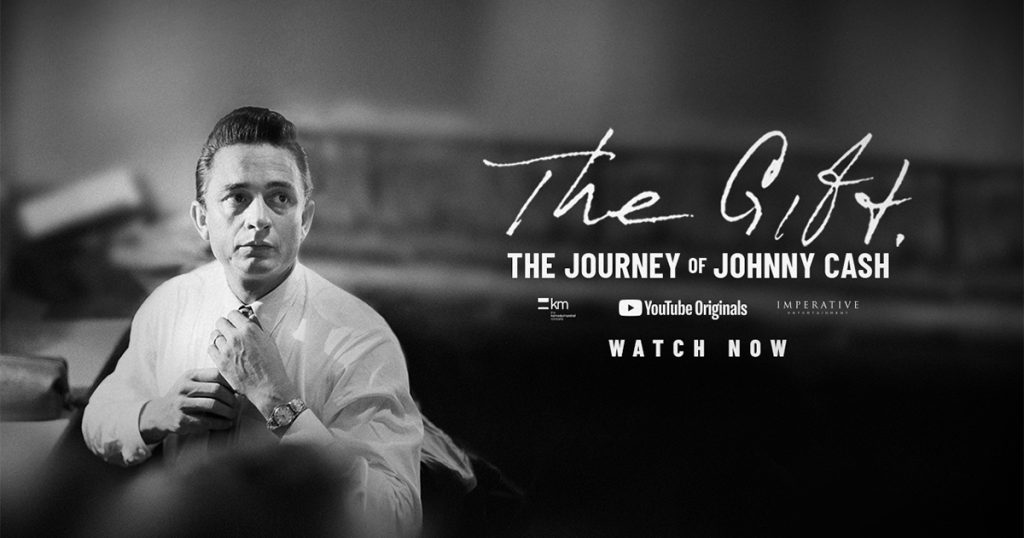 "Redemption," observes an off-camera Springsteen. "For Johnny, that was an enormous part of his whole career." With "The Gift," Cash's 71-year reckoning with the wages of sin and salvation is put in eloquently humbling, myth-busting perspective.
– Los Angeles Times
YouTube Originals presents The Gift: The Journey of Johnny Cash. Johnny Cash stands among the giants of 20th century American life. But his story remains tangled in mystery and myth. This documentary, created with the full cooperation of the Cash estate and rich in recently discovered archival materials, brings Cash the man out from behind the legend.
Taking the remarkable Folsom Prison recording as a central motif and featuring interviews with family and celebrated collaborators, the film explores the artistic victories, the personal tragedies, the struggles with addiction, and the spiritual pursuits that colored Johnny Cash's life.
This is a 90-minute film directed by Emmy- and Grammy-winning filmmaker Thom Zimny (Elvis Presley: The Searcher, Springsteen on Broadway) that features commentary from Bruce Springsteen, Emmylou Harris, and members of the Cash family, including daughter Rosanne Cash and son John Carter Cash. (An original score to the film, composed by Pearl Jam's Mike McCready, mixes the guitarist's music with some of those interviews.)
From the opening frame to the emotional finale, Zimny is a masterful filmmaker when it comes to telling stories through music. He digs deep into the subconscious to bring out what is hidden in Cash's life and even his music. After watching this film you will feel closer to Johnny Cash than ever before. It doesn't show everything, it is after all an official bio-pic. It is, however, more true than the dramatisation, I Walk The Line. And much more entertaining!
The movie's deeply spiritual centerpieces are the lingering effects that the 1944 accidental death of Cash's 14-year-old brother Jack had on Johnny, who was 12 at the time, and the historic 1968 Folsom Prison concert recordings that gave Cash a renewed understanding of his place and purpose in the world. Through these life-changing events, the themes of sin and salvation are connected to Cash's experience of success, excess, and, ultimately, redemption. "You always got the feeling that my dad was trying to get away from pain," says Rosanne Cash. "He worked out his deepest problems on the stage, with an audience."
– Rolling Stone Magazine