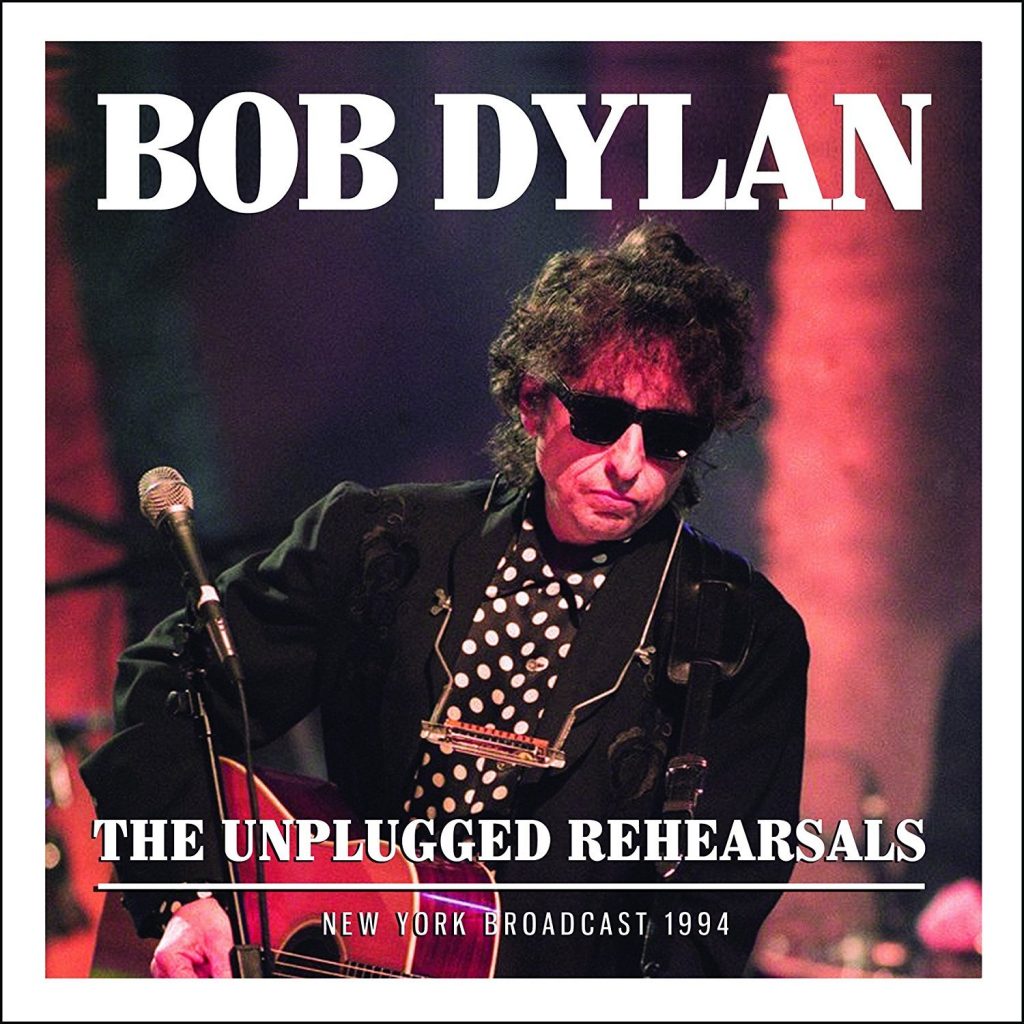 Sony Music Studios
New York City, New York
15–16 November 1994
Camera rehearsals for MTV Unplugged taping sessions
Bob Dylan (vocal & guitar)
Bucky Baxter (pedal steel guitar & electric slide guitar)
John Jackson (guitar)
Brendan O'Brien (keyboards & guitar)
Tony Garnier (bass)
Winston Watson (drums & percussion)
Amazon about the CD release:
THE RARE REHEARSAL RECORDINGS FOR THE CLASSIC DYLAN UNPLUGGED BROADCAST MTV s ever popular Unplugged series had been running more than five years before Bob Dylan a troubadour almost custom made to fit the program s format – agreed to take part. Having already achieved huge success with featured bands and artists as diverse as Nirvana, Stevie Ray Vaughan, Bruce Springsteen, Paul McCartney and Eric Clapton – amongst numerous others – by 1994 the series was a much anticipated feature in the cable channel s schedules. Dylan had hoped to record a selection of folk traditionals for his episode, much in keeping with the two albums he d released prior to the MTV show, 1992 s Good As I Been To You and 94 s World Gone Wrong.
However, at MTV s behest, he settled on performing a set made up almost exclusively of classic album cuts from his early albums – perhaps a good move in retrospect, as 1995 s Columbia Records release MTV Unplugged album provided Bob with his best sales in years. The CD features the rehearsal sessions for the finally aired program, recorded during the afternoons of 15th and 16th November 1994, and includes some very different versions of a selection of the songs that would end up in the show and subsequently on the album. However, in true Dylan fashion, a number of tunes that were not performed for the actual transmission were also rehearsed and are included here alongside those that were.
I Want You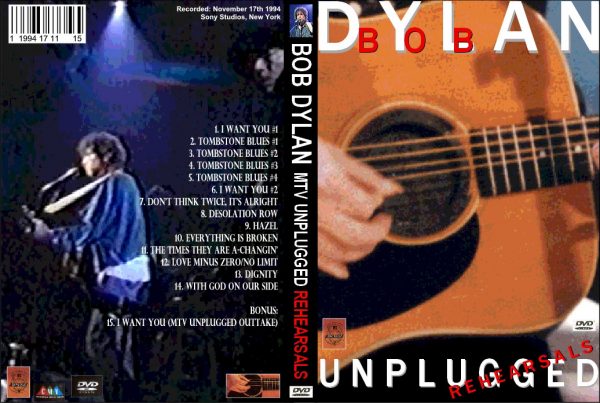 Tombstone Blues

Tombstone Blues
Tombstone Blues
Tombstone Blues
I Want You
Don't Think Twice, It's All Right

Desolation Row

Hazel

Everything Is Broken

The Times They Are A-Changin'

Love Minus Zero/No Limit

Dignity

With God On Our Side

"This dvd is exactly what it says it is. Rehearsal footage for the concerts to follow, so do not expect word perfect,committed, renditions of the songs played. Then again, even during a proper concert there isn't any guarantee of this! Although surprisingly the vocals are quite committed at times, for instance during 'Tombstone Blues'. It is also surprising, contrary to popular belief, to see that Dylan does actually arrange his songs prior to playing them,well sometimes anyway; see the discussion about whether to play a harmonica solo during the bridge of'Hazel'. Perhaps most surprising is to watch Bob 'rehearsing' the little grimaces and facial expressions, or just posing for the camera, that are also so much a part of his 'act'.
Picture quality isn't great on the long shots but the sound quality is fine, if a little hissy at time. As an added bonus there is a complete recording of, perhaps the most inexplicable omission from the official releases, and definitive concert performance of 'I Want You'. All in all a nice dvd. Thanks to CatBlack for sending me this."
– Bobfan1 (dvdylan)