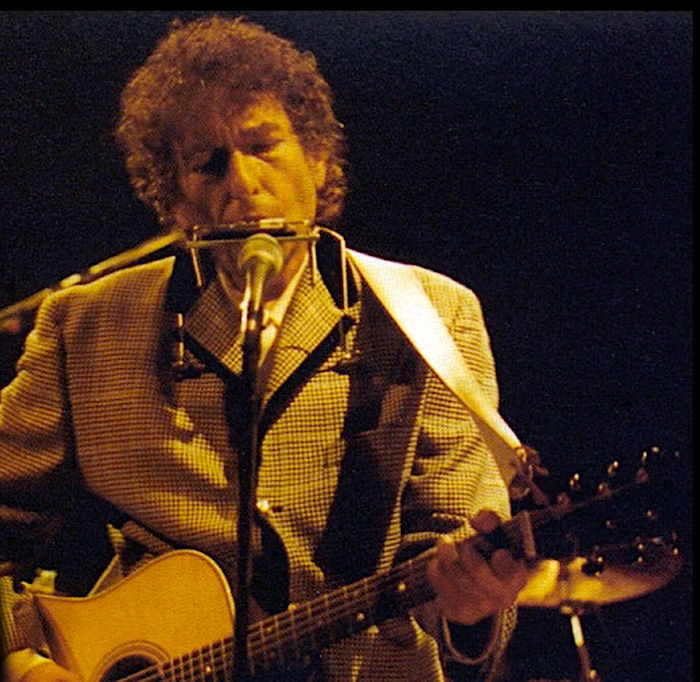 [vc_row][vc_column][vc_message message_box_color="mulled_wine" icon_fontawesome="fa fa-quote-left"]A mixture of old classics, songs he hadn't played for a while and tracks from World Gone Wrong were all treated to the true authentic voice of Bob Dylan. Not only that but each show seemed better than the previous one and some songs, such as, "Queen Jane" & "Ring Them Bells" , were performed nearly as well as they have ever been, either before or since.
-Andrew Muir (Razor's Edge)[/vc_message][/vc_column][/vc_row]
The concerts @ the Supper Club in Nov 1993 are considered by "most" fans to be "The Real MTV unplugged". 4 fantastic shows in 2 days, all of them delivered at approximately 60 min.
The Supper Club
New York City, New York
16 & 17 November 1993
Bob Dylan (vocal & guitar & harmonica)
Bucky Baxter (pedal steel guitar & electric slide guitar)
John Jackson (guitar, banjo)
Tony Garnier (bass)
Winston Watson (drums & percussion)
November 16th, 1993 – Early Show
Introduction 0:00
1. Absolutely Sweet Marie 0:00:15
2. Lay Lady Lay 4:50
3. Blood In My Eyes (traditional, arranged by Bob Dylan) 10:07
4. Queen Jane Approximately 14:23
5. Tight Connection To My Heart (Has Anybody Seen My Love) 23:33
6. Disease Of Conceit 31:33
7. I Want You 37:28
8. Ring Them Bells 43:33
9. My Back Pages 49:38
10. Forever Young 55:44
November 16th, 1993- Late Show
1. Ragged And Dirty (traditional, arranged by Bob Dylan) 01:02:31
2. Lay Lady Lay 01:07:53
3. I'll Be Your Baby Tonight 01:12:41
4. Queen Jane Approximately 01:17:49
5. Jack-A-Roe (traditional, arranged by Bob Dylan) 01:26:15
6. One Too Many Mornings 01:32:43
7. I Want You 01:38:18
8. Ring Them Bells 01:44:28
9. My Back Pages 01:50:10
10. Forever Young 01:56:14
November 17th, 1993 – Early Show
[vc_row][vc_column][vc_message message_box_color="mulled_wine" icon_fontawesome="fa fa-quote-left"]The early show performance [of "Ring Them Bells – Supper Club 17 Nov]…. may well be the single finest moment of the Never Ending Tour..
~Clinton Heylin (Still On The Road)[/vc_message][/vc_column][/vc_row]
1. Ragged And Dirty (traditional, arranged by Bob Dylan) 02:03:49
2. One More Cup Of Coffee (Valley Below) 02:09:12
3. Blood In My Eyes (traditional, arranged by Bob Dylan) 02:15:45
4. Queen Jane Approximately 02:20:57
5. I'll Be Your Baby Tonight 02:29:35
6. Disease Of Conceit 02:34:47
7. I Want You 02:40:28
8. Ring Them Bells (Removed – Officially Released on Bootleg Series 8)
9. My Back Pages 02:46:16
10. Forever Young 02:52:46
November 17th, 1993 – Late Show
1. Ragged And Dirty (traditional, arranged by Bob Dylan) 03:00:01
2. Lay Lady Lay 03:05:22
3. Tight Connection To My Heart (Has Anybody Seen My Love) 03:10:22
4. Weeping Willow (Blind Boy Fuller) 03:17:23
5. Delia (traditional, arranged by Bob Dylan) 03:21:49
6. Jim Jones (traditional, arranged by Bob Dylan) 03:29:08
7. Queen Jane Approximately 03:34:36
8. Ring Them Bells 03:42:20
9. Jack-A-Roe (traditional, arranged by Bob Dylan) 03:46:59
10. Forever Young 03:52:58
—
11. I Shall Be Released 04:01:58
Nearly complete audio

Ring them bells

[vc_row][vc_column][vc_separator][vc_btn title="Borntolisten @ Facebook" color="blue" i_icon_fontawesome="fa fa-facebook-official" add_icon="true" link="url:https%3A%2F%2Fwww.facebook.com%2FJohannasVisions%2F||target:%20_blank|"][/vc_column][/vc_row][vc_row][vc_column][vc_message message_box_style="outline" icon_fontawesome="fa fa-link" css_animation="bounceIn"]Check out:
[/vc_message][/vc_column][/vc_row]