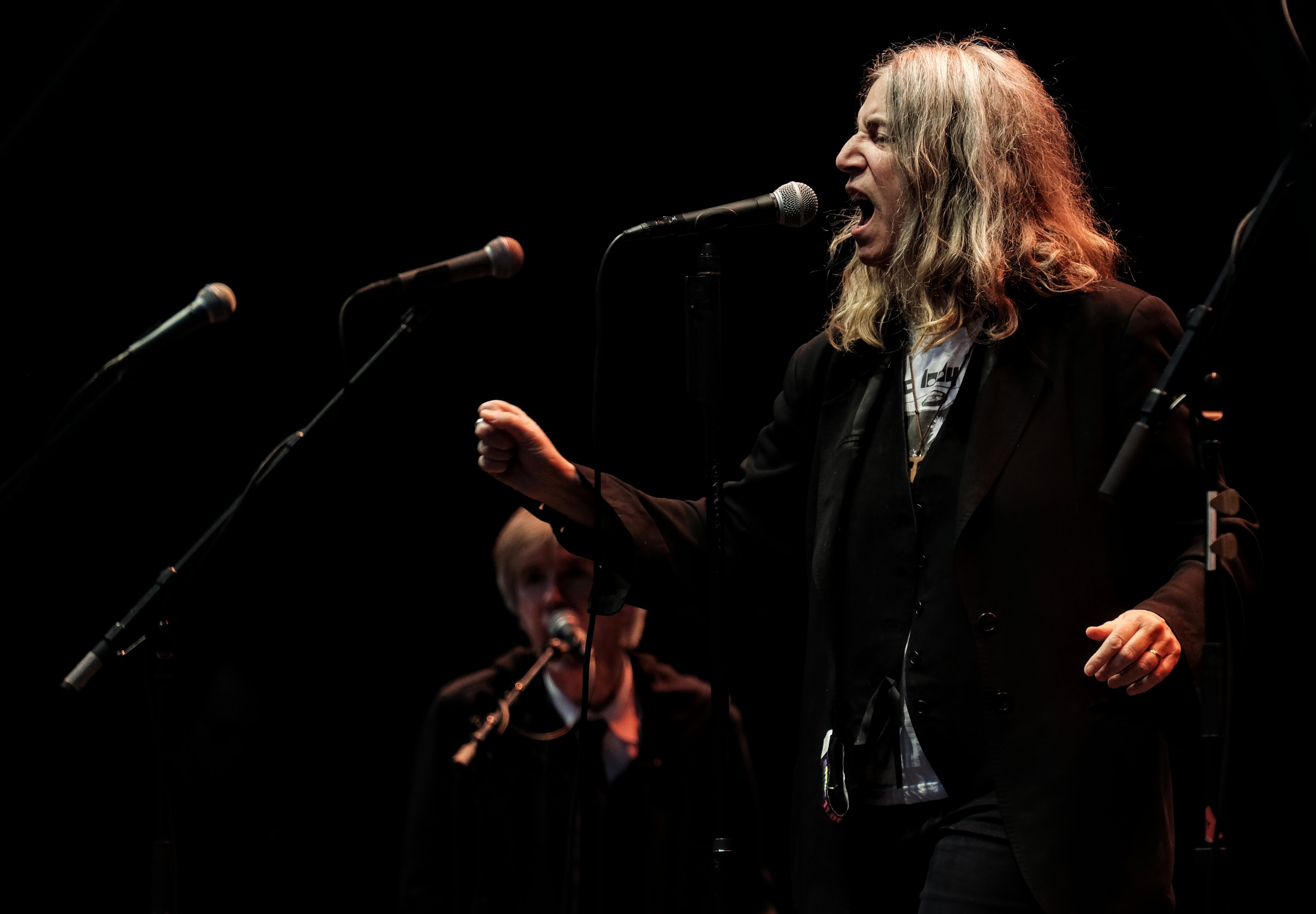 Zack De La Rocha inducts Patti Smith Rock and Roll Hall of Fame Inductions 2007:

Wikipedia:
Birth name
Patricia Lee Smith
Born
December 30, 1946
Chicago, Illinois, USA
Origin
New York City, New York
Genres
Rock, protopunk, punk rock, art punk, blues rock
Occupations
Singer-songwriter, poet, artist
Instruments
Vocals, guitar, clarinet
Years active
1971–present
Labels
Arista, Columbia
Associated acts
Tom Verlaine
Website
www.pattismith.net
Patricia Lee "Patti" Smith (born December 30, 1946) is an American singer-songwriter, poet and visual artist, who became a highly influential component of the New York City punk rock movement with her 1975 debut album Horses.

Called the "Godmother of Punk", her work was a fusion of rock and poetry. Smith's most widely known song is "Because the Night", which was co-written with Bruce Springsteen and reached number 13 on the Billboard Hot 100 chart in 1978. In 2005, Patti Smith was named a Commander of the Ordre des Arts et des Lettres by the French Minister of Culture, and in 2007, she was inducted into the Rock and Roll Hall of Fame. On November 17, 2010, she won the National Book Award for her memoir Just Kids. She is also a recipient of the 2011 Polar Music Prize.
Here is an interview & a concert from 1976: Stockholm, Sweden – October 3rd 1976:

Interview
–
We're gonna have a good time together
Redondo beach
Free money
Pale blue eyes/Louie Louie
Ask the angels
Time is on my side
Ain't it strange
Radio Ethiopia/Rock 'n' roll nigger/Gloria
Land
Hallgeir: Patti Smith has been a part of my musical life since 1979. I have followed her since, but i first got to see her in concert last year at Bergenfest, it was great. She was so warm and looked so calm and confident. She gave us a wonderful show with a very good band. She played highlights from her long career including last years album, Banga.
Happy birthday, Patti!
Hallgeir's top 5 Patti Smith albums:
1. Easter (1978)
2. Horses (1975)
3. Wave (1979)
4. Gone Again (1996)
5. Radio Ethiopia (1976)
Album of the day – Easter: