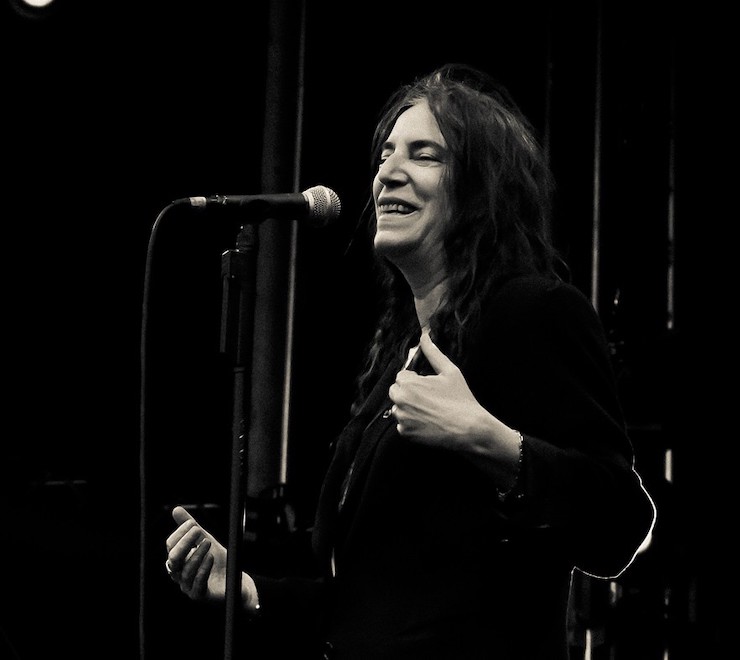 [vc_row][vc_column][vc_message message_box_color="mulled_wine" icon_fontawesome="fa fa-quote-left"]I was influenced by Bob Dylan in so many ways as a young person
–> Patti Smith (2015)[/vc_message][/vc_column][/vc_row]
Patricia Lee Smith (born December 30, 1946) is an American singer-songwriter, musician, author, and poet who became an influential component of the New York City punk rock movement with her 1975 debut album Horses.
Like a Rolling Stone
Montreux 2005

A Hard Rain's A-Gonna Fall
A heartfelt & touching performance from The Nobel Prize ceremony 2016.

Drifter's Escape
Album: Chimes of Freedom : The Songs of Bob Dylan Honoring 50 Years of Amnesty International.

Changing Of The Guards
Live 2007 Cagliari Anfiteatro Romano.

–
From the album "Twelve" (2007)

Boots of Spanish Leather
Live Arles 2011.

Wicked Messenger
From the album "Gone Again" (1996)

–
Live Pontiac, MI 1995.

Let's end with a great duet with Bob Dylan – New York 1995.
Dark Eyes
[vc_row][vc_column][vc_separator][vc_btn title="Borntolisten @ Facebook" color="blue" i_icon_fontawesome="fa fa-facebook-official" add_icon="true" link="url:https%3A%2F%2Fwww.facebook.com%2FJohannasVisions%2F||target:%20_blank|"][/vc_column][/vc_row][vc_row][vc_column][vc_message message_box_style="outline" icon_fontawesome="fa fa-link" css_animation="bounceIn"]Check out:
[/vc_message][/vc_column][/vc_row]