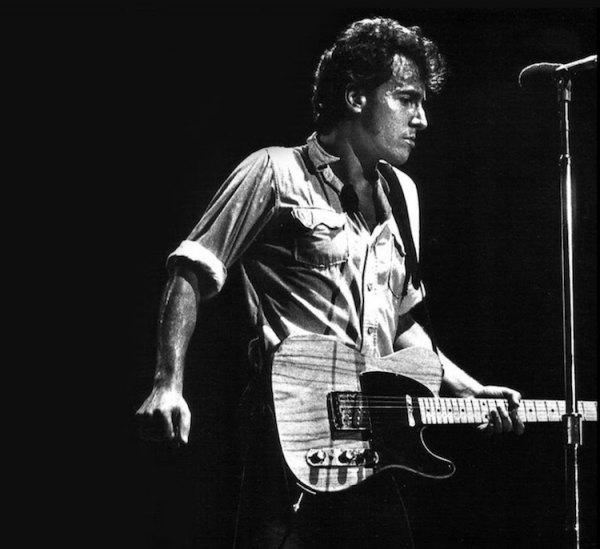 [vc_row][vc_column][vc_message message_box_color="mulled_wine" icon_fontawesome="fa fa-quote-left"]Well now I'm no hero
That's understood
All the redemption I can offer, girl
Is beneath this dirty hood
With a chance to make it good somehow
Hey what else can we do now?
Except roll down the window
And let the wind blow
Back your hair
Well the nights busting open
These two lanes will take us anywhere[/vc_message][/vc_column][/vc_row]
Bruce is one of our greatest heroes. He's still a rather young guy, and a celebration is due when he turns 69..
Here is my list of his 10 best songs.
1. Thunder Road
[vc_row][vc_column][vc_message message_box_color="mulled_wine" icon_fontawesome="fa fa-quote-left"]The screen door slams
Marys dress sways
Like a vision she dances across the porch
As the radio plays
Roy orbison singing for the lonely
Hey that's me and I want you only[/vc_message][/vc_column][/vc_row]
Live London 75:
–
Live 1976:

1. Prove It All Night
[vc_row][vc_column][vc_message message_box_color="mulled_wine" icon_fontawesome="fa fa-quote-left"]I've been working real hard, trying to get my hands clean,
Tonight we'll drive that dusty road from
Monroe to Angeline,
To buy you a gold ring and pretty dress of blue,
Baby just one kiss will get these things for you,
A kiss to seal our fate tonight,
A kiss to prove it all night.[/vc_message][/vc_column][/vc_row]
Live 1978 (Passaic, NJ):

Live New York City – 2000:

[vc_row][vc_column][vc_separator][vc_btn title="Alldylan / Borntolisten @ Facebook" color="blue" i_icon_fontawesome="fa fa-facebook-official" add_icon="true" link="url:https%3A%2F%2Fwww.facebook.com%2FJohannasVisions%2F||target:%20_blank|"][/vc_column][/vc_row]
Continue reading "Bruce Springsteen's 10 best songs – Happy 69th Birthday Bruuuuuce (videos & spotify playlist)" →