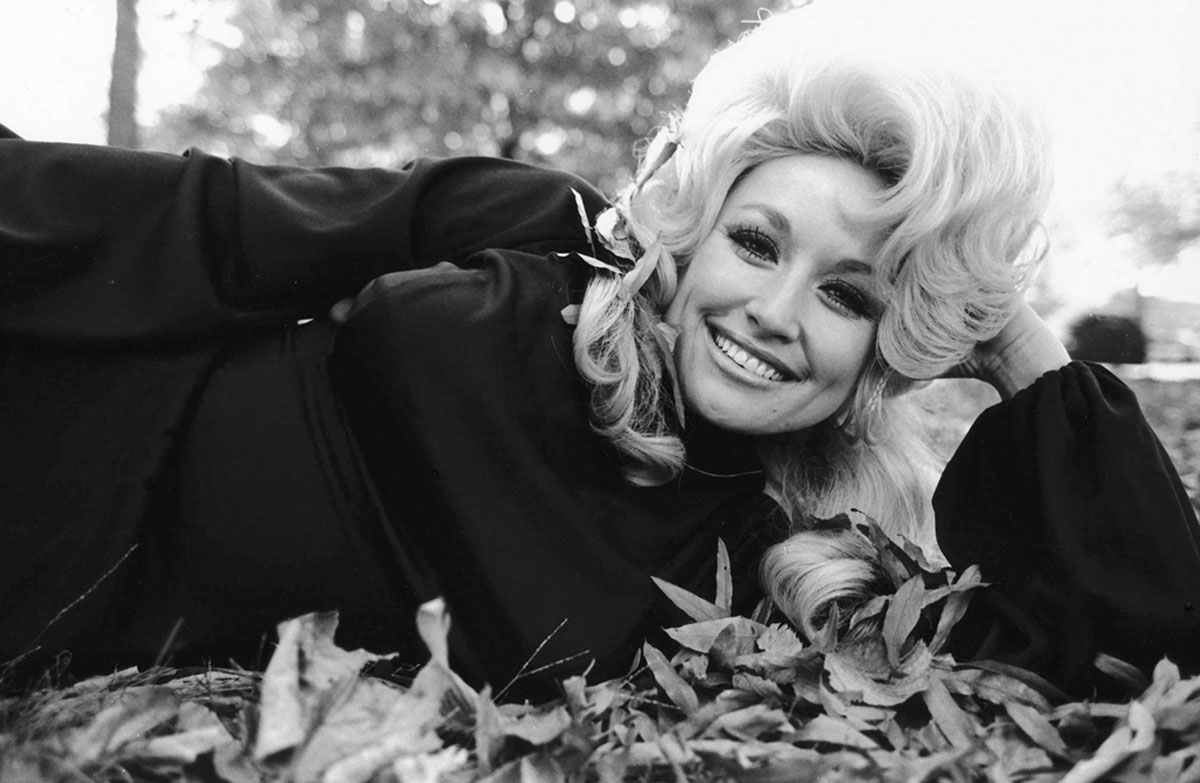 "Find out who you are and do it on purpose."
― DollyParton
"Don't get so busy making a living that you forget to make a life."
― Dolly Parton
"I tried every diet in the book. I tried some that weren't in the book. I tried eating the book. It tasted better than most of the diets."
― Dolly Parton
Here's a nice tribute video – Gospel Music Hall of Fame 2009:

Jolene – live Glastonbury 2014:

In her productivity and devotion to writing Parton is like a nineteenth-century woman novelist–a hillbilly Louisa May Alcott. What's best about her is her spunkiness and prettiness (Jo crossed with Amy); what's worst is her sentimentality and failures of imagination (Beth crossed with Meg).
~Robert Christgau (Christgau – Dolly Parton albums)

Dolly Parton in the 1970s Keine Weitergabe an Drittverwerter.
From Wikipedia:
Birth name
Dolly Rebecca Parton
Born
January 19, 1946 (age 72)
Sevierville, Tennessee, United States
Genres
Country, country pop, pop, bluegrass, gospel
Occupations
Singer-songwriter, record producer, actress, author, musician, businesswoman
Instruments
Vocals, guitar, banjo, autoharp, piano, drums, appalachian dulcimer, harmonica, pennywhistle, recorder, fiddle, bass guitar, saxophone
Dolly Rebecca Parton (born January 19, 1946) is an American singer-songwriter, multi-instrumentalist, actress, author, and philanthropist, best known for her work in country music.
Beginning her career as a child performer, Parton issued a few modestly successful singles in the mid-1960s, showcasing her distinctive soprano voice. She came to greater prominence in 1967 as a featured performer on singer Porter Wagoner's weekly television program; their first duet single "The Last Thing on My Mind" was a hit on the country charts and led to several successful albums before they ended their partnership in 1974. Moving towards mainstream pop music, Parton's 1977 single "Here You Come Again" was a success on both the country and pop charts. A string of pop-country hits followed into the mid-1980s, notably recording a pair of successful albums with Linda Ronstadt and Emmylou Harris, along with the creation of the Dollywood amusement park. In the late 1990s, Parton returned to classic country/bluegrass with a series of acclaimed recordings.
Coat Of My Colors:

She has composed over 3,000 songs, the best known of which include "I Will Always Love You" (a two-time U.S. country chart-topper for Parton, as well as an international pop hit for Whitney Houston), "Jolene", "Coat of Many Colors", "Here You Come Again" (Parton's first significant crossover hit, reaching #3 on the Billboard Hot 100), "9 to 5", and "My Tennessee Mountain Home". Parton is one of the most successful female country artists of all time, and with an estimated 100 million in album sales, she is also one of the best selling artists of all time in any genre.

As an actress, she starred in the movies 9 to 5, The Best Little Whorehouse in Texas, Steel Magnolias, Gnomeo & Juliet, Straight Talk, Unlikely Angel, and Joyful Noise.
I Will Always Love You – live 1974:

Album of the day:
The Essential Dolly Parton (2005):
There have been many, many Dolly Parton compilations over the years, but RCA/Legacy's 2005 set The Essential Dolly Parton is one of the handful that gets it right. Spanning two discs and 37 tracks, this set covers her entire career, from her 1967 debut, Hello, I'm Dolly, to her 2001 bluegrass comeback album, Little Sparrow, but the bulk of this set concentrates on her hitmaking years for RCA in the '70s and '80s. Since Dolly had so many hits, not all of them can be included even on a double-disc collection, but this does a tremendous job of picking the biggest and the best of them.
~Stephen Thomas Erlewine (allmusic.com)
– Hallgeir