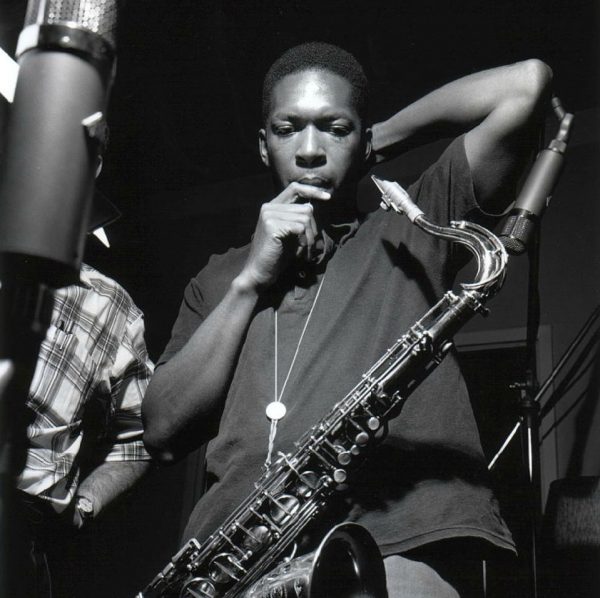 John Coltrane Quartet – Impressions (video)
McCoy Tyner:Piano
Jimmy Garrison:Bass
Elvin Jones:Drums:

From Wikipedia:
Birth name
John William Coltrane
Also known as
"Trane"
Born
September 23, 1926
Hamlet, North Carolina, United States
Died
July 17, 1967 (aged 40)
Huntington, New York, United States
Genres
Avant-garde jazz, hard bop, post-bop, modal jazz, free jazz
Occupations
Saxophonist, composer, bandleader
Instruments
Tenor, soprano, and altosaxophone
Years active
1946–1967
Labels
Prestige, Blue Note, Atlantic, Impulse!, Pablo
Associated acts
Alice Coltrane, Miles Davis Quintet, Thelonious Monk, Pharoah Sanders, Eric Dolphy
Website
johncoltrane.com
John William Coltrane (also known as "Trane"; September 23, 1926 – July 17, 1967) was an American jazz saxophonist and composer. Working in the bebop and hard bop idioms early in his career, Coltrane helped pioneer the use of modes in jazz and later was at the forefront of free jazz. He organized at least fifty recording sessions as a leader during his recording career, and appeared as a sideman on many other albums, notably with trumpeter Miles Davis and pianist Thelonious Monk.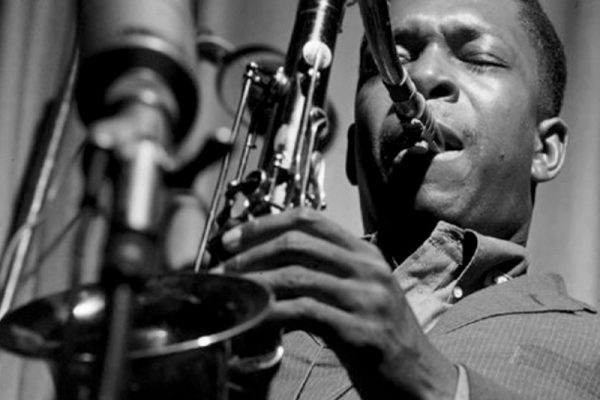 As his career progressed, Coltrane and his music took on an increasingly spiritual dimension. His second wife was pianist Alice Coltrane and their son Ravi Coltrane is also a saxophonist. Coltrane influenced innumerable musicians, and remains one of the most significant saxophonists in jazz history. He received many posthumous awards and recognitions, including canonization by the African Orthodox Church as Saint John William Coltrane. In 2007, Coltrane was awarded the Pulitzer Prize Special Citation for his "masterful improvisation, supreme musicianship and iconic centrality to the history of jazz."
Blue Train (album version)
– John Coltrane – tenor saxophone
– Lee Morgan – trumpet
– Curtis Fuller – trombone
– Kenny Drew – piano
– Paul Chambers – bass
– Philly Joe Jones – drums

Legacy:
The influence Coltrane has had on music spans many different genres and musicians. Coltrane's massive influence on jazz, both mainstream and avant-garde, began during his lifetime and continued to grow after his death. He is one of the most dominant influences on post-1960 jazz saxophonists and has inspired an entire generation of jazz musicians.
In 1965, he was inducted into the Down Beat Jazz Hall of Fame.
In 1982 Coltrane was awarded a posthumous Grammy for "Best Jazz Solo Performance" on the album Bye Bye Blackbird
in 1997, was awarded the Grammy Lifetime Achievement Award.
His revolutionary use of multi-tonic systems in jazz has become a widespread composition and reharmonization technique known as "Coltrane changes"
In 2002, scholar Molefi Kete Asante listed John Coltrane on his list of 100 Greatest African Americans.
A former home, the John Coltrane House in Philadelphia, was designated a National Historic Landmark in 1999. His last home, the John Coltrane Home in the Dix Hills district of Huntington, New York, where he resided from 1964 until his death, was added to the National Register of Historic Places on June 29, 2007.
Coltrane was awarded a special Pulitzer Prize in 2007 citing his "masterful improvisation, supreme musicianship and iconic centrality to the history of jazz."
He was inducted into the North Carolina Music Hall of Fame in 2009.
Chasing Trane: The John Coltrane Documentary, is a 2016 American film directed by John Scheinfeld. Narrated by Denzel Washington, the film chronicles the life of Coltrane in his own words, and includes interviews with such admirers as Wynton Marsalis, Sonny Rollins, and Cornel West.
CHASING TRANE: THE JOHN COLTRANE DOCUMENTARY | Trailer

–
Albums @ youtube:
Giant Steps (1960)

My Favorite Things (1961)

-Egil