Our favourite bootleg from 1969:  The Dylan / Cash sessions
And now it will be officially released with a lot of extra tracks!
The latest chapter in the highly acclaimed Bob Dylan Bootleg Series revisits Dylan's pivotal musical journeys to Nashville, from 1967 to 1969, focusing on previously unavailable recordings made with Johnny Cash and unreleased tracks from the John Wesley Harding, Nashville Skyline, and Self Portrait sessions.
Disc 1 finds Dylan in Columbia's Studio A in Nashville recording alternate versions of compositions written for John Wesley Harding (October 17 and November 6, 1967) and Nashville Skyline (February 13-14, 1969) while introducing a new song "Western Road" (a Nashville Skyline outtake).
Discs 2 and 3 are centered around Dylan's collaborations with American music icon Johnny Cash including the much sought-after Columbia Studio A sessions and on-stage performances at the Ryman Auditorium (May 1, 1969) for the recording of the premiere episode of The Johnny Cash Show (originally broadcast on ABC-TV on June 7, 1969).
Disc 3 closes with tracks recorded on May 17, 1970 with Grammy Award-winning bluegrass banjo legend Earl Scruggs for the PBS television special, "Earl Scruggs: His Family and Friends" (originally aired January 1971).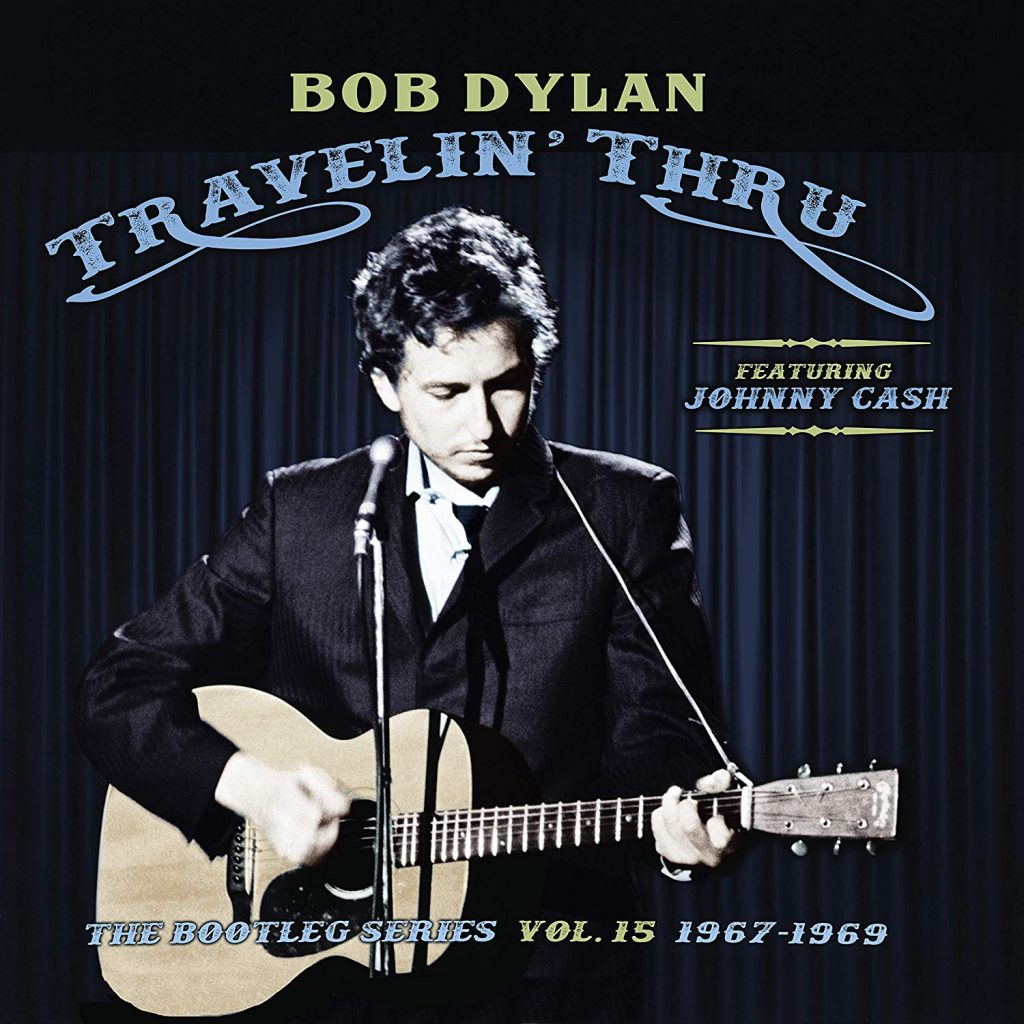 Wow!
[Bob Dylan]…the greatest writer of our times
– Johnny Cash (introducing "Wanted Man" on the album "At San Quentin")

"I was deeply into folk music in the early 1960s, both the authentic songs from various periods and areas of American life and the new 'folk revival' songs of the time, so I took note of Bob Dylan as soon as the Bob Dylan album came out in early '62 and listened almost constantly to The Freewheelin' Bob Dylan in '63. I had a portable record player I'd take along on the road, and I'd put on Freewheelin' backstage, then go out and do my show, then listen again as soon as I came off."
– Johnny Cash (Cash, autobiography)

..Johnny was and is the North Star; you could guide your ship by him – the greatest of the greats then and now. I first met him in '62 or '63 and saw him a lot in those years. Not so much recently, but in some kind of way he was with me more than people I see every day.
– Bob Dylan (Statement on Johnny Cash – Sept 2003)

"Of course, I knew of him before he ever heard of me, In '55 or '56. 'I Walk the Line' played all summer on the radio, and it was different than anything else you had ever heard. The record sounded like a voice from the middle of the Earth. It was so powerful and moving."
– Bob Dylan
They recorded together at the CBS studios, Nashville, TN   February 17-18, 1969, and it resulted in our favourite Bob Dylan (and Johnny Cash bootleg from 1969), The Dylan / Cash Sessions. It was released in 1994 and re-released in 2004.
The background story goes something like this:
Johnny Cash wrote the young Bob Dylan a letter, and they began writing back and forth. They met at the 1964 Newport Folk Festival and Cash gave Bob Dylan his guitar (This is a Country Music Tradition and is seen as a gesture of great respect and admiration).
When Bob Dylan was in Nashville recording his ninth studio album, Nashville Skyline, Johnny Cash was recording in the next door studio. Cash joined Dylan at the end of the sessions. On February 17 and 18, 1969, Johnny Cash and Bob Dylan laid down 15 tracks (that we know of). Only one, Girl From the North Country, was included on Nashville Skyline.
This is a bootleg of historic significance and a great recording. It is a document of two giants recording together, and even if it's a bit loose and "hit and miss", it is a joy to listen to. It's a must have.
Other entries in this series:
My Favourite Bob Dylan bootleg from 1962: The Freewheelin' Bob Dylan Outtakes
My Favourite Bob Dylan bootleg from 2011: Funen Village, Odense, Denmark June 27
My Favourite Bob Dylan bootleg from 2012: The Day of Wine and Roses, Barolo, Italy July 16
Track list The Dylan / Cash Sessions, from (Bob's boots):
One Too Many Mornings
Good Ol' Mountain Dew (Lunsford / Wiseman)
I Still Miss Someone (J Cash / Roy Cash)
Careless Love (Trad)
Matchbox (Carl Perkins)
That's Alright Mama (A. Crudup)
Big River (J Cash)
Girl Of The North Country
I Walk The Line (J Cash)
You Are My Sunshine (Davis / Mitchell)
Ring Of Fire (Carter / Kilgore)
Guess Things Happen That Way (Clement)
Just A Closer Walk With Thee (Trad)
Blue Yodel #1 (T for Texas)(J Rodgers)
Blue Yodel #2 (J Rodgers)
Ryman Auditorium:
I Threw It All Away
Living The Blues
Girl Of The North Country
Quadraphonic mixes Nashville Skyline:
Nashville Skyline Rag
I Threw It All Away
Peggy Day
Country Pie
Tonight I'll Be Staying Here With You
"…Judged as a loose, informal meeting of two giants, it's very pleasurable listening, though more for Cash's contributions than Dylan's. With full band backing (including Carl Perkins on electric guitar), the pair run through easygoing, rockabilly-tinged versions of Dylan songs, Cash songs, old Sun rockabilly chestnuts ("That's All Right Mama" and "Matchbox"), and a bit of country-gospel. Cash, in fact, dominates the proceedings: he sings lead more often, and the mere two Dylan tunes ("Girl from the North Country" and "One Too Many Mornings") are outweighed by a larger heaping of Cash classics ("Big River," "I Walk the Line," "I Still Miss Someone," "Ring of Fire," "Guess Things Happen That Way"). "

– Richie Unterberger (Allmusic)
Bob Dylan and Johnny Cash – One Too Many Mornings :

Bob Dylan and Johnny Cash – The Girl From The North Country (The Johnny Cash Show):

Here is a YouTube audio with 13 tracks from Feb 17/Feb 18 1969 (One too many mornings and Girl from the North Country is missing) and the 3 from Ryman Auditorium, May 1 1969 –  with good sound, the songs are:
– Hallgeir