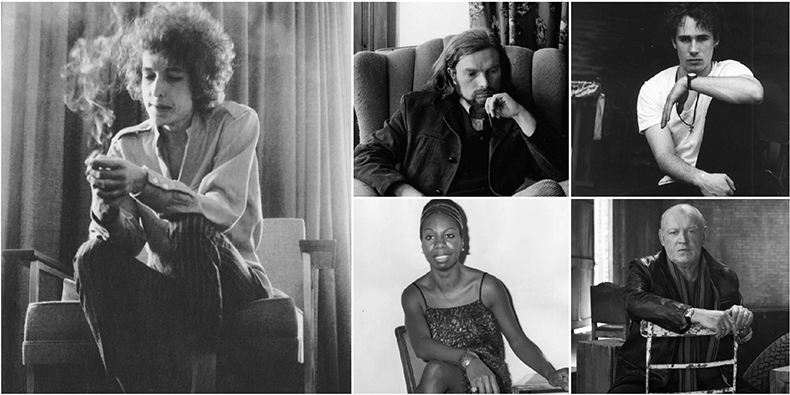 [vc_row][vc_column][vc_message message_box_color="mulled_wine" icon_fontawesome="fa fa-quote-left"]Nobody feels any pain
Tonight as I stand inside the rain
Ev'rybody knows
That Baby's got new clothes
But lately I see her ribbons and her bows
Have fallen from her curls[/vc_message][/vc_column][/vc_row]
"Just Like a Woman" is a song written by Bob Dylan and first released on his 1966 album, Blonde on Blonde. It was also released as a single in the U.S. during August 1966 and peaked at #33 on the Billboard Hot 100. In 2011, Rolling Stone magazine ranked Dylan's version of the song at #232 in their list of the 500 Greatest Songs of All Time.
Van Morrison
Live at Winterland, San Francisco, CA – February 2, 1974

Live 2004

–
Nina Simone
From the album "Here Comes the Sun" (1971)

Live, April 13, 2000 in São Paulo, Brazil

–
Jeff Buckley
Bearsville Studio (Fall 1993)

Live at Sin-é, New York, NY – July/August 1993

–
Joe Cocker
From the album "With a Little Help from My Friends" (1969)

Live Woodstock 1969

Manfred Mann
From the album "As Is" (1966)

–
Norah Jones
DylanFest, NYC – Nov 11, 2013

[vc_row][vc_column][vc_message message_box_style="outline" icon_fontawesome="fa fa-link" css_animation="bounceIn"]
Please check out our new website:
[/vc_message][/vc_column][/vc_row]
[vc_row][vc_column][vc_separator][vc_btn title="Alldylan / Borntolisten @ Facebook" color="blue" i_icon_fontawesome="fa fa-facebook-official" add_icon="true" link="url:https%3A%2F%2Fwww.facebook.com%2FJohannasVisions%2F||target:%20_blank|"][/vc_column][/vc_row]
-Egil