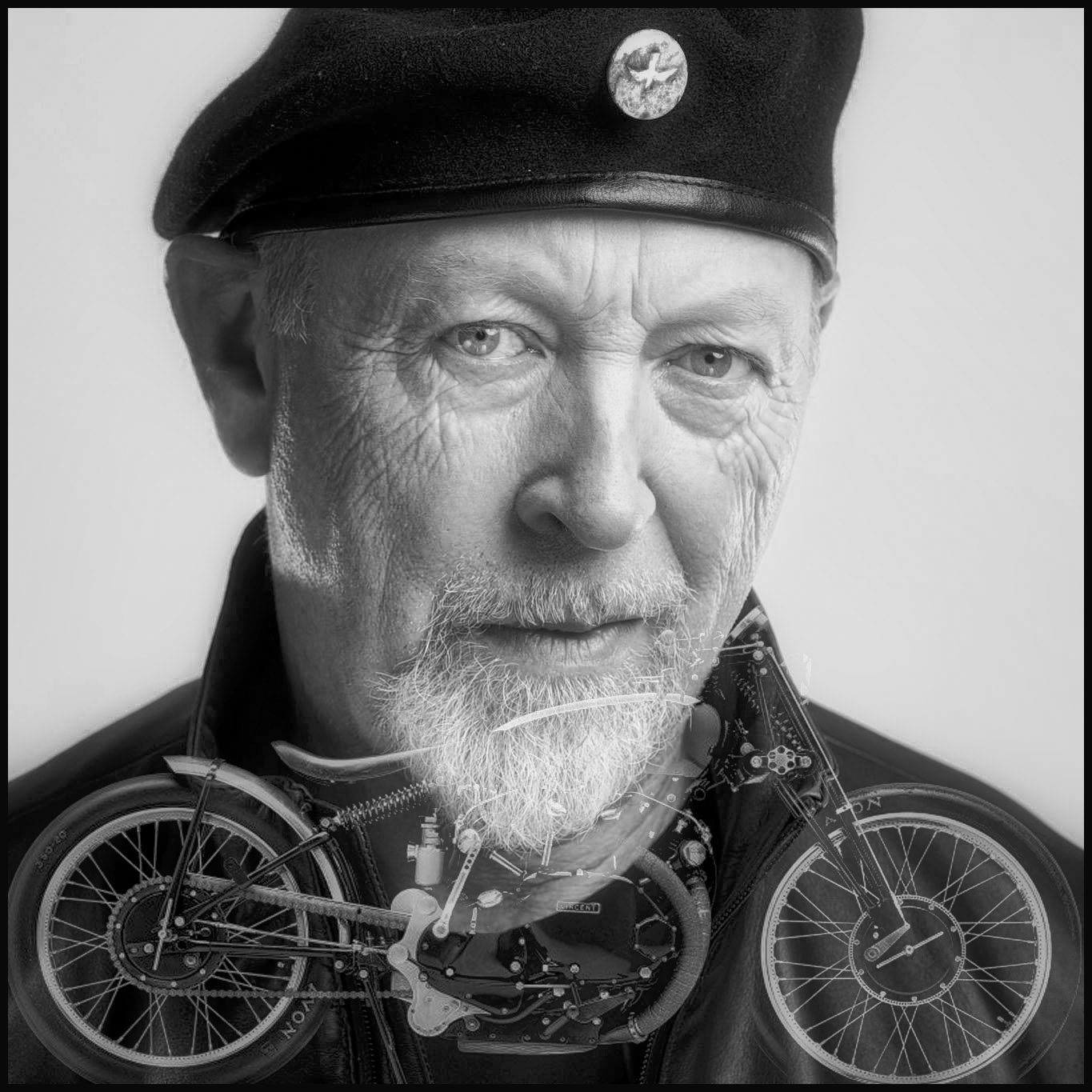 A simple boy meets girl story, somewhat complicated by the presence of a motorcycle
– Richard Thompson
1952 Vincent Black Lightning is a song by guitarist Richard Thompson from his 1991 album Rumor and Sigh. It tells the story of a thief named James and the girl Red Molly whom he charms with a ride on his 1952 Vincent Black Lightning motorcycle. Despite not being issued as a single, became a fan favourite and is one of Thompson's most highly acclaimed solo compositions.
Some months ago me and some friends had a "music night". Music Nights are gatherings where we pick a theme and each of us bring a playlist with 5 songs (and a few back up choices), we play our songs in turn, say why we picked the song and what it means to us. I've discovered many great songs and artists on these nights. This particular night the theme was "Story Songs" and one of my songs was 1952 Vincent Black Lightning by the great Richard Thompson. This made me listen, and "go into" the song even harder than I'd done before. What a great story song it is, a masterpiece.
"'Vincent' started with the frustration of coming from Britain and wanting to reflect British culture. It's hard to find mythological elements from my lifetime to build a song around, because American culture has been so dominant. The mythical places are Laramie and Cheyenne. 'Going Back to Lancaster' doesn't have the same ring to it. It's important to make music that incorporates elements from where you come from, so you're contributing something of yourself into the music. If you're from England and you're writing about the Mississippi Delta, there's something missing. You can be a good imitator, but what are you bringing to the process?"
– Richard Thompson, 2001
"When I was a kid, that was always the exotic bike, that was always the one, the one that you went 'ooh, wow'. I'd always been looking for English ideas that didn't sound corny, that had some romance to them, and around which you could pin a song. And this song started with a motorcycle, it started with the Vincent. It was a good lodestone around which the song could revolve"
– Richard Thompson to BBC radio
It's in the form of a traditional folk ballad with guitar picking at the speed of a motorcycle. The song is the story of two lovers – the biker James Adie (he robbed many a man for his Vincent machine) and the girl, Red Molly (red hair and black leather, his favourite colour scheme). The music pushes the the story towards an inevitable end. An end that is well known if you are familiar with folk ballads or the 50s/60s car/motorcycle crash songs.
Album version:

In 2011 Time magazine listed the song in its "All TIME 100 Songs", a list of "the most extraordinary English-language popular recordings since the beginning of TIME magazine in 1923," praising it as "a glorious example of what one guy can accomplish with just a guitar, a voice, an imagination and a set of astonishingly nimble fingers."
"A ballad about a ne'er-do-well teen with a fetish for fast bikes and redheaded, leather-clad girls, "1952 Vincent" takes you to the emotional edge of love and theft, then soars right over it. Why a Vincent Black Lightning? It's a specialty English motorcycle — fewer than 30 were made in 1952 — which makes it "an object of myth," Thompson said in an interview, "a rather wonderful, rare and beautiful beast." It's fitting, then, that the song he wrote about it has become an object of cult adoration."
– Time Magazine
Now, please read this epic short story by Richard Thompson:
Says Red Molly, to James, "Well that's a fine motorbike.
A girl could feel special on any such like."
Says James, to Red Molly, "My hat's off to you.
It's a Vincent Black Lightning, 1952.
And I've seen you on the corners and cafes, it seems.
Red hair and black leather, my favorite color scheme."
And he pulled her on behind,
And down to Boxhill,
They'd Ride.
Says James, to Red Molly, "Here's a ring for your right hand.
But I'll tell you in earnest I'm a dangerous man;
For I've fought with the law since I was seventeen.
I've robbed many a man to get my Vincent machine.
And now I'm twenty-one years, I might make twenty-two.
And I don't mind dyin' but for the love of you.
But if fate should break my stride, then I'll give you my Vincent, To Ride."
"Come down Red Molly," called Sargent McQuade.
"For they've taken young James Aidee for Armed Robbery.
Shotgun blast hit his chest, left nothing inside.
Oh, come down, Red Molly, to his dying bedside."
When she came to the hospital, there wasn't much left.
He was runnin' out of road. He was runnin' out of breath.
But he smiled, to see her cry.
And said, "I'll give you my Vincent.
To Ride."
Said James, "In my opinion, there's nothing in this world
Beats a '52 Vincent and a Redheaded girl.
Now Nortons and Indians and Greavses won't do.
Oh, they don't have a Soul like a Vincent '52."
Well he reached for her hand and he slipped her the keys.
He said, "I've got no further use…for these.
I see Angels on Ariels in leather and chrome,
Swoopin' down from Heaven to carry me home."
And he gave her one last kiss and died.
And he gave her his Vincent.
To Ride.
There are many covers of the song and some of them are quite good.
"I'd like to thank Del McCoury for popularizing this song in the United States. He sang some different words, but that's okay." – Richard Thompson
Del McCoury Band – 1952 Vincent Black lightning (with a few different words and in C insted of B-flat):

Bob Dylan has played this song live once, back at 14th of July 2013 in Clarkston, Michigan. He also changed a few words, "And I don't mind dyin' for the likes of you" in the 4th verse. Here is Bob Dylan's very fine live version of 1952 Vincent Black Lightning (audio):

Richard Thompson opened for Dylan on some concerts earlier in 2013.
The band Red Molly, who has covered the song, takes its name from the lead female character in the song. Here is their wonderful interpretation:

Other versions that are worth seeking out: Reckless Kelly, Robert Earl Keen, Sean Rowe, The Other Favorites and Miranda Russell
– Hallgeir