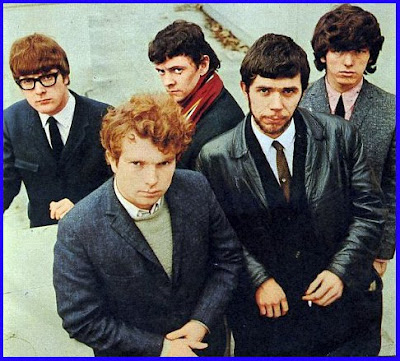 TOC
Facts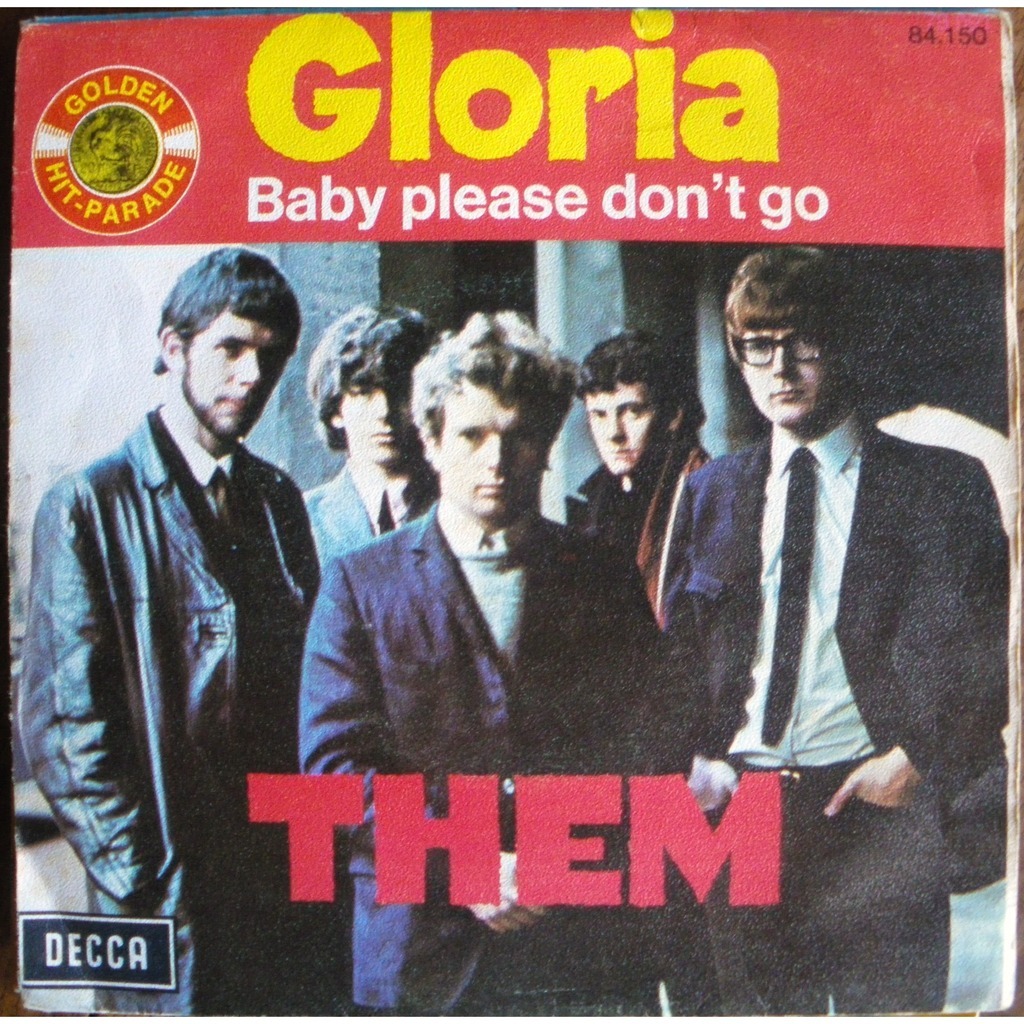 Wikipedia:
"Gloria" is a song that was written by Northern Irish singer-songwriter Van Morrison, and originally recorded by Morrison's band Them in 1964 and released as the B-side of "Baby, Please Don't Go". The song became a garage rock staple and a part of many rock bands' repertoires. It is particularly memorable for its "Gloria!" chorus. It is easy to play, as a simple three-chord song, and thus is popular with those learning to play guitar.
Morrison said he wrote "Gloria" while he performed with the Monarchs in Germany in the summer of 1963, at just about the time he turned 18 years old. He started to perform it at the Maritime Hotel when he returned to Belfast and joined up with the Gamblers to form the band Them. He would ad-lib lyrics as he performed, sometimes stretching the song to 15 or 20 minutes. After signing a contract with Dick Rowe and Decca, Them went to London for a recording session at Decca Three Studios in West Hampstead on 5 April 1964; "Gloria" was one of the seven songs recorded that day. 
"Gloria" was the B-side when "Baby, Please Don't Go" was released in the U.K. on 6 November 1964. It was re-released in 1973 on the Deram label, but did not chart.
It was released on the album, Angry young Them in 1965.
Musicians
Besides Morrison, present were Billy Harrison on guitar, Alan Henderson on bass guitar, Ronnie Millings on drums and Patrick John McCauley on keyboards. Rowe brought in session musicians Arthur Greenslade on organ and Bobby Graham on drums, since he considered the Them members too inexperienced. There remains some dispute about whether Millings and McCauley were miked up, but Alan Henderson contends that Them constituted the first rock group to use two drummers on a recording. Although some sources claim that Jimmy Page played second guitar, other sources deny this.
Production
Live:
Known Performances: 1161
First live performance: March 01 1964at The Playhouse, London, UK
Last live performance: March 10 2020 at l'Olympique in Paris, FR
Them, France 1965(?):
Van Morrison Belfast 1979:
Quotes
The beauty of the original is that Van Morrison needs only to speak-sing, in his Howlin' Wolf growl, "I watch her come up to my house/She knocks upon my door/And then she comes up to my room/I want to say she makes me feel all right/G-L-O-R-I-A!" to convey his teenage lust. The original Latin meaning of the name is not lost on Morrison. Them never varies from the three chords, utilizing only dynamic changes to heighten the tension.
– Bill Janovitz (Allmusic)

"Into the heart of the beast … here is something so good, so pure, that if no other hint of it but this record existed, there would still be such a thing as rock and roll … Van Morrison's voice a fierce beacon in the darkness, the lighthouse at the end of the world. Resulting in one of the most perfect rock anthems known to humankind.
– Paul Williams (Rock and Roll: The 100 Best Singles, 1993)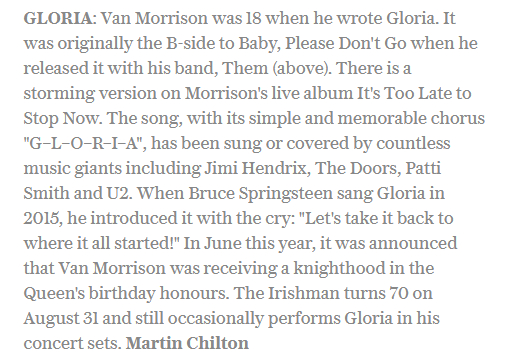 Lyrics
G-l-o-are-i-a gloria
G-l-o-are-i-a gloria
I'm gonna shout it all night gloria
I'm gonna shout it every day gloria
Yeah yeah yeah yeah yeah,
Looks so good gloria
All right, feel so good gloria
All right, yeah now.
Live versions
At the Hollywood Bowl in 2008:
On Later with Jools Holland in 1999:
7/29/1974 – Orphanage, San Francisco:
Beacon Theater, 1989 with John Lee Hooker:
Cover Versions
Patti Smith , Germany, Rockpalast 1979 (the best cover!):
The Doors:
Robert Plant and The Priory of Brion:
–
Sources
Wikipedia
Paul Williams – Rock and Roll: The 100 Best Singles, 1993
ivan.vanomatic.de (wonderful website for VM statistics)