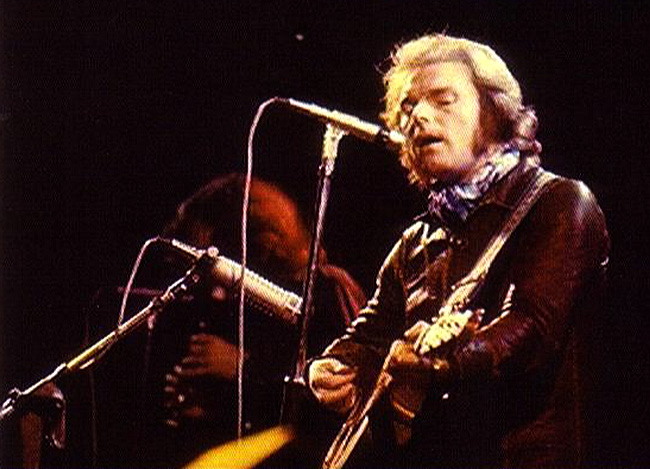 TOC
Facts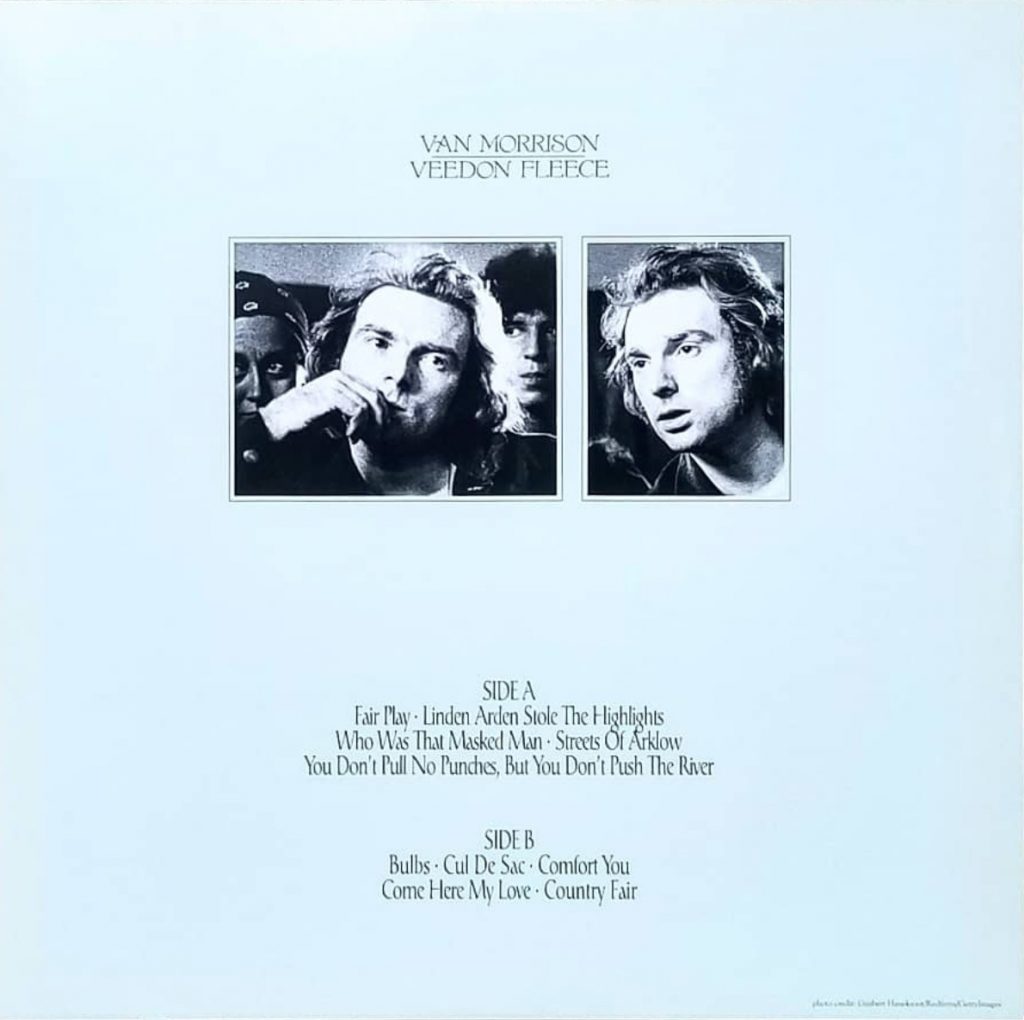 Wikipedia:
"Streets of Arklow" is a song by Van Morrison. It appears on the album Veedon Fleece, released in 1974.
The song describes a perfect day in "God's green land" and is a tribute to the County Wicklow town of Arklow visited during the singer's 1973 vacation trip back to Ireland after being in the United States since 1967.
The opening lines of the song: "And as we walked through the streets of Arklow, oh the colours of the day warm, and our heads were filled with poetry, in the morning coming onto dawn" were said to "contain the thematic seeds of the whole album: nature, poetry, god, innocence re-found and love lost" by PopMatters critic John Kennedy.
"Streets of Arklow" has been re-mastered in 2007 and included on the limited 3CD edition of the compilation album, Still on Top – The Greatest Hits. In 2015 it appears on Duets: Re-working the Catalogue in a duet with Mick Hucknall.
"On his fascinatingly bizarre Duets album, he revives "Streets of Arklow," an obscure gem from his most poetic masterwork, Veedon Fleece, except he perversely hands it over to (of all people) the dude from Simply Red. Who sings his ass off and proves he belongs in this song. A perfect example of how Van loves to keep proving he does not give a f**k, not even about his own myth — just another indefensible-yet-brilliant decision in a career made of them."
– Rolling Stone magazine
Musicians (on the original)
Van Morrison – guitar, vocal
Terry Adams – cello
David Hayes – bass guitar
James Rothermel – recorder
Nathan Rubin – violin
Dahaud Shaar (David Shaw) – drums
James Trumbo – piano
Ralph Wash – guitar
Production
Producer: Van Morrison
Engineers: Jim Stern, Dahaud Shaar (David Shaw), Jean Shaar, Elvin Campbell
Photography: Tom Collins
Art Direction: Ed Caraeff
Arrangements: Van Morrison, Jef Labes (string and woodwind)
Remastering: Ian Cooper, Walter Samuel
Live:
Known Performances: 62
First performance: February 2, 1974 in San Francisco, US
Last performance: March 25, 2015 in London, UK
Winterland 2/2 -1974 (the live debut):
Gleneagle Hotel, INEC Killarney April 15th 2006:
Quotes
"Leonard Cohen loved Veedon Fleece, calling it "superb" in the then-contemporary pages of Melody Maker. The late Jeff Buckley had it in his personal record collection alongside about a dozen others by Morrison, indicative of his known fandom. In a Vanity Fair feature some years back, Elvis Costello counted the album as part of a list of 500 essentials. Sinéad O'Connor not only swears by it, but remains one of the few courageous enough to declare it better than Astral Weeks."
– Vinyl Me Please
"…Veedon Fleece is a masterpiece, one that feels like an attempt to be Astral Weeks on side one and Moondance on side two, an audacious ambition if ever there was one. Its first side is perhaps the best 25 minutes of music he ever assembled (Fair Play, Linden Arden Stole the Highlights, Who Was That Masked Man?, Streets of Arklow, You Don't Pull No Punches But You Don't Push the River)…"
– Ross Palmer (Songs from so deep)
Streets of Arklow echoes back to the feel of Astral Weeks and it isn't the only track here to do so. The lyrics have a rustic feel; the local gypsies are riding with their hearts filled with passion. Van seems to be getting another bout of soul cleansing. The song refers to the town of Arklow in Northern Ireland, which Van is reported to have visited on his long holiday in 1973. The musical backdrop is of the usual high standard with a recorder thrown in for good measure. Again, it reminds me of a soundtrack for a western, despite the fact that the lyrics have nothing to do with that whatsoever!
– Holmes, Mark. Van Morrison 20 Best Albums: A Guide (2013)
This sense of exile in one's own land is further pursued in `Streets Of Arklow'. It delves deeper again into the established mood, opening with lugubrious, ominous nous rhythms and acoustic guitar picking. Given this beginning, we might not expect a lyric of refreshment and willing abandonment to the moment, yet that is to some extent what we get, despite the music and the lyrics not duplicating each other's mood exactly. This is at one level a song of joy coming out of darkness ness -And the morning, coming on to dawn' – but it does not necessarily sound like it. The slow, thoughtful tread of the music matches the cautious mood of the lyric as the song develops, and the light slowly illuminates the scene, the flooding of the land with light mirrored in their own internal awakening of a kind: 'And our souls were cleaned, and the grass did grow. This duality, being aware of the physical and the metaphysical realms, sees both benefiting from the return of the light, and furthermore demystifies both, placing them on a plane of natural order.
– Peter Mills. Hymns to the Silence: Inside the Words and Music of Van Morrison (2010)
Lyrics
And as we walked
Through the streets of arklow
Oh the color
Of the day wore on
And our heads
Were filled with poetry
And the morning
A-comin' on to dawn
And as we walked
Through the streets of arklow
And gay perfusion
In god's green land
And the gypsy's rode
With their hearts on fire
They say "we love to wander,"
"lord we love,"
"lord we love to roam…"
And as we walked
Through the streets of arklow
In a drenching beauty
Rolling back 'til the day
And I saw your eyes
They was shining, sparkling crystal clear
And our souls were clean
And the grass did grow
And our souls were clean
And the grass did grow
And our souls were clean
And the grass did grow
And as we walked
Through the streets of arklow
Live versions
at the opening of Nells in London 3 Nov 2014:
At the Harvard Square theatre March 14, 1974, this is an acoustic set, Streets of Arklow starts 10:35 into the clip:
Cover Versions
Little Hours (2020):
Blue Rose Code (2017):
–

Sources
Wikipedia
Peter Mills. Hymns to the Silence: Inside the Words and Music of Van Morrison (2010)
Rogan, Johnny – Van Morrison: No Surrender (2006)
Holmes, Mark. Van Morrison 20 Best Albums: A Guide (2013)
ivan.vanomatic.de (wonderful website for VM statistics)