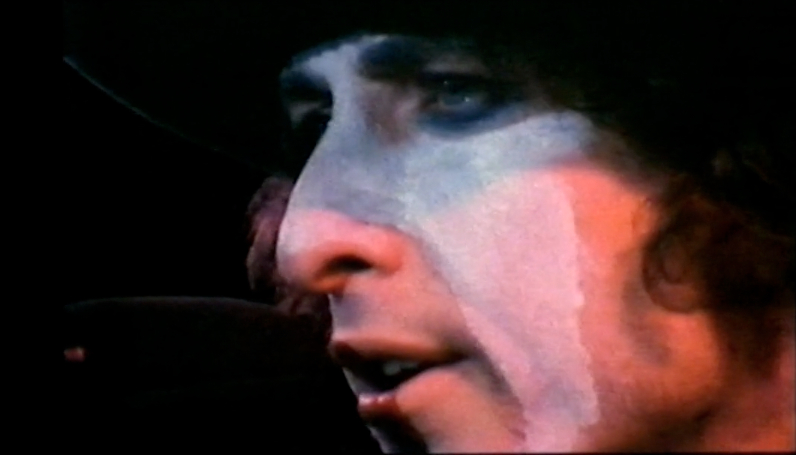 This is a true gem, everyone should watch it while they can, I need to say it again, it is fantastic!
Statement from Swingin' Pig (editor):
Here it is. I spent about a month editing this video together. I ripped the footage from a bootlegged tape of "Renaldo & Clara," a 1978 film that was edited by Howard Alk and Bob Dylan himself. Some snippets are from Martin Scorsese's incredible Netflix documentary "Rolling Thunder Revue: A Bob Dylan Story." If you'd like to see "A Hard Rain's A-Gonna Fall" and "One More Cup of Coffee" (both of which are in this compilation) in 4K quality, do yourself a favor and watch it. There are other incredible performances in it that weren't in "Renaldo & Clara."
Anyway, as I was saying, this footage is from a source tape and some of the best quality versions that are available at the moment. Someday these performances will be rescanned, restored and released, but for now, this is what I have to work with visually. I did my best to correct the faded colors, correct the lighting, and sharpen the image a bit, but please realize that this was recorded from a television broadcast in the 1970s, and unaltered since then, so the images won't be perfect.
The audio is a different story, luckily. It took a long time to do, but I successfully overdubbed all of the original low-quality audio (it had a lot of hiss and was broadcasted in mono) with the soundboard recordings released on the Rolling Thunder Boxset. This took longer than I had expected because the footage and audio were sped up in the bootleg tape. But I eventually calculated the difference in speed and was able to synchronize them.
So, please enjoy this labor of love! Below is somewhat of a setlist and some of my personal thoughts on "standout" performances in this video.
CHAPTERS:
0:07 – It Ain't Me, Babe
5:26 – It Takes A Lot to Laugh, It Takes a Train to Cry [Excellent, rocking version]
8:32 – Fascinating historical commentary by David Blue
9:20 – A Hard Rain's A-Gonna Fall [released on YouTube and on Netflix's "Rolling Thunder Revue" documentary]
14:15 – Romance in Durango
19:05 – Isis [Incredible performance, superior to the one in the documentary. His voice is sheer power and cuts like a knife. I dare say it's Dylan's best-filmed performance of the tour. The way he moves his arms and hands makes you feel like you're looking into another dimension]
24:20 – Never Let Me Go [feat. Joan Baez]
27:05 – Interesting footage of the revue visiting Niagra Falls
27:32 – One More Cup of Coffee (Valley Below) [released on YouTube and on Netflix's "Rolling Thunder Revue" documentary]
31:35 – Sara [Gorgeous version with some beautiful footage I edited together in the beginning. The verse starting at 34:54 has incredible enunciation]
36:21 – Just Like a Woman [This is my favorite version of the song. Just watch listen to the whole thing, uninterrupted. It's just phenomenal. The bridge ("It was raining from the first") is some of the strongest singing I've ever heard from Dylan and then in the subsequent verse, he abruptly drops into this sweet tone. Just phenomenal]
40:32 – Knockin' On Heaven's Door [Beautiful version, superior to the one released in the Netflix documentary. The instrumental at 42:56 gives me chills]
44:35 – An emotional and cathartic ending.
Enjoy this gem while you can!
[vc_row][vc_column][vc_separator][vc_btn title="Borntolisten @ Facebook" color="blue" i_icon_fontawesome="fa fa-facebook-official" add_icon="true" link="url:https%3A%2F%2Fwww.facebook.com%2FJohannasVisions%2F||target:%20_blank|"][/vc_column][/vc_row][vc_row][vc_column][vc_message message_box_style="outline" icon_fontawesome="fa fa-link" css_animation="bounceIn"]Check out:
[/vc_message][/vc_column][/vc_row]