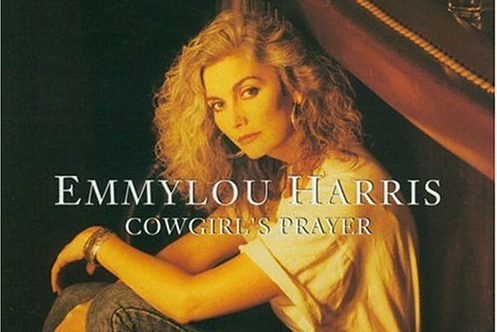 One of my favourite Emmylou Harris albums was released on this date back in 1993.
Cowgirl's Prayer is the seventeenth studio album by Emmylou Harris, released on September 28, 1993 by Warner Bros. Records. Coming immediately after 1992's live acoustic At the Ryman album, Cowgirl's Prayer is a collection of similarly subdued material (with a couple of rockers thrown in, notably "High Powered Love", the album's first single).
Released at a time when older artists (i.e. anyone over 40) were being dropped from country radio playlists, the album received little airplay, despite positive reviews, and its relative commercial failure is said to have served as a catalyst for Harris' decision to change course with the harder edged sound of her subsequent work, beginning with 1995's rockish Wrecking Ball.
High Powered Love (official music video):

Despite the lack of radio airplay, accompanying videos for the album's three singles, "High Powered Love", the Cajun-themed "Crescent City", and Jesse Winchester's "Thanks to You", received considerable exposure on CMT.
"Under the ears of producers Allen Reynolds and Richard Bennett, Harris has recorded a riveting collection of songs made all the more memorable by a sound that employs few instruments and yet manages to crash and thunder in the ears. Highlights include the broodingly gospel-ish "The Light," the truly high-powered "High Powered Love," the unhappy and eyes-wide-open "Lovin' You Again," the wonderfully mysterious "Jerusalem Tomorrow" and her own "Prayer In Open D," which is in the artistic ballpark with her classic "Boulder to Birmingham." If you haven't heard this, you have yet to hear Emmylou."
– Jack Hurst (Chicago Tribune)
Crescent City (the very life affirming official video):
"…on Cowgirl's Prayer (Asylum), Harris' 22nd album, she takes the opposite tack. She has simply recorded the best music she could find — commercialism be damned. The result is her finest album in years.
Besides writing two songs, her best in a decade, Harris has culled the catalogs of such cerebral writers as Lucinda Williams, Leonard Cohen, Jesse Winchester, Tony Arata, and David Olney to find songs that push the envelope of contemporary country music."
– Alanna Nash (Entertainment Weekly)
Thanks to you (official video):
The album also includes the best David Olney cover I've heard, Jerusalem Tomorrow.
"But it is on Olney's "Jerusalem Tomorrow" that the weight of the album rests, with Al Perkins' whining pedal steel and Sam Levine's clarinet winding their way through the mix. The story involves a charlatan who heals the sick and makes a mute speak, a false prophet who feels his game is being eclipsed by a strange, wandering Galilean who doesn't charge for his works of wonder. When the false prophet encounters Jesus, he decides to go along with his game as long as his way is paid, and prepares to go into Jerusalem the next day. Given that it is spoken and not sung, Harris dislocates her way of conveying emotion in a song; that she becomes convincing as a male figure is another shapeshift, and finally that there is no overly moral tone in her delivery, but strictly one of empathy, opens up not only the song, but Harris and the rest of the album to an entirely different set of critical criteria."
– Thom Jurek (Allmusic)
Emmylou Harris – Cowgirl's Prayer (Spotify):