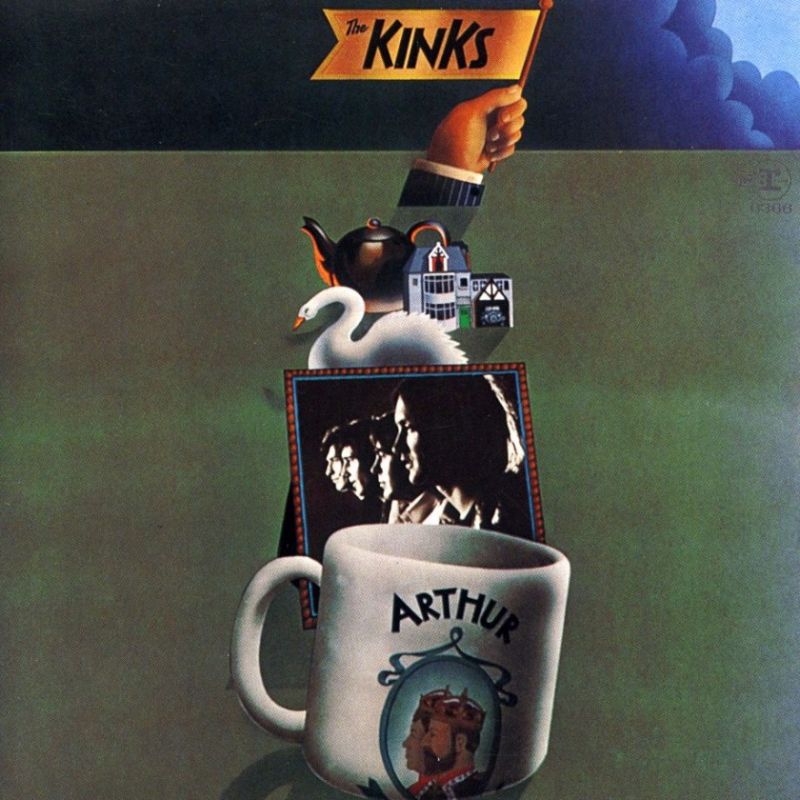 The Kinks released one of their best albums, Arthur (or the decline and fall of The British Empire) October 10 in 1969. It  is the seventh studio album by the band.  Ray Davies constructed the concept album as the soundtrack to a Granada Television play and developed the storyline with novelist Julian Mitchell; however, the television programme was cancelled and never produced. The rough plot revolved around Arthur Morgan, a carpet-layer, who was based on Ray Davies' brother-in-law Arthur Anning.
It is a natural successor to The Village Green Preservation Society, but it is even more British in its tone and storyline.
The Kinks – Victoria (from the concert film One For The Road):
Arthur was met with almost unanimous acclaim upon release. It received generous coverage in the US rock press, with articles running in underground magazines such as Fusion and The Village Voice. It garnered back-to-back reviews by Mike Daly and Greil Marcus in Rolling Stonemagazine's lead section; Daly rated it as "the Kinks' finest hour", and Marcus went so far as to call it "the best British album of 1969".
"On paper, Arthur sounds like a pretentious mess, but Ray Davies' lyrics and insights have rarely been so graceful or deftly executed, and the music is remarkable. An edgier and harder-rocking affair than Village Green, Arthur is as multi-layered musically as it is lyrically. "Shangri-La" evolves from English folk to hard rock, "Drivin'" has a lazy grace, "Young and Innocent Days" is a lovely, wistful ballad, "Some Mother's Son" is one of the most uncompromising antiwar songs ever recorded, while "Victoria" and "Arthur" rock with simple glee. The music makes the words cut deeper, and the songs never stray too far from the album's subject, making Arthur one of the most effective concept albums in rock history, as well as one of the best and most influential British pop records of its era. "
– Thomas Erlewine (allmusic)
Ray Davies – Shangri-La (first live performance, with nice intro):

"In the epic "Shangri-La" we find Arthur in his little house that looks the same as his neighbors. He's "reached the top and just can't get any higher". Well, if you consider having indoor plumbing, a car, a TV, and a radio "the top". The song comes very close to the quality of "Victoria" and their other greats…

Finally, on the the title track we find Arthur watching his kids sail away to Australia. Life has passed him by, all of the goals he set as a young man have gone down the drain, his country has gone the same way, and all of his hard work was for naught. Not exactly the happiest ending, but then again would Ray Davies ever write a happy ending? "
– Matt Gold/Stylus Magazine
The Kinks – Arthur (Or the decline and fall of The British Empire) on Spotify:

The Kinks
Mick Avory – drums, percussion
John Dalton – bass guitar, background vocals
Dave Davies – lead guitar, background vocals, co-lead vocal on "Australia" and "Arthur", lead vocals on his own tracks
Ray Davies – lead and background vocals, rhythm guitar, keyboards (harpsichord and piano), production
Pete Quaife – bass guitar, background vocals on bonus tracks: "Plastic Man", "King Kong", "This Man He Weeps Tonight", "Lincoln County", "Hold My Hand" and "Creeping Jean"
Production
Lew Warburton – horn and string arrangements
Andrew Hendriksen – engineering
Brian Humphries – engineering on "Drivin'"
Bob Lawrie – album art
Austin Sneller – credited as "album 'tester'"
I love this record, and it is one of those albums that deserves to played all through. It is a true concept album.
Put it on and enjoy the journey!