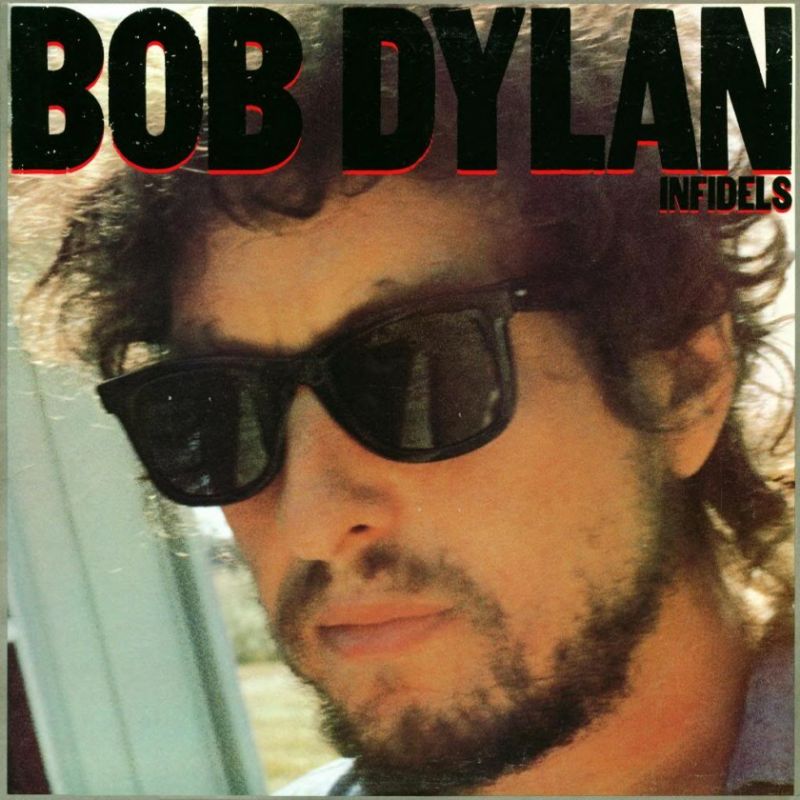 [vc_row][vc_column][vc_message message_box_color="mulled_wine" icon_fontawesome="fa fa-quote-left"]….I wanted to call my next album, whenever I made it, Surviving In A Ruthless World. I wanted to call it that. Before we even went into the studio, "The next album I do I'm gonna call Surviving in a Ruthless World". But something was holding me back from it, because for some reason… somebody pointed out to me that the last bunch of albums that I made all started with the letter S. And I'd say, "Is that right?" There must be a story or something. I didn't want to do another one beginning with S just f for superstitious reasons. I didn't want to get bogged down in the letter S whatever the letter S stands for. And this Infidels came out, just came into my head one day, I guess. This was after we had that album done that it just came in my head that this is the right title for this album. I mean, I don't know any more about it than anybody else really. I did it. I did the album, and I call it that, but what it means is for other people to interpret, you know, if it means something to them. Infidels is a word that's in the dictionary and whoever it applies to… to everybody on the album, every character. Maybe it's all about infidels.
~Bob Dylan (to Kurt Loder in March 1984)[/vc_message][/vc_column][/vc_row]
Bob Dylan – Jokerman (official video):

| | |
| --- | --- |
| Released | October 27, 1983 |
| Recorded | April–May 1983 at the Power Station, New York |
| Genre | Rock |
| Length | 41:39 |
| Label | Columbia |
| Producer | Bob Dylan, Mark Knopfler |
Infidels is the twenty-second studio album by American singer-songwriter Bob Dylan, released in October 1983 by Columbia Records.
Produced by Mark Knopfler and Dylan himself, Infidels is seen as his return to secular music, following a conversion to Christianity, three evangelical, gospel records and a subsequent return to a secular, culturally Jewish lifestyle. Though he has never abandoned religious imagery, Infidels gained much attention for its focus on more personal themes of love and loss, in addition to commentary on the environment and geopolitics.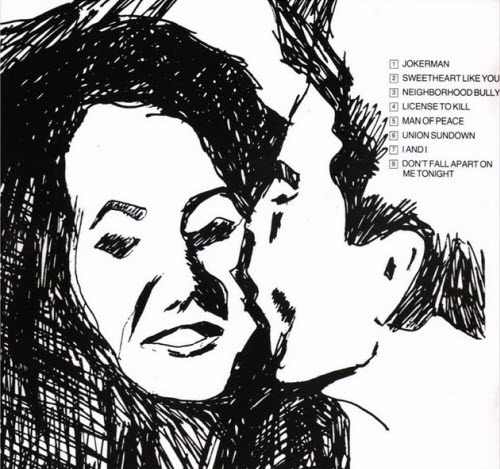 The critical reaction was the strongest for Dylan in years, almost universally hailed for its songwriting and performances. The album also fared well commercially, reaching #20 in the US and going gold, and #9 in the UK. Still, many fans and critics were disappointed that several songs were inexplicably cut from the album just prior to mastering—primarily "Blind Willie McTell", considered a career highlight by many critics, and not officially released until it appeared on The Bootleg Series Volume III eight years later.
Here is a "legendary" performance of Jokerman @ Letterman:

[vc_row][vc_column][vc_message message_box_color="mulled_wine" icon_fontawesome="fa fa-quote-left"]Infidels is Bob Dylan's best album since the searing Blood on the Tracks nine years ago, a stunning recovery of the lyric and melodic powers that seemed to have all but deserted him. Under the aegis of Dire Straits guitarist Mark Knopfler, Dylan has produced eight vigorous songs that teem with self-effacing introspection and wit, free of the cant that's weighted down his recent efforts. The songs on Infidels touch on religion and politics but are rooted in an ineffably deep sadness: the sadness of broken hearts and broken dreams, the sadness of middle age, the sadness that has been the wellspring of great rock & roll from Robert Johnson to "Every Breath You Take." Flaming through that sadness is the sort of hell-hound-on-my-trail passion that you'd have to reach back ten years to find in Dylan's recorded work.
-Christopher Connelly (Rollingstone.com)[/vc_message][/vc_column][/vc_row]
Track listing:
Side one
"Jokerman" – 6:12
"Sweetheart Like You" – 4:31
"Neighborhood Bully" – 4:33
"License to Kill" – 3:31
Side two
"Man of Peace" – 6:27
"Union Sundown" – 5:21
"I and I" – 5:10
"Don't Fall Apart on Me Tonight" – 5:54
Personnel:
Bob Dylan – guitar, harmonica, keyboards, vocals, production
Additional musicians
Alan Clark – keyboards
Sly Dunbar – drums, percussion
Clydie King – vocals on "Union Sundown"
Mark Knopfler – guitar, production
Robbie Shakespeare – bass guitar
Mick Taylor – guitar
Michael Gray (The Bob Dylan Encyclopedia
):
Another ragbag collection of insipid material, hailed in the US as a great return to form on Dylan's part. This is the sort of work that makes Dylan's earlier
'minor' albums sound like masterpieces. In depressing contrast to Nashville Skyline, New Morning or Planet Waves, there is on Infidels generally no warmth, no unity and no sense that real music is being created and played for pleasure by people who know what they want. There is instead the unwelcome return of the portentous quality of the evangelical albums of 1979–80, while the production is half-hearted and irresolute. It is Dylan beginning to say that he doesn't really want to write songs or make records any more, and to behave as if it hardly matters whether an album is any good or not. This is not a welcome stance from a great artist. As with Shot of Love, its predecessor, it needn't have been this way: the sessions yielded important work excluded from the release, including what is perhaps Dylan's greatest single recording of the 1980s, the lapidary 'Blind Willie McTell'. Best of the released tracks: 'I and I' (though this admonishes you into feeling it's important, rather than claiming a place in your heart) and the album's one incontestable major success, 'Jokerman'.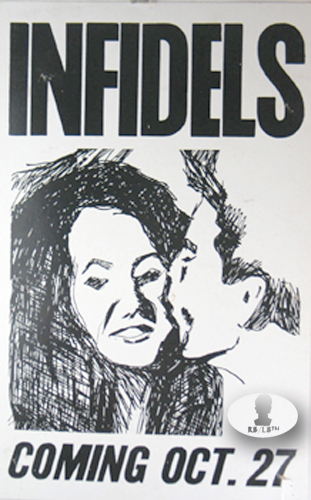 Paul Williams (Bob Dylan: Performing Artist, Vol 2: The Middle Years 1974-1986
):
….Infidels contains some very good and some very bad performances side by side. The album title is suggestive and ambiguous in the best Dylan tradition; I hear it as a comment on the unholiness and corruption of the world. In the end, some of the better songs and performances from the sessions were left off the album, including an unmistakable masterpiece, one of the true high points of Dylan's astonishing career as a composer and performer, "Blind Willie McTell."
There were some really brilliant outtakes from the Infidels recording sessions… This could have been "Major" Dylan album if he had chosen other songs for the album. This lead Paul Williams to suggest his "infidels", this Infidels would indeed have been a "Major" Dylan record..
Foot of Pride (outtake):

–
Paul Williams's "Infidels":
Side one
Foot of Pride (outtake)
Blind Willie McTell (outtake)
I and I
Jokerman
Side two
License To Kill (alt. version*.. not released)
Don't fall apart on me tonight
Sweetheart like You
Tell Me (outtake)
Someone Got A Hold On My Heart (outtake)
* Paul Williams "hates" the drum sound in the released version of LTK…
My Spotify playlist & "Album" of the day:

2 versions "Someone's got a hold of my heart":
Version released on Bootleg series 3:

Alt. take version – note released (Rough cuts bootleg):

...AND the best outtake & Dylan's 5th best song is:
Blind Willie McTell (electric version):

[vc_row][vc_column][vc_separator][vc_btn title="Borntolisten @ Facebook" color="blue" i_icon_fontawesome="fa fa-facebook-official" add_icon="true" link="url:https%3A%2F%2Fwww.facebook.com%2FJohannasVisions%2F||target:%20_blank|"][/vc_column][/vc_row][vc_row][vc_column][vc_message message_box_style="outline" icon_fontawesome="fa fa-link" css_animation="bounceIn"]
Check out:
[/vc_message][/vc_column][/vc_row]