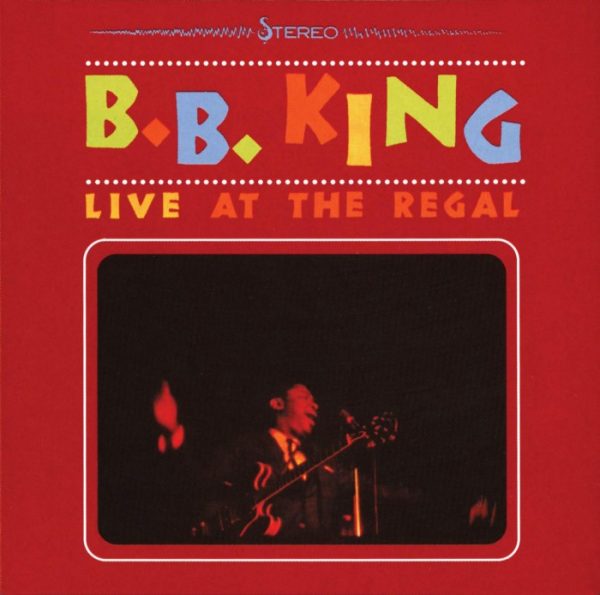 "B.B. King is not only a timeless singer and guitarist, he's also a natural-born entertainer, and on Live at the Regal the listener is treated to an exhibition of all three of his talents."
– Allmusic
Live at the Regal is a 1965 live album by American blues guitarist and singer B.B. King. It was recorded on November 21, 1964 at the Regal Theater in Chicago. The album is widely heralded as one of the greatest blues albums ever recorded and is #141 on Rolling Stone's 500 Greatest Albums of All Time. In 2005, Live at the Regal was selected for permanent preservation in the National Recording Registry at the Library of Congress in the United States.
"Ladies and gentlemen, how about a nice warm round of applause to welcome the world's greatest blues singer, the king of the blues; B.B. King."
This is how one of the best live blues albums ever made starts,  we get 35 minutes of blues captured just as blues music was designed to be heard, live and loud!
The band is precise and very sharp, always on their toes, following King's cues with otherworldly accuracy. B.B. King is as expected, very good on the guitar, but here his singing is also great, it is soulful and with a range seldom heard. He goes from dark, gritty, raw bellowing to angelic falsetto with, seemingly, no effort. Listen to "How Blue Can You Get?" or "Worry, Worry" and you'll understand what I'm talking about.
How Blue Can You Get? (Live at The Regal, Chicago Nov. 21, 1964):

His playing is very elegant and sophisticated, sometimes calm and jazzy, other times raw and dirty, maybe the best guitar playing of all his career. The guitar "swims" all over this wonderful album.
Sweet Little Angel (Live at The Regal, Chicago Nov. 21, 1964):

Another thing that strikes me about the album, is how entertaining it is, even funny at times. It is so well structured, small anecdotes, funny small-talk with the audience and a well constructed climb through the album. The story which he breaks into during "Worry, Worry" for example, is a master class in audience interaction and a text book example of a live performance carried out by an entertainer at the top of his game.
A template of how to do a great concert set!
Band:
B.B. King – guitar, vocals
Leo Lauchie – bass
Duke Jethro – piano
Sonny Freeman – drums
Bobby Forte, Johnny Board – tenor saxophone
Kenny "Kenneth" Sands – trumpet
Track List:
Side one
Every day (I have the blues)
Sweet Little Angel
It's my own Fault
How Blue can you get
Please love me
Side two
You upset me baby
Worry, Worry
Woke up this mornin'
You done lost your good thing now
Help the poor

.