"Hell, everybody's sick of all my fucking happy songs anyway"
– Steve Earle
Terraplane is the sixteenth studio album by Steve Earle. It was released on February 17, 2015 via New West Records. Terraplane – the title is a nod to Robert Johnson's "Terraplane Blues" (and from the 1930s Hudson Motor Car Company of Detroit model) and it is Earle's blues album. This is something he does with honor, and it's a hell of an album, no matter what genre.
Steve Earle and The Dukes – King of the Blues /Hey Joe (House of Rock, Corpus Christi, TX on 5/10/2015):

A third of the album was written while Steve Earle toured Europe alone for five weeks with just a guitar, a mandolin and a backpack. Earle, who was raised outside of San Antonio before migrating to Houston, offers about Texas blues, "There was Fort Worth where the model was Freddie King, and there was the Houston scene which was dominated by Lightnin' Hopkins. Two very different styles." He saw both of these giants, and was also exposed to Johnny Winter, Jimmie and Stevie Ray Vaughan, and Billy Gibbons, all of which make their influence heard here within Earle's masterful storytelling.
It's wonderfully played, and Steve Earle's songs are respectful of the tradition but are fresh and brings something new to the blues table. Thankfully it still sounds like Earle.
Steve Earle – "The Tennessee Kid" (FUV Live at Electric Lady Studios):

Excellent album from start to finish! …and the songs works incredibly well live.
"The blues is often mischaracterized as uniformly worried and woeful, as though a hellhound were on every strummer's trail, yet that is only one facet of the form. It can also be funny, or randy, and it's this last trait that Earle taps into most eagerly, as Terraplane is his lustiest album in a long while. Sex is the major theme, and Earle beholds his hard-on with a self-effacing chuckle. The first song is called "Baby Baby Baby (Baby)", and that parenthetical aside is not only his best punchline but a winking nod to the ridiculousness of it all. Casting him as the leering oldie, "Go-Go Boots Are Back" may be his most frivolous song yet, but its lack of gravity is freeing, even funny. "
– Pitchfork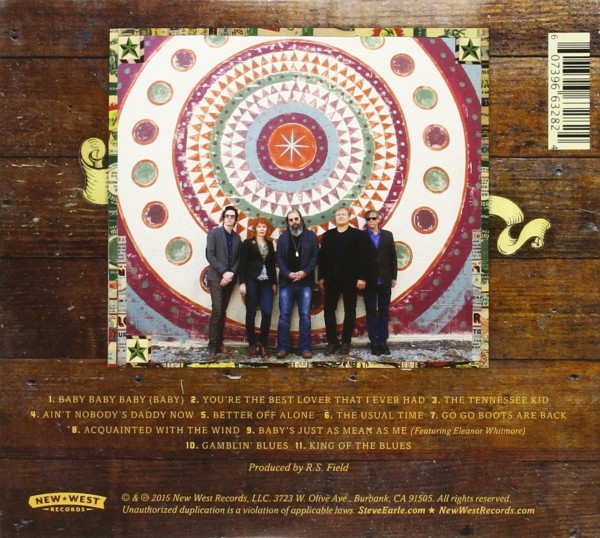 Maybe folks were tired of Earle's happy songs, but if you want to hear the man have a good time while kicking up a fuss in the studio,Terraplane is a ride well worth taking.
– Mark Demming (Allmusic)
– Hallgeir