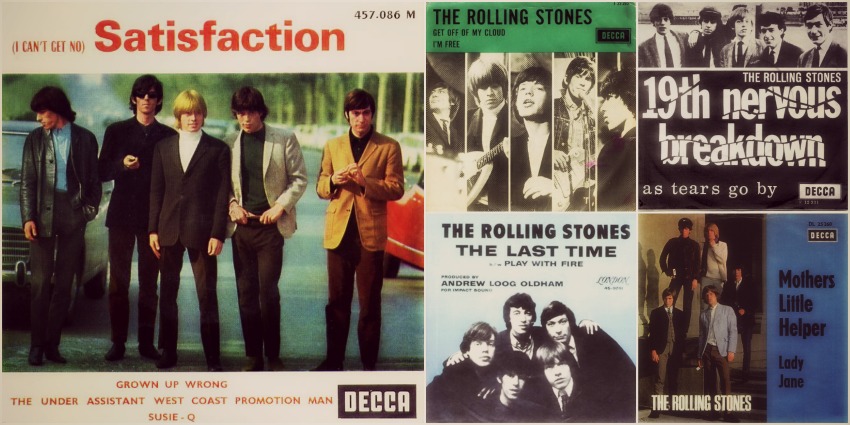 Here is my top 10 list of songs recorded in 1965.
–
1. (I Can't Get No) Satisfaction (Jagger/Richards)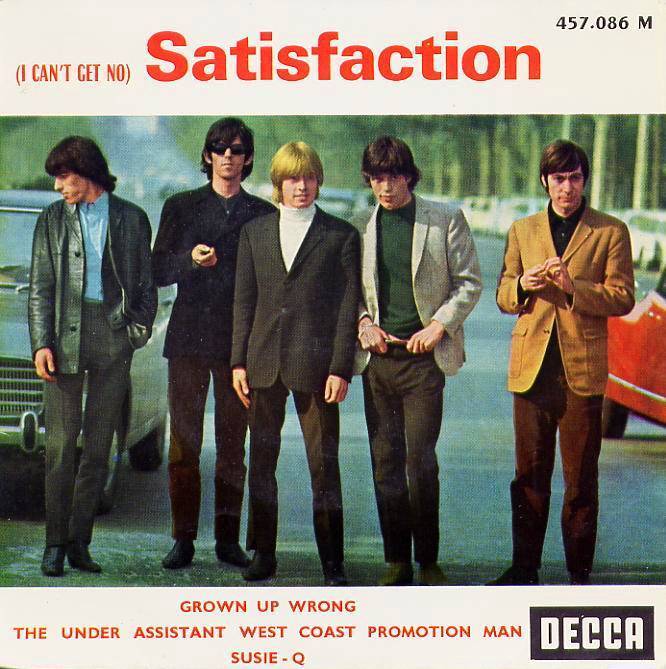 This raw classic cemented the Stones as the nasty anti-Beatles. .. Keith says the way they wrote the song became typical for how he and Mick collaborated. "I would say on a general scale, I would come up with the song and the basic idea," Keith wrote, "and Mick would do all the hard work of filling it in and making it interesting."
– Bill Janovitz (Rocks Off: 50 Tracks That Tell the Story of the Rolling Stones)

Built on the Stones' greatest riff, "(I Can't Get No) Satisfaction" near-singlehandedly turned "rock & roll" from a teenage fad into something far heavier and more dangerous.
–rollingstone.com
Recorded 12 May 1965, RCA Studios, Hollywood.
I can't get no satisfaction, I can't get no satisfaction
'Cause I try and I try and I try and I try
I can't get no, I can't get no
–
Live 1965:

---
–
2. The Last Time (Jagger/Richards)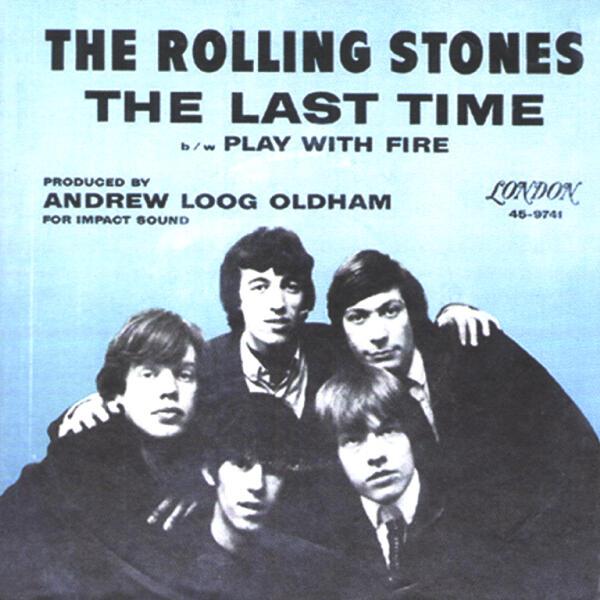 The Stones' second American Top 10 single was also the first great Jagger-Richards song – a crystallization of their confrontational magnetism. And it had the first classic-Stones riff, a steely, gliding lick, played by Jones. Richards admitted the chorus lyric came from "This May Be the Last Time," a 1955 single by the Staple Singers. Everything else is the Stones: the taunting locomotion, Richards' slicing high-treble guitar break, Jagger's dismissive electricity. Andrew Loog Oldham also credited the stormy live sound of L.A.'s RCA Studios: "It's the voodoo of space and tone."
–rollingstone.com (100 Greatest Rolling Stones songs)

"The Last Time" was built around a hypnotic, repetitive guitar riff; it and the sung melody were actually close in construction to country music. Before the verses became too repetitive, they were interrupted by a catchy chorus that was the most pop-oriented aspect of the tune. The lyrics, and Mick Jagger's vocals, adopt a stance more adolescent than those in many of the blues songs they covered, while projecting a sullen menace. The crashing, ringing guitar solo epitomizes the ragged-but-right ethos that the Stones would tap into over the course of their entire career.
-Richie Unterberger (allmusic.com)
Recorded 11–12 January 1965, RCA Studios, Hollywood.
Well I told you once and I told you twice
But ya never listen to my advice
You don't try very hard to please me
With what you know it should be easy
–
---
–
3. Get off of My Cloud (Jagger/Richards)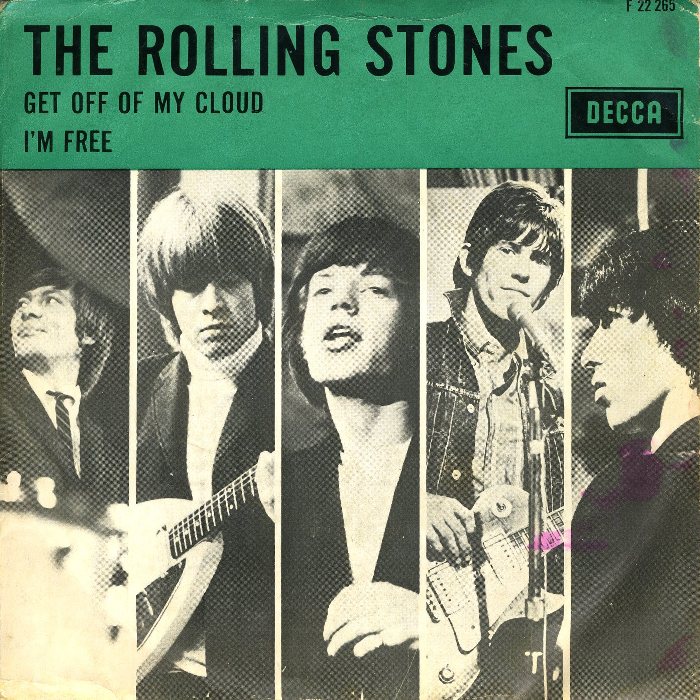 I love Charlie Watts´ drumming and Bill Wyman´s bass playing on this: less is more, they played it right for that song. .. Mic Jagger´s delivery on GOOMC is 110 percent. .. Jagger puts his entire heart and soul into delivering that vocal. And that´s what counts.
– Chris Hillman (The Byrds)

As has been noted by other critics, with "Get off of My Cloud," the Rolling Stones achieved a rare feat among pop groups: a follow-up to a huge hit ("[I Can't Get No] Satisfaction") that was both reminiscent of that hit, but almost equally good and memorable on its own terms. Like "(I Can't Get No) Satisfaction," "Get off of My Cloud" has a compelling basic blues-rock riff, crunchy mid-tempo percussion, a leering Mick Jagger vocal that sounded like a catalog of social observation and complaint, and an ultra-catchy chorus.
-Richie Unterberger (allmusic.com)
–
"'Satisfaction' was a great record. 'Get off of My Cloud,' even better record," Neil Young enthused in the biography Shakey. "Looser, less of a hit. More of a reckless abandon." The Stones followed up "(I Can't Get No) Satisfaction" with a rebel yell against America, fame, phone calls, apartment buildings, other people and all manner of cloud-hogging modern hassles. Of course, it went straight to Number One in America, just like its predecessor. Watts' stomping drum intro leads into Richards and Jones' vicious twin-guitar attack.
–rollingstone.com (100 Greatest Rolling Stones songs)

Recorded 6–7 September 1965, RCA Studios, Hollywood.
I live in an apartment on the ninety-ninth floor – of my block
And I sit at home looking out the window
Imagining the world has stopped
Then in flies a guy who's all dressed up – like a Union Jack
And says, I've won five pounds if I have his – kind of detergent pack
–
---
–
4. 19th Nervous Breakdown (Jagger/Richards)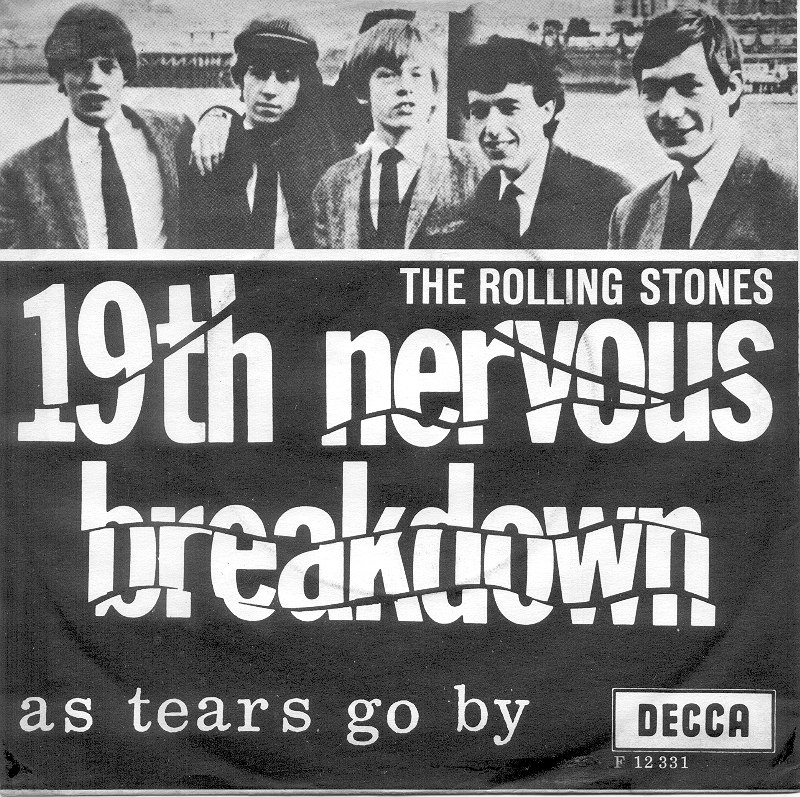 A lyrical breakthrough, with references to drugs and therapy, "19th Nervous Breakdown" showed the Stones could pack sharp social criticism into headlong rock & roll. Jagger came up with the title phrase after five weeks of an exhausting U.S. tour. He spun it into lyrics about the trendy neurosis of posh London girls, sung over jagged Bo Diddley-style riffing. As the song fades out, Wyman uncorks a wild dive-bombing bass sound that ups the sense of harried intensity.
–rollingston.com (100 Greatest Rolling Stones songs)

In musical terms, the song brilliantly reflects the neurosis depicted by the lyrics, with edgy, dueling guitar riffs that form the backbone of the track. .. "19th Nervous Breakdown" is a torrent of images, put in the mouth of a girl by narrator Mick Jagger, bewailing how the spoiled brat has been the victim of an uncaring, wealthy family and unable to deal with the pressures of the modern, urban world. The unsympathetic sarcasm with which the lyrics are delivered makes it clear that the group does not empathize with the tune's target; more likely, they're tired of hearing about these problems, and would just as soon leave her to work out her problems herself. ..A particularly enervating fuzz guitar riff follows, as the Stones chant with increasing authority about how the nervous breakdown's on its way, finally ending with a full-out exclamation confirming that it has arrived. .. The cleverest musical trick of "19th Nervous Breakdown" is saved for last: as the chorus is repeated on the fadeout, Bill Wyman plays nerve-shredding descending bass lines that sound like fighter planes swooping in for the kill.
– Richie Unterberger (allmusic.com)
Recorded 3-8 December 1965 at RCA Studios, Hollywood.
You're the kind of person you meet at certain dismal dull affairs.
Center of a crowd, talking much too loud running up and down the stairs.
Well, it seems to me that you have seen too much in too few years.
And though you've tried you just can't hide your eyes are edged with tears.
–
---
–
5. As Tears Go By (Jagger/Richards)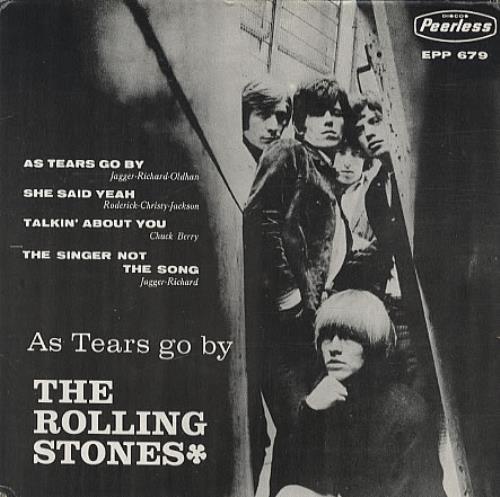 It is sometimes said that the song was written as an answer to The Beatles' "Yesterday", a strings-driven ballad that became one of the band's biggest hits in 1965. However, this is false: "As Tears Go By" was written at least one year before "Yesterday"'s parent album, Help!, was even released. However, the Rolling Stones may have been influenced by "Yesterday'"s particular arrangement. The Rolling Stones changed the arrangement from Faithful's 1964 version to one that more closely resembled the arrangement of "Yesterday", which may have been intentional given that the new arrangement was recorded while the Beatles' song was topping charts all over the world, including the US Billboard Hot 100.
–Wikipedia

When Stones manager Andrew Loog Oldham practically locked Jagger and Richards in a kitchen and ordered them to start writing original material, Richards began picking guitar chords, and this melancholy ballad magically appeared. Richards says he and Jagger weren't initially knocked out by it – "We thought, 'What a terrible piece of tripe'" – but Oldham knew a hit when he heard it and cut a version with Jagger's girlfriend, Marianne Faithfull, which hit Number 22 on the U.S. charts in 1964. The Stones cut their own strings-drenched rendition the following year.
–rollingston.com (100 Greatest Rolling Stones songs)
Recorded 26 October 1965 IBC Studios, London, England.
It is the evening of the day
I sit and watch the children play
Smiling faces I can see
But not for me
I sit and watch
As tears go by
–
---
–
6. Mothers Little Helper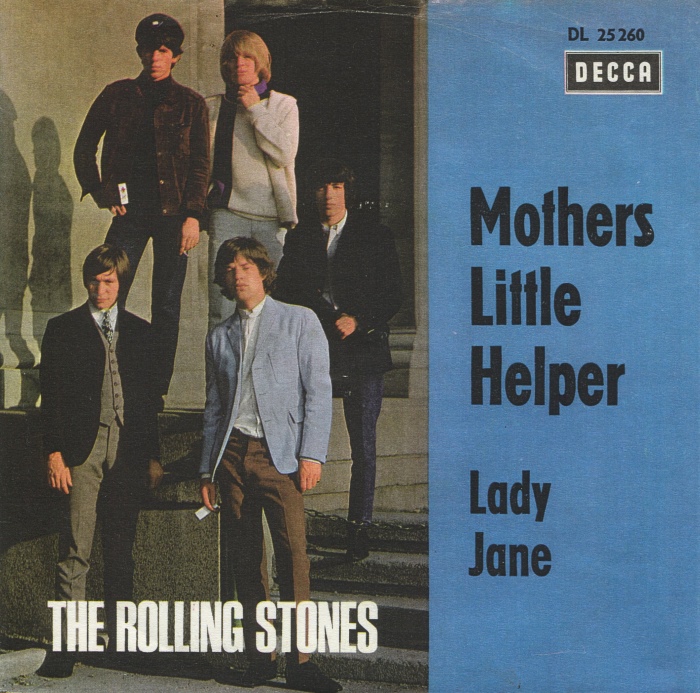 A huge hit about a pill-popping mom, propelled by an electric guitar imitating a sitar. "Very strange number," Jagger observed "Like a music-hall number." Richards had no problem with his partner's lyrics: "A lot of the stuff Chuck Berry and early rock writers did was putting down that other generation. We used to laugh at those people."
–rollingstone.com (100 Greatest Rolling Stones songs)
Recorded 8-10 December 1965 RCA Studios, Hollywood, USA.
What a drag it is getting old
"Kids are different today, "
I hear ev'ry mother say
Mother needs something today to calm her down
And though she's not really ill
There's a little yellow pill
She goes running for the shelter of a mother's little helper
And it helps her on her way, gets her through her busy day
---
–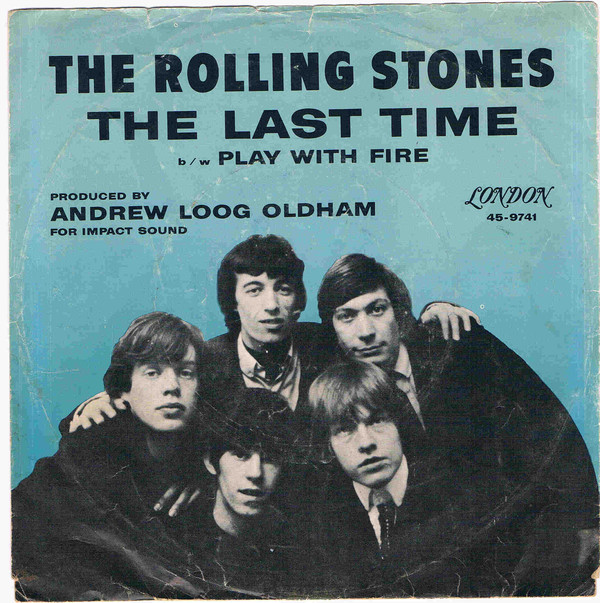 *a pseudonym used when tracks were composed by the entire band
A bittersweet (leaning more toward the bitter) acoustic guitar riff sets the song's restrained mood, hitching a ride with Mick Jagger's nicely restrained, subdued vocals, which nonetheless contain a seed of submerged anger and resentment. The anger and resentment almost boil over on the chorus, with its seething title warning not to play with the narrator. There is a folk-rock feel to the track, with its acoustic guitars (one played by Phil Spector) and doleful tambourine bashes. There is also, for the first time on a Stones record, a distinctly British ambience, with the references to the London district of Knightsbridge and the addition of harpsichord. Lyrically the song is a diatribe — and a pretty subtle and understated one, especially as Stones songs go — against rich bitches, to be blunt, out to impose their neuroses on louts from lower classes, such as the Stones, one presumes.
-Richie Unterberger (allmusic.com)

Mick´s angry lyrics referred to a girlfriend´s mother who lived in luxury in Knightsbridge but got her kicks in Stepney, a less well-heeled part of of east London town. Keith Richards, who wrote most of the music, later referred to it as an Elizabethan blues. Roddy Krieger remarked that he wrote the classic Doors song "Light My Fire" with a little inspiration: "I´ll write about the four elements: earth, air, fire & water. I picked fire because I like the Stones song "Play With Fire"".
-Martin Elliott (The Rolling Stones: Complete Recording Sessions 1962–2012)
Recorded 11-12; 17-18 January, 18 February 1965 De Lane Lea Studios, Kingsway, London, England; RCA, Hollywood, USA.
Well, you've got your diamonds and you've got your pretty clothes
And the chauffeur drives your car
You let everybody know
But don't play with me, 'cause you're playing with fire
–
---
–
8. I´m Free (Jagger/Richards)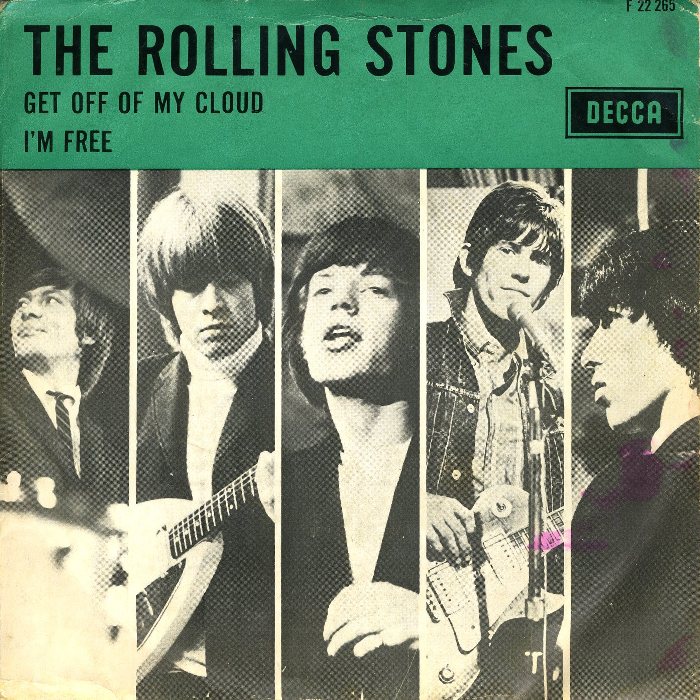 "I´m Free" heralded a new sort of relaxed, shuffling Stones sound that would resonate forward into songs ranging from "Under My Thumb" to "You Can´t always Get What You Want" and beyond. If the Stones sounded like they had been amped up on speed and hormones early on, "I´m Free" sounds like they had discovered pot. The most apparent influences on "I´m Free" are The Beatles, Motown, and folk rock.
– Bill Janovitz (Rocks Off: 50 Tracks That Tell the Story of the Rolling Stones )
Recorded 6 September 1965 RCA Studios, Hollywood, USA.
I'm free to do what I want any old time
I'm free to do what I want any old time
So love me, hold me, love me, hold me
I'm free any old time to get what I want
–
Hyde Park 1969:

---
–
9. She Said Yeah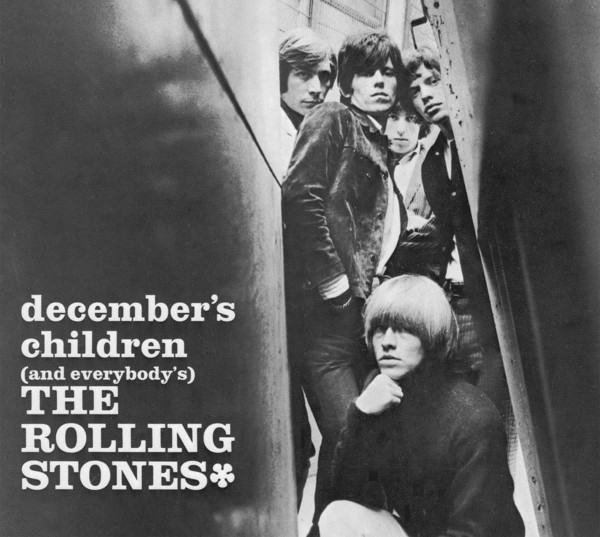 The opening salvo of the Rolling Stones' late-1965 classic December's Children, "She Said Yeah opens the album with a burst of rock energy that can only be described as the birthing of what would be later called punk rock. Furiously scrubbed, distorted electric guitars and a murky atmosphere move the song past the listeners' ears with a truly out-of-control fury. Mick Jagger's frantic vocal renders the lyrics virtually indecipherable in many places, yet the lustful message comes through loud and clear. In a minute and a half, the Rolling Stones define their territory and then burn it to the ground.
-Matthew Greenwald (allmusic.com)
Recorded 6 September 1965 RCA Studios, Hollywood, USA.
Dam deedle dee dam dam
Little girl, where did you come from
Try a little bit to make my mouth dribble
Come on baby, let's ride away in the rain
–
---
–
10. Cry To Me (Bert Russell)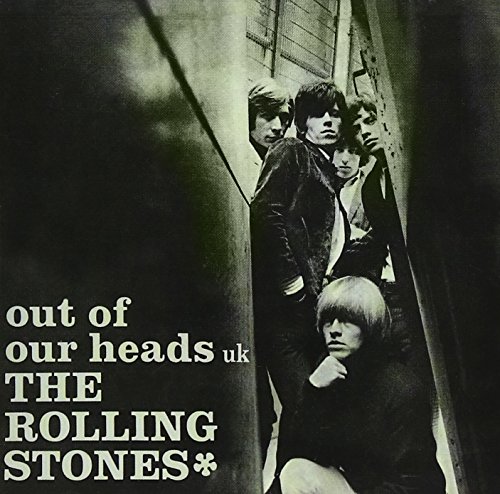 The Rolling Stones slowed the tempo down considerably to put it more in the serious, anguished camp. Too, as usual in their interpretations, they put more emphasis on the guitars, their arrangement using both slow reverbed arpeggio and stinging bluesy licks to good effect. Jagger sung the song in a deeper register than he'd usually used to that point, which gave the deliver a more mature feel than was heard on some earlier Stones soul ballad covers, like "If You Need Me." The group's characteristically rough-hewn harmonies near the end of the verses gave their reading more heartfelt if slightly awkward charm. The "pleading" aspect of the track was heightened on the bridge, where the tempo became more stuttering, and the song came to a very brief dramatic halt before resuming the verse. The blues guitar licks, and for that matter the intensity of Jagger's plea, came more to the forefront on the extended fadeout, repeating the title many times. A solid performance without being one of the standouts on Out of Our Heads..
-Richie Unterberger (allmusic.com)
Recorded 12-13 May 1965 RCA Studios, Hollywood, USA.
When your baby leaves you all alone
And nobody call you on the phone
Doncha feel like crying
Doncha feel like crying like crying like crying
C'mon baby, cry to me
---
Spotify Playlist
Previous in this series:
Sources:
-Egil